Greg Sherwood MW: Engaging with 2017 Cabernet Sauvignon from Stellenbosch
6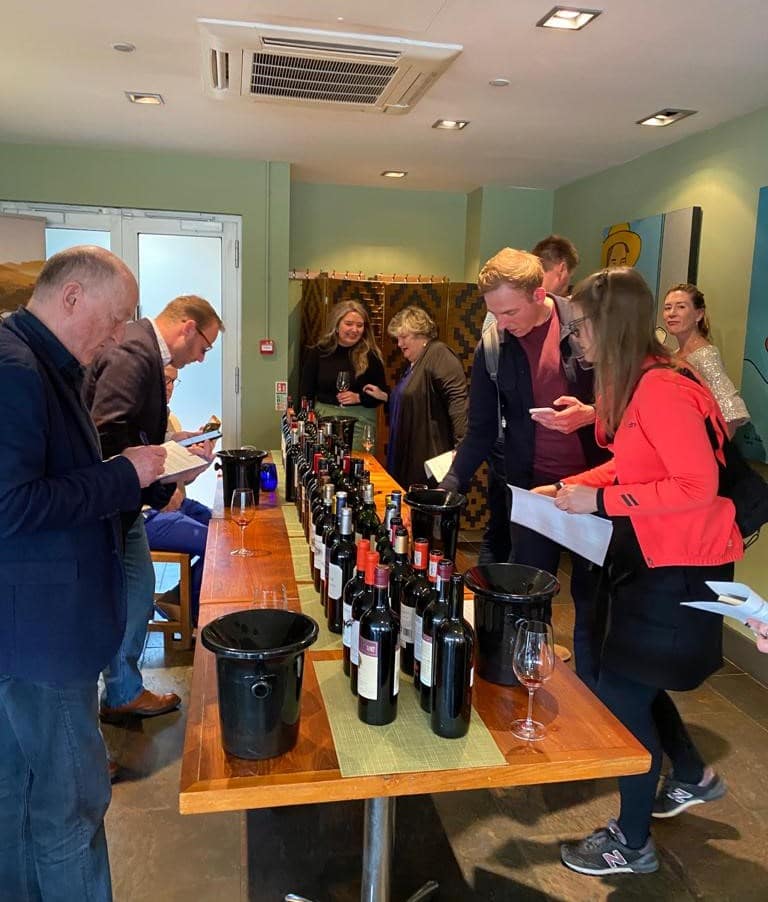 We are, once again, currently in the midst of yet another Bordeaux en primeur campaign with release prices for the 2022 vintage wines slowly trickling out daily from the various negociants. I decided not to attend the en primeur tastings that occurred in April, preferring to visit the region and taste at more select chateaux later in the year when the wines are more fully formed in barrel and more representative of the vintage.
I have however attended numerous 2022 en primeur tastings in London as well as engaging with multiple barrel samples that have been sent directly to me, and yes, the general consensus so far is that it is, on the whole, another very good vintage for Bordeaux reds and certainly the best quality since 2016, with the exception of a few outstanding 2019s.
But it was a recent tweet from Liv-ex, the online fine wine exchange, that set the cat amongst the pigeons, after they noted that one or two wines were already trading at slightly higher than release prices on the Liv-ex secondary market but that a whole lot more were also being offered at up to -15% discount to the release price.
Now if you consider that on average, the large merchants will make a maximum of a 10% to 12% margin after cost of sales, on the wines they offer, or sometimes a little more on volume lines where they have managed to secure additional silent negociant discounts, a -15% figure is about as close to cost as you are going to get. With many of the larger, more recognized names still to release prices, the wines in question are undoubtedly smaller, petit chateaux wines that merchants are being forced to buy in order to secure larger allocations of more lucrative, investment-grade wines. With the wheat always comes a whole lot of chaff.
Necessity, of course, dictates that the quicker you can get rid of the chaff, even at cost or slightly below, the quicker you can focus on placing the more lucrative, sought-after investment wines with private clients. So, in effect, all the big boys are playing a numbers averaging game without any real regard for specific chateaux brands, some of which are inevitably damaged by the perception that they are being dumped at or below cost despite the quality of the vintage. Many merchants will point out that it is the chateaux themselves who are damaging their own brands by releasing wines at prices higher than the market will bear.
The reality is that the Bordeaux en primeur system has not worked for a long time, or certainly since the chateaux decided en masse to raise prices and reduce en primeur release allocations, after the 2009/10 vintage Bordeaux bubble burst. They have proverbially sucked all the fat out of the market and left little to no upside for merchants and consumers. If anything, we are left with a situation that the majority of wines can actually be bought at a later date for a lower price than at en primeur release. A few commentators, like Jamie Goode, retorted that the system works well for most people, which is quite simply incorrect. The en primeu system used to work quite well, if manipulated correctly, for perhaps the top 50 Cru Classé chateaux, but this figure is arguably more like 15 or 20 top names now.
Interestingly, renowned Bordeaux specialist and respected author and reviewer, Jane Anson, commented that "the chateaux have it in their power to make it (the en primeur system) work and generate better long-term engagement by pricing fairly… crazy so many of them don't." The reason they don't price more fairly is because En primeur is no longer about selling wine, it is a marketing and publicity tool used by the chateaux to spread the message of the quality of the vintage that will be bottled in circa 18 to 20 months' time. Many of the large name chateaux release so little stock to the market via negociants in any case, that to suggest selling is the primary motive of en primeur would be naïve.
The key to Jane Anson's comment is "engagement" and this is what lies at the crux of the matter. It is exactly this nonsensical and irrational lack of engagement by the chateaux that is turning a whole new generation of younger drinkers away from the joys of Bordeaux towards cheaper, more accessible products like Cape Cabernet Sauvignon, and during mid-May, London saw a very well attended Cabernet Collective tasting held at South African restaurant mecca High Timber on the banks of the Thames, profiling the sensational 2017 vintage. Now slightly rebranded as Stellenbosch Cabernet, the grouping is a collective of Stellenbosch producers who choose to 'curate' the expression of Stellenbosch through Cabernet Sauvignon, "joining together in sharing their passion, discovery and knowledge" with the consumer. Proper engagement in the true sense of the word.
While only the most cynical of Bordeaux commentators would dare call 2022 the vintage of the century, many informed critics and reviewers have been very forthright about the exceptional quality of the 2017 vintage in the Cape, pronouncing it as not only a better vintage than 2015, but also perhaps one of the best vintages for red wines the Cape has witnessed in modern times. With 34 examples from 25 producers on show, this was probably one of the last opportunities journalists and merchants would get to make an extensive examination of the 2017 wines from Stellenbosch.  
Some producers would claim that the 2017 vintage had its moments of difficulty but in the end, the results were outstanding. The dry winter continued into an extremely dry growing season and drought became a serious concern once again, although temperatures fortunately remained fairly moderate. Despite the arid conditions reducing yields, the surviving berries became deeply concentrated. Despite the drought, temperatures were seldom high enough to cause heat stress and multiple cool nights added further relief. However, it was still late summer before there was a touch of rain and many producers were forced to irrigate. Despite a smaller than usual harvest, the resulting wines were rich and ripe with a slight lack of acidity the only gripe from some producers. The cool conditions generally resulted in very concentrated red wines with the tell-tale weightless elegance the hallmark of the finished wines.
The Stellenbosch Cabernet Sauvignon 2017 tasting line-up:
Alto Cabernet Sauvignon 2017, 14% Abv.
Dense and dark, layered with blueberry and creme de cassis notes with a sleek, picante saline intensity and a spicy tannin grip. Very smart wine but closing down a bit. 93/100 GSMW
Alto MPHS Cabernet Sauvignon 2017, 14.5% Abv.
Deep and brooding with hints of Christmas gateau, fruit cake and earthy black currant. Subtle hints of reduction, oyster shell and a deliciously bright acidity. Power with precision. 94+/100 GSMW
Bartinney Cabernet Sauvignon 2017, 14.5% Abv.
More earthy, savoury aromatics with tilled earth, wet tobacco and black tea nuances. Silky and focused, finely polished texture and picante, spicy tannins. Lovely balance, fine and tight grained. 93+/100 GSMW
Bartinney Skyfall Cabernet Sauvignon 2017, 14.5% Abv.
Black berry and blue berry notes with oak spice and vanilla pod hints. Palate is harmonious and supple with elegance and balance but also a lovely salinity and freshness over powdery dry tannins. 95/100 GSMW
Blaauwklippen Cabernet Sauvignon 2017, 14% Abv.
Tight and brooding, shy, with aromatics led by graphite, wet gravel and pithy saline black berry. Fleshy plump core of fruit, fine depth but tightening up on the finish. 92/100 GSMW
Delaire Graff Cabernet Sauvignon Reserve 2017, 14.5% Abv.
Super complex melange of tobacco, iodine, saline maritime kelp nuances and salty cassis with creamy, plush tannins and a good dense core of opulent fruit. Classy. 96/100 GSMW
Delheim Cabernet Sauvignon 2017, 14.5% Abv.
Taut and stony with a seductive leafy note combined with subtle cassis reduction. Tannins are silky and seductive, the palate elegant and harmonious. Good to go now. 92/100 GSMW
Ernie Els Major Series Cabernet Sauvignon 2017, 14% Abv.
Very pretty layers of cassis, saline oyster shell, iodine and kelp with a plush mouthfeel, an attractive opulence and a well-honed balance. Class act. 94+/100 GSMW
Glenelly Lady May Cabernet Sauvignon 2017, 14.5% Abv.
Classy and tight with hints of cassis, oyster shell, sweet tobacco and a silky palate spiced up by leafy dried herb hints and tensile graphite tannins. Very serious indeed. Give this time in the cellar. 97/100 GSMW
Hartenberg Cabernet Sauvignon 2017, 14.5% Abv.
Taut saline nose with kelp, iodine and inky black berry fruits. Palate texture is super-plush, compact and finely balanced. 93/100 GSMW
Jordan The Long Fuse Cabernet Sauvignon 2017, 14% Abv.
Seriously brooding nose with graphite, wet granite, saline black currant and black chai tea. Beautifully sweet fruited, plush and attractive with a fleshy finish. Delicious! 94/100 GSMW
Kanonkop Cabernet Sauvignon 2017, 14.5% Abv.
Eminently classy aromatics packed with violets, kelp, creme de cassis and sweet black cherry. Silky, incredibly polished texture and heavenly suave tannins. Supreme class. 97/100 GSMW
Kleine Zalze Cabernet Sauvignon Vineyard Selection 2017, 14% Abv.
Classy, focused and beautifully saline with cassis, black currant, plush tannins and a maritime kelpy finish. Really beautifully balanced. 95/100 GSMW
Kleine Zalze Family Reserve Cabernet Sauvignon 2017, 14.5% Abv.
Rich and deep with saline cassis, blueberry, black currant and subtle reductive hints. Very attractive and wonderfully distinguished. Open for business but will age beautifully. 96/100 GSMW
Le Riche Cabernet Sauvignon 2017, 14% Abv.
Deliciously classical and savoury with tilled earth, sweet tobacco and earthy red and black currant notes. Beautifully accessible now, friendly but with superb typicity. Class act. 94/100 GSMW
Le Riche Reserve Cabernet Sauvignon 2017, 14% Abv.
Tighter and more brooding, slowly revealing black currant, graphite, cherry tobacco and sweet black tea nuances. Palate is taut and mineral with pithy graphite tannins and a long stony drying finish. Serious Cabernet kit indeed. 96/100 GSMW
Mooiplaas Cabernet Sauvignon 2017, 14% Abv.
Tight, stony, muted aromatics yield to a more plush, saline, black-currant-laden palate concentration over a chalky, intensely mineral dry finish. 92/100 GSMW
Mooiplaas Tabakland Cabernet Sauvignon 2017, 14% Abv.
Dense and complex with black cherry compote, black currant, and tilled earth. Silky tannins, a powerful depth and impressive length. 94/100 GSMW
Muratie Martin Melck Cabernet Sauvignon Family Reserve 2017, 14.5% Abv.
Fairly taut and serious with black currant, saline cassis, and smoky graphite before a sweetly fruited, creamy, accessible palate! Lovely expression of Stellenbosch Cabernet. 94/100 GSMW
Neethlingshof Cabernet Sauvignon 2017, 14.5% Abv.
Tight nose of tilled earth, savoury black currant and brewed tea before a savoury palate that's meaty and pithy with some tertiary development. Start drinking now. 90/100
Neil Ellis Jonkershoek Cabernet Sauvignon 2017, 14% Abv.
Lovely earthy nose with savoury black currant, sweet tobacco and tannery leather over plush sweet tannins and a serious but accessible structure. Classy as always. 94+/100 GSMW
Peter Falke Cabernet Sauvignon 2017, 14.5% Abv.
Packed full of sweet, earthym black currant aromatics with silky focused tannins, saline oyster shell nuances and mineral graphite hints. Impressive. 94+/100 GSMW
Peter Falke Kailani Cabernet Sauvignon 2017, 14% Abv.
Cool, sleek, saline and fresh with a lovely lithe, weightless balance and a silky, focused, elegant finish. Very classy. 96/100 GSMW
Rust en Vrede Cabernet Sauvignon 2017, 14.5% Abv.
Classical nose with wet tobacco, tea leaves and stony graphite aromatics that yield to a slightly brooding palate with real focus, spicy tannins but also a slightly muted, fleshy density. Classy as always. 93/100 GSMW
Rust en Vrede Single Vineyard Cabernet Sauvignon 2017, 14.5% Abv.
Riper, denser expression with sweet tobacco, earthy black currant and ripe cassis with a touch more weight and power. But I'm sold by the blueberry kiss and creamy finish. Deliciously modern. 95/100 GSMW
Simonsig Labyrinth Cabernet Sauvignon 2017, 14% Abv.
Brooding black fruits with a hint of iodine, oyster shell and crème de cassis. Palate is broad and fleshy, accessible but certainly classy … and amazing value for money! 93/100 GSMW
Spier 21 Gables Cabernet Sauvignon 2017, 14% Abv.
Lovely red cherry zest tantalises the palate. So fresh and attractive with subtle cherry tobacco hints and an earthy red currant herbal tea finish. One of the most accessible and delicious in the whole Cabernet Collective line up! Start enjoying now. 93/100 GSMW
Stark Conde Cabernet Sauvignon 2017, 14% Abv.
Classically styled Cabernet Sauvignon with lush broody black currant fruits, iodine, tilled earth and an inky, fleshy, accessible length. Simply spellbinding. Ready to go now or keep for another 3 to 5+ years. Amazing value for money. 95/100 GSMW
Stark Conde Three Pines Cabernet Sauvignon 2017, 14% Abv.
Super dark fruited and intense shows the higher altitude vineyard pedigree here. Initially tight and saline, given air, this starts to soar finishing with a classic salty cassis, iodine and oyster shell intensity. Class act from the Jonkershoek Valley. 96/100 GSMW
Stark Conde Oude Nektar Cabernet Sauvignon 2017, 14% Abv.
Tight and broody with salty cassis, wood spice, charcoal embers and cherry compote. Closing up a bit now but still showing all the class and precision that put this wine on the map. Bury in the cellar for another 5 to 8+ years before revisiting. A true blockbuster! 97/100 GSMW
Stellenbosch Reserve Cabernet Sauvignon 2017, 14.5% Abv.
Dense and darkly fruited with black plum, sweet cassis and a soft, plush fleshy but eminently accessible spicy palate. Start drinking now. 90+/100 GSMW
Thelema Cabernet Sauvignon 2017, 14.5% Abv.
Tight and brooding, there is a really stony, tight-grain forcefulness here… classical power! Sleek mineral tannins abound with black currant, graphite and a wet-river-pebble minerality on the finish. Classy stuff. 96/100 GSMW
Warwick Blue lady Cabernet Sauvignon 2017, 14.5% Abv.
Cool and dark with delicious blue / black fruits, sweet stony tannins but with a real classicism at its core. Nicely polished, but also a wonderfully attractive wine. 96/100 GSMW
Waterford Cabernet Sauvignon 2017, 13.5% Abv.
Cool and creamy with a soft accessible and harmonious breadth on the palate and a dense, dark, plush berry fruited finish. Good to go now. 94/100 GSMW
Undoubtedly, an incredible tasting with hardly any low points at all, with even the more "commercial" Cabernet Sauvignon releases holding up well with six years of age. But of course, consistency across all wards of the Stellenbosch region is what also helps cement the 2017 vintage as a great, homogeneous high-quality vintage. The serious examples for the true Cabernet benchmark producers are starting to shut down a bit but that is only to be expected. Most of the top 2015s have already closed up shop and will need time in the cellar. With all its elegance and weightless concentration, it is encouraging to see many of the serious 2017s closing down a bit and starting to slumber. Hopefully, the above snapshot review will serve as a helpful guide for Winemag.co.za customers when browsing wine shop shelves or when digging in their own cellars at home. It is an exceptional vintage which will be difficult to equal, let alone exceed! Bordeaux's loss is certainly Stellenbosch's gain.
Greg Sherwood was born in Pretoria, South Africa, and as the son of a career diplomat, spent his first 21 years traveling the globe with his parents. With a Business Management and Marketing degree from Webster University, St. Louis, Missouri, USA, Sherwood began his working career as a commodity trader. In 2000, he decided to make more of a long-held interest in wine taking a position at Handford Wines in South Kensington, London, working his way up to the position of Senior Wine Buyer. Earlier this year, he moved across to South African specialist merchant Museum Wines to become the Fine Wine Director. He qualified as a Master of Wine in 2007.
Like our content?
Show your support.
Subscribe