Greg Sherwood MW: Stellenbosch resurgent – the kingdom of Cabernet and a whole lot more…
1
One of my most enduring memories of my trips to South Africa in the past ten years will always be my experience of chairing the Kingdom of Cabernet Tasting in 2015 on the Monday before Cape Wine 2015 kicked off, featuring certainly well over 150 guests, and maybe closer to 200, at the One & Only Hotel banquet room on the Cape Town Waterfront. I can't quite remember how I got the gig but if I extrapolate and wrack my brains, I'm sure I'll find that the pocket dynamo that is Mike Ratcliffe was involved in there somewhere!
Arriving early to try and suss out the venue and find out exactly what was going down and what I was expected to do, I was immediately approached by head sommelier Luvo Ntezo who gave me a hearty Cape Town welcome and ushered me into the lounge for a relaxing glass of MCC. Organizers were running around rather frenetically so I was probably about two and a half glasses of bubbles in before I was introduced to the crew running the show. Not until the crowds started gathering, did I realise what a big deal this was going to be. I can't really say I was nervous at this point though my pulse did start to race slightly once I noticed well know journalists starting to stream in, first Tim James shuffling into the room and then followed shortly afterwards, by Neil Pendock. At that point I knew real questions would be asked of our 20 guest winemakers and that I would be kept on my toes throughout the evening.
What made the night so memorable however was, a) the number of guests that attended a pre-trade show event (when they could all be partying in Cape Town at the Publik Wine Bar), b) how intently they engaged with the panel of winemakers as we tasted and discussed the differences in Stellenbosch terroir with regards to Cabernet Sauvignon grown in the Jonkershoek Valley, the Simonsberg or the Helderberg, etc, and c) how seriously they all took the subject of a resurgent Stellenbosch that was in a desperate guerrilla war against the T-shirt clad Swartland revolutionaries. Stellenbosch, with its long winemaking history and its fine wine legacy was seriously cherished and revered by everyone in the room.
As it turned out, this was, to my mind, one of the most successful events of the whole busy wine fair week. Stellenbosch, with its chair at the top table of South African fine wine was resolute in its fight back. It would not stand for young gun upstarts and Swartland challengers attempting to steal their limelight and usurp their fame. In reality, there was never a plausible threat. With a panel of Stellenbosch stalwart winemakers including the likes of Etienne Le Riche, Jan Boland Coetzee and André van Rensburg manning the ramparts, it was going to take a lot more than merely youth, old vines and funky Chenin Blanc to shake the foundations of the great Stellenbosch establishment.
Thankfully, the attention-grabbing success of the Swartland served as a serious warning shot across the bows of Stellenbosch's top producers. They had an obligation to live up to the expectations of consumers and collectors alike and brush aside any appearances of arrogance or indifference and illustrate whole heartedly once again, that the great terroir they were blessed to be growing grapes on in Stellenbosch was an absolute privilege and not a right to be taken for granted. There was an expectation of supreme quality, of greatness, of wines with structure and longevity, fruit intensity and palate complexity equal to anything produced in the other famous premium wine regions of the world.
Whilst visiting Cape Town last week, I again had the great privilege to be invited to chair two dynamic tastings with a gathering of fully switched-on Stellenbosch winemakers. Elmarie Rabe of the hard working Stellenbosch Wine Route had arranged two enlightening tastings of firstly Stellenbosch Chardonnay subdivided by wards with winemakers in attendance to present their wines, followed the next day by an incredibly exciting tasting of some of Stellenbosch's greatest Bordeaux blends, again with their own winemakers present. My conclusions after tasting these wonderful reds and whites is that Stellenbosch is undoubtedly resurgent, bullish and emboldened thanks in no small part to the two exceptional vintages in the region, namely 2015 and 2017. Even more heartening is the way the winemakers have grabbed the opportunities these two stellar vintages have presented and gone out into the world's global wine markets to present the true fine-wine potential of the region of Stellenbosch for not only Cabernet Sauvignon and Bordeaux blends, but also Syrah, Pinotage, Chenin Blanc and Chardonnay.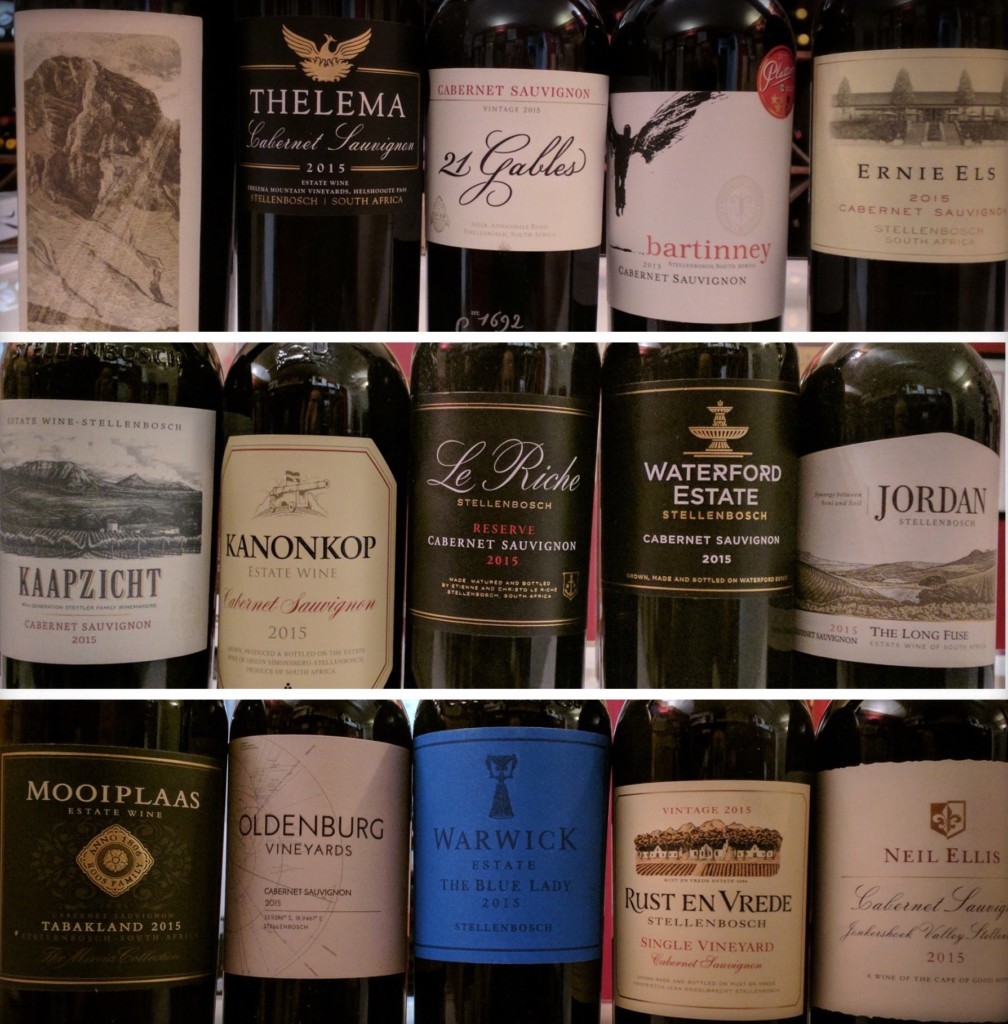 By the time this piece goes live, I will once again be fully immersed in the wines of Stellenbosch as I present 28 Cabernet Sauvignon 2015s from The Cabernet Collective to a sell-out tasting of private clients and journalists including the great Jancis Robinson OBE MW. Other than odd bottles tasted here and there over the past year, this will also be my first opportunity to extensively revisit some of the greatest names of Stellenbosch and their iconic Cabernet Sauvignon wines from the 2015 vintage. I am expecting big fireworks from the likes of Kanonkop and Le Riche, Thelema and Neil Ellis, Waterford and Oldenburg, with undoubtedly a few vinous surprises thrown in for good measure!
Greg Sherwood was born in Pretoria, South Africa, and as the son of a career diplomat, spent his first 21 years travelling the globe with his parents. With a Business Management and Marketing degree from Webster University, St. Louis, Missouri, USA, Sherwood began his working career as a commodity trader. In 2000, he decided to make more of a long-held interest in wine taking a position at Handford Wines in South Kensington, London and is today Senior Wine Buyer. He became a Master of Wine in 2007.
Attention: Articles like this take time and effort to create. We need your support to make our work possible. To make a financial contribution, click here. Invoice available upon request – contact info@winemag.co.za
Like our content?
Show your support.
Subscribe