Jamie Goode: Can you preserve open wine successfully?
7
A 750ml bottle of wine is a good portion for two to share at lunch, or for a reasonably thirsty person to consume at dinner. But sometimes you open a wine and don't want to finish it that night. Will it be OK the next day? Or what about the day after that? Or if you are running a wine program at a restaurant and want to offer wine by the glass: how can you make sure that a bottle open for a few days still delivers a quality wine experience for your guests?
These are interesting questions, and they lead on to a discussion of wine preservation devices. There are plenty on the market, but are they any good? In order to answer this question, we need to examine the science of what happens to wine in a part empty bottle.
Oxygen is not a friend of wine. While it can be quite useful during fermentation, helping yeasts do their thing, after this, winemakers take quite a bit of care to limit the contact of wine with air (which is 20% oxygen). A tiny bit can be useful as the wine develops, and barrel aging allows very small amounts of oxygen to come into contact with wine. But good bottling practice limits oxygen pick up to virtually nothing, and a good closure will keep oxygen out almost completely.
The idea that corks 'breathe' is a daft one. A good cork should allow very little oxygen transmission at all: we are talking tiny amounts. This has become clear through closure studies and the use of plastic corks. Oxygen can diffuse through plastic, and wines sealed with plastic corks don't have a long shelf life. [The truth is a little more complex: plastic corks have come a long way and some of the current ones allow less oxygen diffusion.] Generally speaking, only the tiniest quantities of oxygen are wanted once the wine is in bottle. The oxygen transfer rate (OTR) of a closure will determine how that wine evolves, and if ageing in bottle is desired, then the closure needs to have a low OTR. Wines can develop and age in the absence of any oxygen ingress through the closure.
So you have opened a bottle of wine, but you don't want to consume it in one go. For most wines, it's fine to put the cork back in or rescrew the screwcap, leave the wine somewhere cool, and then drink the rest the next day. Young reds and whites are probably fine on the following day, too, although there might be some development. But what about wines you want to leave for longer? Or special wines you don't want to take a risk with.
This is where wine preservation devices come in. There are quite a few on the market. The first I came across when I began drinking wine was the VacuVin. This was a system where you popped a rubber stopper on the wine, and with a pump sucked all the air out of the headspace. With no air, there's no oxygen in the headspace, and thus no further oxidation of the wine. Or so you might think. Actually, these vacuum devices have two problems, in my experience. The first is that they seem to change the character of the wine. Is this through removing aromas as well as air? Or through degassing the CO2 in the wine? The second is that the act of pouring the wine allows it to pick up oxygen, and so even if there's no air in the headspace, there's enough oxygen in the wine for oxidation to occur.
The second method involves using argon gas to 'blanket' the wine before re-corking it. This is done using a can with a fine straw attached that directs the argon into the bottle. The idea is that argon, which is inert and heavier than air, forms a protective layer above the wine, keeping oxygen away. There are two problems here, too. First, argon is heavier than air but doesn't blanket. After a short while the different gases mix and oxygen finds its way to the wine. The second is that the act of pouring has already introduced enough oxygen into the wine to cause problems. This is also a problem if, on opening a bottle you aren't going to finish, you immediately decant some to another container or half bottle, fill it up to the top, and seal it.
In fact, the only devices that get round this problem of pouring introducing oxygen into the wine are those which use inert gas to actually propel the wine from the bottle into the glass, thus avoiding the introduction of air into the bottle in the act of pouring. These are the Enomatic systems found mainly in restaurants and wine shops, and Coravin.
Enomatic is too expensive and bulky for home use, but they have transformed wine retail. The wine is uncorked and then a device inserted into the neck which re-seals the bottle, and has one pipe in the wine, and one above it. Through the second nitrogen gas is introduced and this pushes the wine out through a pipe into a glass. It seems to work pretty well, but meticulous cleaning is needed, and the lifespan of the wine is a few weeks at best once it is in the Enomatic.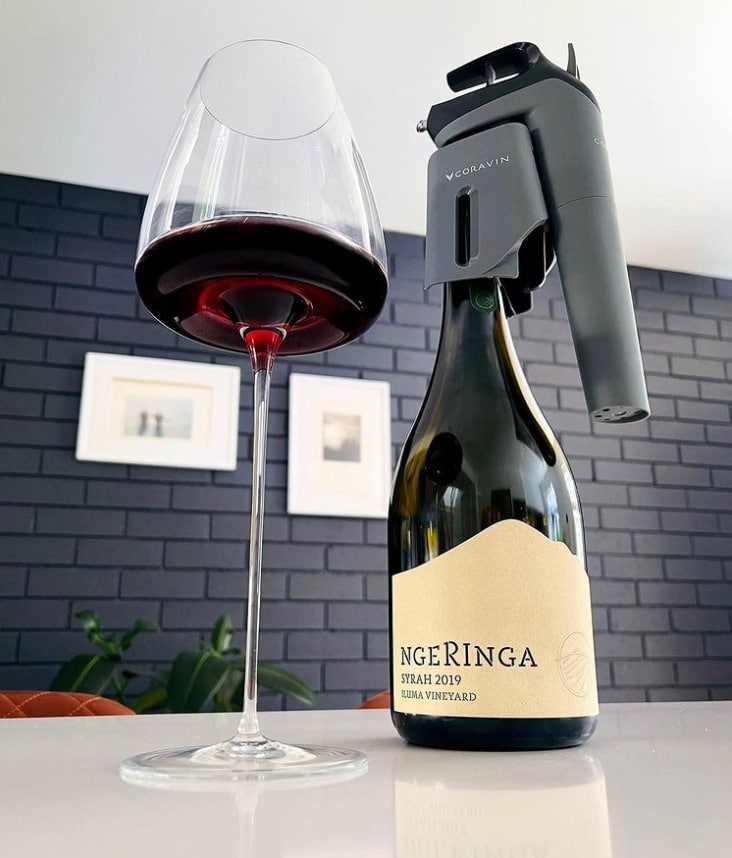 Coravin has been a remarkable success, especially for wine reps who need to pour lots of samples on their visits, but only have a limited stock of wines, and also for restaurants who want to offer expensive wines by the glass, and can't risk wastage. The idea is similar to the Enomatic, but with a much finer needle that actually penetrates the cork. The needle uses argon gas to force the wine back out through the needle, and after the sample has been taken it is removed and the cork reseals. It actually works. I've had wines from bottles that have been Coravined many months earlier, and they tasted good. But I've also had wines from multiply-Coravined bottles that were ruined. A lot depends on how well the cork re-seals itself. There's also the issue of the physical disruption of the wine being forced through a fine needle: it comes out a bit frothy from the gas, too. Has it been changed? I'm happy writing notes on samples that have been Coravined, but I'd place more confidence in a wine poured the normal way. I think critics should mention it, if they've written a note on a Coravined sample. But this is not to take away from the fact that this is a remarkable invention and it has had a big impact on the wine world.
Personally, the only way of preserving wine once it is opened that I'm interested in are these methods that don't allow any oxygen exposure, and at the moment that means Enomatic and Coravin.
Jamie Goode is a London-based wine writer, lecturer, wine judge and book author. With a PhD in plant biology, he worked as a science editor, before starting wineanorak.com, one of the world's most popular wine websites.
Like our content?
Show your support.
Subscribe