Michael Fridjhon: Do consumers need wine experts?
4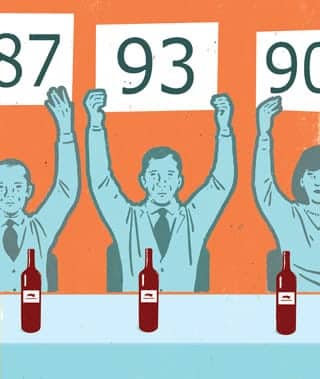 It would take someone as ballsy or as deranged as the WineMag editor to pose the question that lurks everywhere that wine quality is rated and discussed: how important is wine expertise? Vivino aggregates the scores of thousands of consumers, and is regarded by many in much the same light as tablets of stone carried down from a mountain in the Sinai desert. There's no "expertise" there, just near-universal agreement.
Among the many surprisingly elitist teachers at the government school I attended (annual school fees less than R40 per year) there were several who argued that an opinion was not the same thing as a judgement. Everyone was entitled to his/her opinion, whereas only the well-informed and judicious were entitled to expect that someone would take their judgement seriously. That said, experts aren't infallible: Hugh Trevor-Roper, Regius Professor of Modern History at Oxford University, famously fell for the fake Hitler diaries.
If experts are sometimes unreliable and you are not in a position to distinguish their sound judgements from their dubious ones, aren't you better off with an aggregated average, the sum of all the right answers, and all the wrong ones? This fits perfectly with the efficient market hypothesis which argues that you will never, in the long term, beat the market index. For all the effort that goes into persuading investors that the expertise which goes into stock-picking is their best bet, it's now widely accepted that simply following the market average will ultimately yield a better result. There is of course some truth to this position – there's safety in numbers. However, it must be said that when you get it wrong, you get it very wrong. Just look to the Germany of Mr Hitler, where clearly the majority of Germans in the mid-1930s backed the wrong horse, morally and pragmatically.
So is there a way of making practical use of expertise? Some believe you should identify the critic whose views most closely measure up to your own, and go with him/her. There will be differences, but at least the arrangement works like a happy marriage: the big wins make up for the small disappointments. If you aim to do this properly however, you need to have a more objective sense of what it is you seek from a wine, and then to test this against your critic of choice. Do you seek elegance and finesse over power and palate weight? What is your tolerance of new oak in young wine? Is opulence more important than nuance, primary fruit more attractive than intricacy and complexity?
When it comes to wine, my own aesthetic universe is a matter of public record. At the annual Wine Judging Academy I teach the mnemonic PAPER CLIPS – where each of the letters stands for an important and positive attributes in my idea of fine wine:
P = Purity
A = Aesthetic Integrity
P = Potential
E = Equilibrium
R = Refinement
C = Complexity
L = Luminosity
I = Intricacy
P = Persistence
S = Savouriness
This is the same aesthetic that I communicate to all the judges before the first day of the Old Mutual Trophy Wine Show, and which largely guides the major decisions taken at the competition. (It should be added that exceptional wines which don't fit into this framework are never excluded, as long as as they are in balance, and still have life in them: no dead fruit, no slippery tannins). Does it work? That depends on your take on the results – but the extraordinary incidence of the same wineries on the winners' podium in successive years shows that skilled judges are able to discern what we consider desirable qualities, and to reward them with remarkable precision.
This raises the question of any form of score aggregation: is it better to go with a single critic, or run with a panel? If there's a single critic out there that you trust (and in South Africa, tasting blind, I think I'm the last one left, with my scores all available on Wine Wizard) and very few everywhere else, this is surely the gold standard. Next best is a panel composed always of the same members – such as the WineMag one. Here you get something quite close to an individual viewpoint. The same value might apply in a show judging environment – if there's a strong direction, and a common gatekeeper, such as at the Old Mutual. The more that individuality is diluted, the closer you find yourself approaching the average – and once you're down to the big numbers of Vivino it's a much better idea to trust your judgement, and to be ready to learn from your own mistakes. Do this for long enough, you won't need outside expertise, and you'll be your own best touchstone of vinous reality.
Michael Fridjhon has over thirty-five years' experience in the liquor industry. He is founder of Winewizard.co.za and holds various positions including: Visiting Professor of Wine Business at the University of Cape Town; founder and director of WineX – the largest consumer wine show in the Southern Hemisphere and chairman of The Old Mutual Trophy Wine Show.
Like our content?
Show your support.
Subscribe