Michael Fridjhon: Is the closure war coming to an end?
8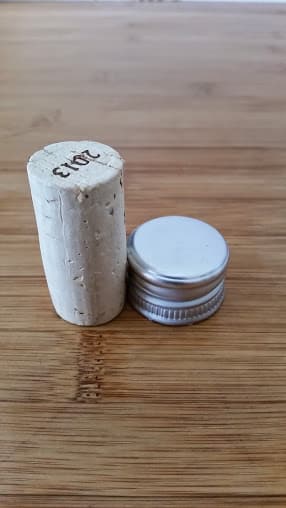 The debate around closures has been part of the world of wine for several decades, and like most matters where belief carries more weight than the facts, it has acquired the intensity of religious dogma. There are several obvious reasons for this: from the moment an alternative to cork presented itself, it was in the interests of the cork industry to vilify "the enemy." This meant that stelvin was labelled "cheap and nasty" while those in the screw-cap business had to emphasise cork's Achilles heels: taint and oxidation. Cork in returned responded by claiming that oxidation was good ("screw-caps 'cause' reduction") and so the blame game has continued.
There has been a sense that any gains made by the one side will necessary be at the expense of the other – which in fact is a long way from the reality. The cork merchants boast about how strong their sales continue to be at exactly the same time as the screw-cap industry releases figures showing how many billions of units are sold every year. The market has grown, the products (on both sides of the great divide) have improved vastly and it really should be a case of "live and let live." Only it isn't.
The battle lines are still in place, the acrimony remains evident, and it's increasingly difficult to know how much the situation is being fuelled by the industries themselves, or by those who are their acolytes. Accordingly it seemed worthwhile to look at the basic facts of the matter – partly with a view to de-politicising the debate, partly because consumers and producers will both benefit from a less hostile environment.
No one seriously questions the vast improvement in cork quality over the past decade. The era of 10% cork taint at a tasting are long past. I was reminded of this recently, at the annual wine judging academy, where the flights of the older (international) wines were compromised (as they are every year) by the cork quality of that era. Comfortably 10% of the samples were tainted. It was nothing short of a miracle that the 6 bottle vertical of Chateau Gruaud Larose (from 2005 back to 1966) emerged unscathed. In previous years the five decade tasting which wraps up that segment of the Academy has always had at least one – sometimes two – compromised examples. By the same token, most of the younger flights proceeded taint-free. At a guess I would say that the level of contamination was around 2% (and it's not impossible that some of this may be cellar – rather than closure – related). You might argue that this is still unacceptable (you wouldn't fly on an airline with a 98% safety record) but the improvement is real.
There's still an issue of reduction with stelvin but this remains a winemaking/bottling problem rather than a screw-cap supplier issue. If a winemaker doesn't understand that wines need to be prepared differently for bottling under stelvin rather than under cork, you can hardly blame the party responsible for supplying the closure. However, one of the issues that this raises is to what extent problems associated with cork have also been winemaker/bottling problems, rather than intrinsics related to the closure. Cork has been excoriated both for taint and for random bottle oxidation. It's certainly true that in a very arbitrary way some corks are more permeable than others, leading both to fluid loss, but also to excessive oxygen ingress. Where we are now picking up premature oxidation on screw-cap closed wines it is safe to assume that the cause of this fault is (generally) not the closure, but technically incompetent pre-bottling preparation and/or poor bottling hygiene. De Grendel's Charles Hopkins has conducted considerable research on the safe levels of dissolved oxygen in wines prior to bottling and it is clear that far too many winemakers ignore the importance of this measurement. Many are also negligent when it comes to supervising the mobile bottling companies who undertake their on-site bottling.
On both sides there have also been great technological advances: guaranteed taint-free corks are now available (admittedly at a considerable premium). You might argue that guaranteeing your corks taint-free is a little like a break-lining supplier guaranteeing that the brakes work – it's what they're supposed to be anyway. However, this now imposes a more serious onus on producers of ultra-premium wines to ensure that they (and through them all their customers – rather than arbitrary and unfortunate individual consumers) bear the cost of this final stage of wine quality. Diam agglomerates, found almost everywhere, are now widely used and are virtually taint free. Not all composite corks are made to this spec: Diam is the market leader, but not the only player in the taint-free agglomerate game. On the screwcap side there are linings offering varying degrees of permeability, ensuring a controlled degree of evolution for those wines which are expected to mature in bottle.
What has come from the almost boundless closure warfare of the past two decades is a significant reduction in consumer disappointment based on factors largely beyond the winemaker's control. In fact, now more than ever, the responsibility has been shifted back to the producer who can choose the type of closure and then the appropriate risk of taint, reduction/oxidation. No longer can a winemaker anywhere in the world shrug his/her shoulders and look helpless when punters complain about an unsatisfactory bottle: either the cellar was dirty, the wrong closure was selected, the wrong bottling protocols were applied, or the cheapest solution chosen. Whatever the cause, consumers can vote with their wallets – which is the best chance we have of keeping the closure suppliers honest.
Michael Fridjhon has over thirty-five years' experience in the liquor industry. He is founder of Winewizard.co.za and holds various positions including: Visiting Professor of Wine Business at the University of Cape Town; founder and director of WineX – the largest consumer wine show in the Southern Hemisphere and chairman of The Old Mutual Trophy Wine Show.
Like our content?
Show your support.
Subscribe