Regional profile: Elgin, South Africa
6
As published in the September 2019 issue of Decanter: It's early morning on a clear but chilly day in May and the air above Elgin is filled with all sorts of helicopters and fixed-wing aircraft spraying for fruit fly. In terms of plantings, this is apple and pear country first and wine country a distant second. The valley situated some 75km south-east of Cape Town and surrounded by mountains has over 6 400ha of apples, nearly 1 500ha of pears and less than 750ha of vineyard in the ground (down from perhaps 1 000ha a decade ago).
It's not difficult to understand the focus on deciduous fruit rather than wine grapes. One hectare of vineyard yields five to 15 tons of grapes, while the equivalent of apples yields 100 tons. Revenue accruing from a hectare of vineyard is in the vicinity of R70 000 to R120 000 whereas it starts at R300 000 for apples and go all the way up to R700 000.
The first commercial apple orchards date from the early 1900s whereas the modern era of wine farming only really began in 1986 when Paul Cluver Wine Estate planted Riesling vineyards as part of a joint venture with what was then Stellenbosch Farmers' Winery, later to be subsumed under South Africa's largest liquor company Distell. Leading industry figure Neil Ellis, meanwhile, was busy exploring a negociant model, acquiring grapes from across the winelands in order to make the best possible wines and the area also caught his eye – he being the first to release a wine officially demarcated as "Elgin" in 1990.
The apple industry was to suffer a major decline in the 1990s as global production outstripped demand, due in large part to China entering the market, and this prompted a wave of new vineyard plantings. Apple prices soon recovered, however, somewhat retarding the development of the Elgin wine scene since then.
Those that persist with wine farming believe they are on to a good thing, however. Elgin lays claim to being the coolest wine-growing area in South Africa and in the most basic terms the wines do have a particular elegance about them.
Does size really matter, though? Paul Cluver Jnr, managing director of a major family farming business, their 1 600ha estate including some 82ha of vineyard, is not too worried at this point in the area's history. "Elgin is 10 000ha in its entirety. The Côte de Nuits must be all of 1 000ha – you don't necessarily need a lot of vineyard to make a big impression."
The Cluver portfolio consists of Chardonnay, Riesling, Sauvignon Blanc and Pinot Noir in various guises but ultimately the focus is on the two Burgundian varieties. "Our USP is fine Chardonnay and Pinot Noir at a fraction of the price of Burgundy," he says. "The identifying character of Elgin is higher acidities and lower pHs in our wines – because of our cooler climate, we get phenolic ripeness without losing freshness."
Cluver would like to see more producers make Chardonnay and Pinot Noir their focus because he feels that this would send a strong collective message to the world but concedes that it's early days for the district in terms of being certain about what its strongest offering might be. Vineyards are scattered far and wide and differ significantly in terms of soils, aspect and proximity to the ocean. For all the critical acclaim that Chardonnay has gained in recent times, it does seem that Elgin can produce outstanding examples of just about any variety bar perhaps late-ripening Cabernet Sauvignon, some examples tending to look a bit thin and weedy.
Another attraction of Chardonnay and Pinot Noir to many growers is that they theoretically have no price ceiling. The most planted variety, white or red, in the valley is Sauvignon Blanc and while the overall quality is high, there is a resignation that it will never fetch much of a premium, at least when made in an unwooded style. A few cellars are experimenting with Blanc Fumé and Sauvignon Blanc-Semillon blends with impressive results but all reports are that such wines don't have much of a popular following.
If vineyards are to compete with apple orchards, then Elgin is compelled to position itself as a premium growing area and here age of vines becomes important – more mature vines providing more complete grapes, the result being wines of greater dept and detail. Unfortunately, however, in the rush to plant that occurred in the early 2000s, plenty of sub-standard material went into the ground, a variety of viticultural problems now manifesting themselves precisely when said vines should be coming into their own.
Elgin wine producers are also subject to significant non-agricultural pressures. For one thing, the district has become something of a social unrest hotspot as the ongoing process of rural to urban migration plays out and there are regular labour disputes. For another, wildfires are becoming a more and more regular occurrence, often damaging vineyard. Happily, climate change is seen as having less impact in the immediate future than it might in other winegrowing areas.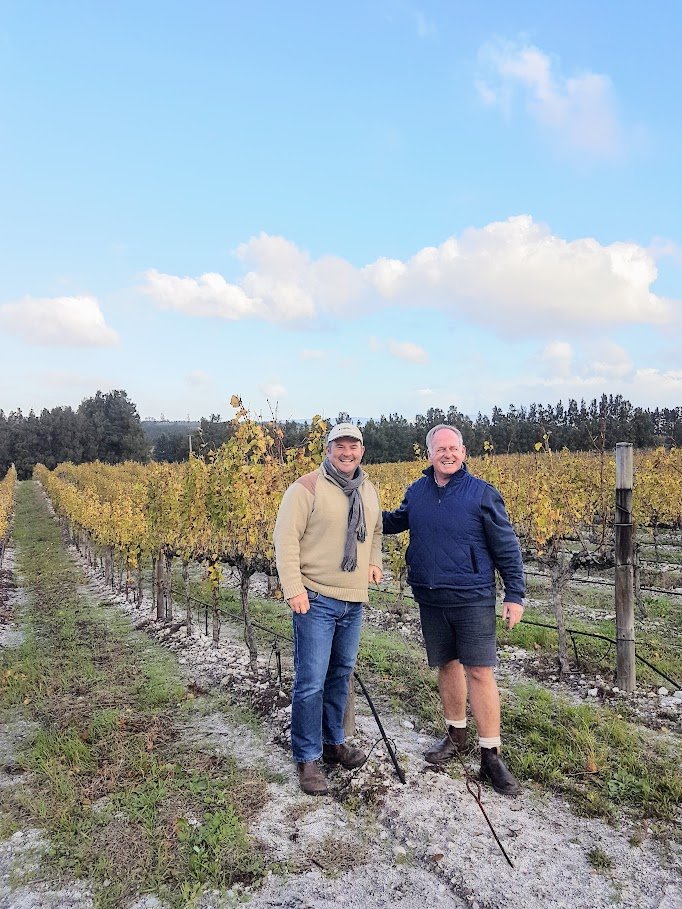 So what prospects for Elgin going forward? Paul Wallace, long-serving consultant viticulturist in the area, is not inclined to become disconsolate. "We're still scratching the surface in Elgin. We've already found out that we're good at Chardonnay but there are other varieties that can do very, very well. I've been at this for 20 years and I'm still learning – why this and why not that." You feel Wallace has a point – in a relatively short space of time, and of a very small base, this district is already producing some of South Africa's most compelling wines. The future is bright. Probably quite chilly but bright.
W.O. Elgin at a glance
Founded: First vineyards of modern era planted in 1986; declared a ward of the greater Overberg district in 1990; declared a district in its own right in 2011
Defining growing conditions: higher altitude with vineyards planted between approximately 300m and 500m above seal level, ocean proximity, specific cloud cover sequencing, high cold units and a large diurnal range – cool nights allow the vines to resuscitate themselves prolonging grape maturation, annual rainfall: 800 – 1 200mm
Vineyard area: 739ha
Structure: 53 growers and 12 cellars
Main grapes: 37% Sauvignon Blanc, 15% Chardonnay, 14.5% Pinot Noir, 8% Syrah
Ten names to know
Almenkerk
This property is owned by the Belgian/Dutch Van Almenkerk family. Patriarch Joep retired to South Africa in the early 2000s and convinced son Joris and his partner Natalie to undertake wine farming. They acquired an apple farm which they converted to vineyards and built a 300-ton capacity cellar, this facility also used by smaller producers in the area.
Elgin Ridge
Brian and Marion Smith sold their IT business based in southwest London at the end of 2006 and bought a small property in Elgin in April 2007. Today their 6.5ha of vineyard are certified biodynamic – a compost preparation programme ensures high humus levels in the soils while ducks take care of pest control.
Highlands Road
Port Elizabeth attorney Michael White acquired this property in 2004, appointing the talented Vanessa Simkiss as winemaker in 2015. Some 9ha of vineyard are planted to Chardonnay, Sauvignon Blanc, Semillon, Pinot Noir and Shiraz but it is the Sauvignon Blanc-Semillon blend known as Sine Cera that to date has most impressed.
Iona
Back in 1997, when the Elgin wine scene was comparatively under-developed, former engineer Andrew Gunn acquired a run-down apple farm surrounded by the Kogelberg Biosphere Reserve and forestry plantations and converted it to a vineyard. Today, Iona has one of the most accomplished portfolios of wines in the district, a recent development being two so-called Monopole Series Chardonnays.
Oak Valley
Founded in 1898 by Sir Antonie Viljoen, a medical doctor who graduated from Edinburgh University in Scotland, the 1 600ha property is currently run by his great-great-grandson Christopher, wine a small but important part of a high-quality agribusiness that also includes cut-flowers, cattle and pigs.
Paul Cluver Estate Wines
This 2 200ha property has been in the Cluver family since 1896, wine currently forming part of a bigger farming business which incorporates apple and pear orchards, a Hereford stud and eco-tourism activities, including amphitheatre concerts and mountain biking trails. The Chardonnay and Pinot Noir under the top-end Seven Flags label are South African benchmarks.
Richard Kershaw Wines
British-born Master of Wine Richard Kershaw has been active as a winemaker in South Africa for some 20 years, establishing his own label in 2012, the focus for the most part on Elgin on account of its cool climate. Kershaw is nothing if not academically minded and his approach to winemaking is fastidious as he seeks to understand how site and clone combine to best effect.
Shannon Vineyards
In addition to apples and pears, James Downes also farms some 12ha of vineyard on this family-owned property on the banks of the Palmiet River. Downes is known for his meticulous viticulture, Shannon Vineyards selling grapes to a number of leading producers but its own-label wines made since 2007 by Gordon and Nadia Newton Johnson in Hemel-en-Aarde are also highly acclaimed.
Spioenkop
At one point, Koen Roose imported South African wine into Belgium but always had his heart set on winemaking and set about learning on the job before acquiring a property in Elgin in the mid-2000s. Something of a maverick, Roose works with unirrigated vineyards which is unusual for the area but which he feels gives him a more authentic expression of site. In addition, he champions Chenin Blanc and Pinotage also not common to Elgin.
Vrede en Lust
Dana Buys, highly successful in the information technology sector, first bought the Vrede en Lust property in Paarl towards the end of the 1990s but realizing the potential of Elgin to provide high quality grapes, subsequently acquired a farm called Casey's Ridge in that district in 2005. There are now some 60ha under vineyard, much of the grapes going into experimental bottlings under the "Artisan Range" label.
Like our content?
Show your support.
Subscribe