SA wine history: That beautiful vine, that remarkable grape, Pontac
7
Believe it or not, there used to be more Pontac planted in South Africa than Chenin Blanc.
The red-fleshed teinturier grape, originally from southwestern France (where it no longer exists), was the only black grape mentioned by British colonial administrator William Wilberforce Bird in his State of the Cape of Good Hope, published in 1822. He recorded that there were 180,000 Steen vines planted compared to 270,000 Pontac vines, 275,000 Hanepoot vines, 525,000 Muscadel vines and, yes, an astonishing 21 million Green Grape (Semillon) vines.
According to the latest SAWIS figures (to 31 December 2018), there are now over 50 million Chenin vines planted compared to little more than 2,000 Pontac vines (850 in the Swartland, 700 in Robertson and 524 in Stellenbosch, to be precise).
But if you're thinking this means Pontac can't really have been all that important in South Africa, you're wrong.
In 1885, the Cape Colony's new government viticulturist, Baron Carl von Babo, described Pontac as 'the most valuable' of the country's red grapes, adding that its must gave a very excellent dark wine 'which equals the Bordeaux and will always find a market in Europe'.
After visiting South Africa in 1921, English wine importer Cuthbert Burgoyne wrote: 'A natural Pontac might have an attractive richness (as opposed to sweetness) that would make it a valuable article on the English market. I hope the time may come when demand and price will enable you to replant this remarkable grape.'
In the mid-1940s, C Louis Leipoldt described Cabernet Sauvignon, Pinot Noir and Cinsault fairly briefly in his 300 Years of Cape Wine before writing: 'Pontak [sic] stands in another class altogether. It is a remarkable grape, whose juice is dark red, staining blotting paper, and of a peculiar sub-acid sweetness when fully ripe… Its presence in the vineyard can always be known by the intense copper red colourisation of the leaves: a patch of Pontak vines between acres of Hermitage shows like an island of autumn set in the green of summer. It is one of the oldest of our wine grapes, and its must contains an unusually high amount of tannins, fruit acids and, for such a sub-acid berry, sugar which sometimes reaches 30 per cent.'
He quoted a letter written by a 'connoisseur' named Monsieur L'Herrité who had been French consul at Cape Town until 1869: '[Pontac] is really a unique wine, and if this wine…were more generally known, it would create furore.'
Leipoldt therefore lamented that Pontac was rarer than it used to be, explaining: 'It is a sparse cropper, useless as a table or raisin grape, and therefore its yield to the winegrower is unprofitable. But it is nevertheless one of the most useful grapes that we possess and it is sincerely hoped that its popularity will increase.'
In the early 1950s, C de Bosdari wrote: 'Now returning to favour is one of the vines first introduced, Pontac, the leaves of which stand out in a green vineyard from January onwards with the bright flash of red ink. Pontac gives a low yield; but only "shy bearers" have the acidity and those other qualities which, though harsh in young wines, can alone – thanks to the improvement they render possible with lengthy maturing – produce great wines.'
In blends, wrote De Bosdari, Pontac gave 'substance, body, as well as its matchless colour' (hence its inclusion in KWV's Paarl Full Bodied Dry Red, the 1940s precursor to Roodeberg, for example).
Both De Bosdari and Leipoldt seem to have valued Pontac first and foremost in sweet wines: 'A Pontac really well matured, either by itself or as the principal element in a blend, is a magnificent dessert-wine, with an after-taste all its own…something akin to caramelised sugar,' wrote the former. 'When suitably blended with Muscadel or Frontignac it becomes a wine of rare and outstanding quality, quite unlike anything else that our vineyards can produce,' wrote the latter, describing an 1866 Muscadel-Pontak as 'one of the most exquisite liqueur wines I have ever drunk'.
In the years since the resurrection of legendary sweet Constantia wine, first by Klein Constantia with Vin de Constance, then by Groot Constantia with Grand Constance, it has generally been glossed over that there was always Red as well as White Constantia. The Red (which invariably commanded a higher price than the White) was the ripest red Muscadel grapes blended or at least coloured with Pontac, and from at least 1772 onwards (when Swedish botanist Carl Peter Thunberg reported as much) the Constantia producers also offered single-varietal bottlings of the 'blood red grape'.
According to vine improvement nursery Vititec in Paarl, 'Pontac… was probably cultivated in Van Riebeeck's time, but definitely in the Van der Stel era.'
Leipoldt certainly believed that Simon van der Stel's 'main plantations' at Constantia were of 'Muscadel, Green Grape, French White Grape and that beautiful vine, Pontak'.
Where did the Pontac come from? Well, possibly via Mauritius, of all places, at least according to Major General Lachlan Macquarie, later governor of New South Wales, who visited the Colijns of Klein/Hoop op Constantia on 7 March 1803: 'We visited the great Wine Vaults or Cellars in Little Constantia attended by the Proprietor thereof Mr. Colyne, of whom some of us made Purchases of Wine on tasting it, and finding it so deliciously good. — I Purchased here two Casks of Constantia Red Wine – one of which is called Pontac – the name of a grape originally imported hither from the Mauritius – and of a most lucious [sic] rich quality.'
Hennie Taljaard has written here about Simon van der Stel's connections to Mauritius, along with the fact that his mother-in-law's second husband, Jean Mariau, was a wine merchant from the south of France who actually arrived at the Cape with Van der Stel in 1679. Although Mariau doesn't seem to have stayed for long, it's entirely within the realms of possibility that he introduced the Pontac.
Records show that '8 halve aam' of Pontak wijn (the equivalent of a leaguer, or 563 litres) arrived in Batavia aboard the Langewijk in 1755. In 1772 the De Hoop carried a leaguer of Pontac to the Netherlands, where it sold on auction for four times the price of the Chenin.
Why did such a highly prized wine disappear? Was it associated too strongly with sweet wines when market tastes shifted to dry wines? Or was industry regulation during the early 20th century to blame? As early as 1933, viticultural academic CJ Theron noted sadly that Pontac's decline was 'a striking example of how, in this country, quality was sacrificed to quantity'.
In the 1950s, however, De Bosdari bullishly declared: 'Cape Pontac was once a well-known name overseas and it could become one again.'
Could it, I wonder, even now?
As things stand, Swartland producer Allesverloren still has a small (0.28ha) block of Pontac planted but yields are tiny due to leafroll virus: 'We only harvested 720kg this past harvest,' says winemaker Wilhelm de Vries, confirming that it still gets used in the Allesverloren Fine Old Vintage.
In Stellenbosch, the only remaining Pontac vineyard (planted in 1981) is at Elsenburg, the Agricultural Training Institute, where fine wine merchant Kyle Martin of Cabo Esperança Wines managed to pick up a bottle of Pontac 2018 that I was lucky enough to taste with him. From everything I'd read, I expected the wine to be dense, dark and extremely tannic, when in fact it is fresh and juicy, made in a deliberately lighter, more modern style (think new-wave Grenache or Cinsault) with 30% whole-bunch fermentation, just one gentle punch-down daily, and a year in old (6th/7th-fill) oak barrels. It's dry with quite stalky tannins but plenty of ripe dark fruit and even some blackcurrant fruit pastilles (hinting at what a sweet version might taste like).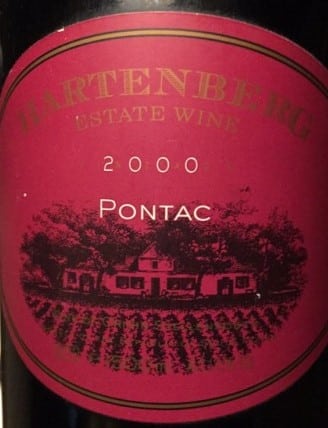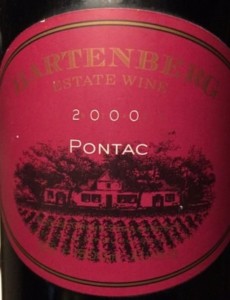 A far more serious version was the Pontac grown at Stellenbosch estate Hartenberg until 2000, when their virus-riddled vines had to be grubbed up. Clearly made to last, a magnum of Pontac 2000 opened at Gauteng's Restaurant Mosaic in 2018 was described as 'a simply breathtaking wine with forthcoming notes of mulberry jam, plums, prunes and hints of mushroom and damp dark earth leading to a fruity palate with a lovely balanced acidity and lingering finish. A legend!'
Needless to say, I'm delighted to learn that Hartenberg is 'first in line' for virus-free plant material that is finally being propagated, and second in line is none other than Eben Sadie, who describes Pontac as 'an old South African hero that has been all but forgotten'.
Sadie believes the grape 'absolutely' needs to come back, saying: 'Once Hartenberg is sorted, hopefully we will get our allocation. We will plant as soon as we get the vines.'
What do the Constantia producers think about reintroducing Pontac?
Boela Gerber says Groot Constantia had a Pontac vineyard, planted in 1986, that was re-grafted to White Muscat before his appointment as winemaker in 2001. 'Our previous vineyard manager and viticulture consultant told me (if I remember correctly) that they really struggled with pests, specifically fruit fly and associated bacterial infection. So I have no experience with Pontac, but Groot Constantia has a recent history with the variety, unfortunately not a successful one.'
'It's an interesting idea,' says Klein Constantia viticulturist Craig Harris. 'We have mentioned it in discussions but only in passing. At this stage I have nothing on my planting plan but maybe I should?'
Klein Constantia winemaker Matthew Day says he'd be keen to plant some Pontac, if not necessarily for a 'Vin de Constance Rouge' then potentially for use in Klein Constantia's Estate Red. 'I think it's such a huge part of our story that it should be revived.'
It was almost a century ago that Cuthbert Burgoyne said: 'I hope the time may come when demand and price will enable you to replant this remarkable grape.'
I think the time is now. It won't come again.
BIBLIOGRAPHY
De Bosdari, C: Wines of the Cape (Second Edition), AA Balkema, Cape Town, 1955
Leipoldt, C Louis: 300 Years of Cape Wine (Second Edition), Tafelberg, 1974
Joanne Gibson has been a journalist, specialising in wine, for over two decades. She holds a Level 4 Diploma from the Wine & Spirit Education Trust and has won both the Du Toitskloof and Franschhoek Literary Festival Wine Writer of the Year awards, not to mention being shortlisted four times in the Louis Roederer International Wine Writers' Awards. As a sought-after freelance writer and copy editor, her passion is digging up nuggets of SA wine history.
Like our content?
Show your support.
Subscribe