SA Wine History: The 'excellent model' of Alto Rouge
3
Tasting for the annual Platter's guide has reached a crescendo over the past few weeks, impacting on my free hours to poke around the archives for very early wine industry stories. The launch of the 2019 Signature Red Blend Report, however, sparked my curiosity to go back a mere century or so – to take a look at Alto Rouge, which happens to be celebrating its 100th birthday this year.
The fact that both the 2016 and 2017 vintages rated 92 points in the report was a 'happy outcome' for panel chair Christian Eedes, who noted that the wine (currently retailing for a recommended R120/bottle) was 'once much prized but has become somewhat dreary in recent times'.
How prized, exactly? Prized like Roodeberg used to be, almost entirely by virtue of how hard it was to come by during the Apartheid years of KWV monopoly? Or a bit better than that?
While there was very little written about Roodeberg (and I know, because I have tried hard to find it), there was plenty written about Alto Rouge. In 1954, for example, the first edition of C de Bosdari's Wines of the Cape was published, and Chapter Three (Cape Reds or Cape Cabernets: Light and Heavy) was largely devoted to Alto and its Rouge.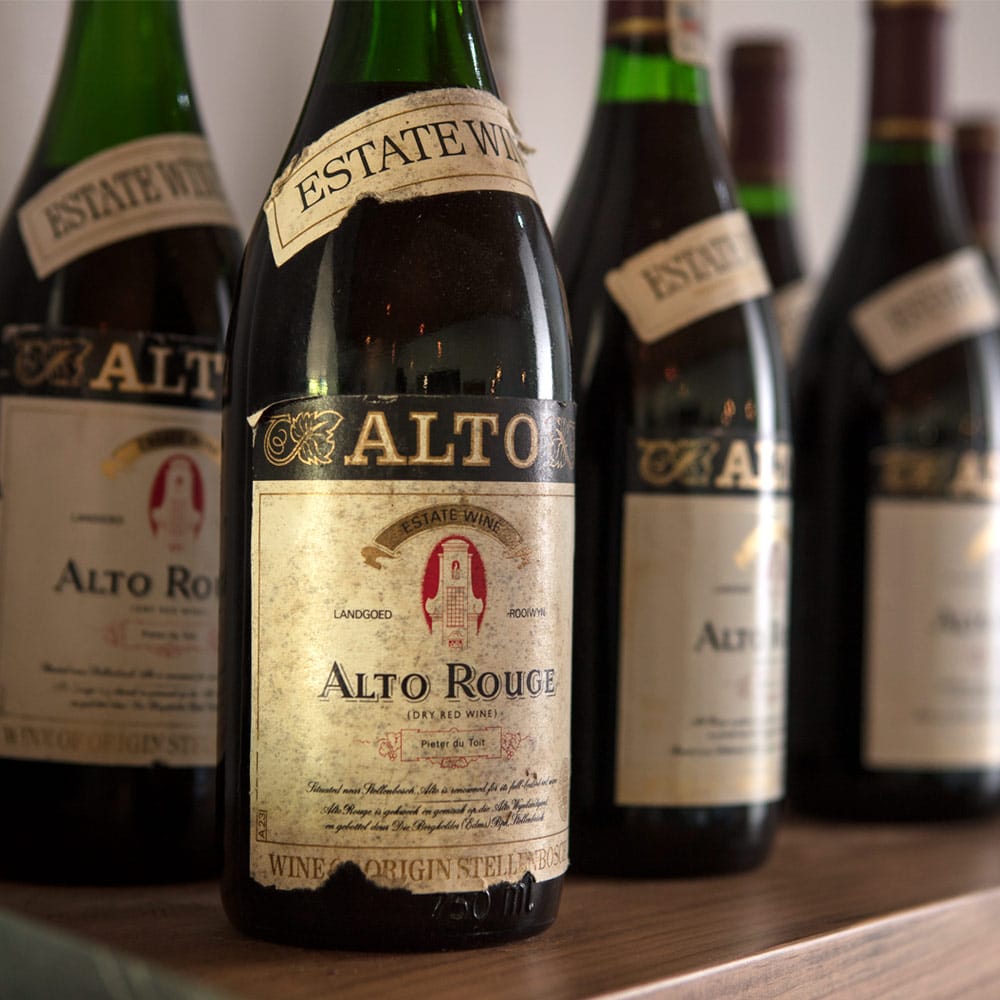 'On the lower slopes of the Helderberg, halfway between Stellenbosch and Somerset West, there is a vineyard named Alto, with the milder climate of the Coastal Strip,' wrote De Bosdari. 'Alto Rouge is the product of this climate – and of 30 years of elaboration of a blend and of application by the present owner of skill and intelligence to those problems of making good wine which are peculiar to the Cape.'
The 'present owner' was Manie Malan who had helped his father Hennie (of French Huguenot descent) establish the vineyards in 1919. A University of Stellenbosch graduate, Malan had then invited his mentor, the legendary Prof Abraham Izak Perold (of Pinotage fame) to taste the maiden 1924 vintage. By all accounts, Perold was so impressed that a consignment was shipped to London – the start of a decades-long relationship with British importers Burgoyne's. Although not sold locally until 1933, Alto Rouge was named 'best Burgundy-type dry red wine' at the Cape Wine Show every year from 1924 until 1929. (Note: At that time in South Africa, 'red wines, light in alcoholic content' were known as 'Claret' while full-bodied red wines were known as 'Burgundy' and were often based on the dark red-fleshed Pontac grape!)
In 1954, De Bosdari wrote: 'Since the methods employed [at Alto] are an excellent model, and since the present owner makes no secret of them and is most willing to help others with them, they are described fully. The vineyard contains Cabernet, Shiraz and Hermitage, in proportions which lengthy trial and error have determined. The first two are high-quality low-yielders, of course, the latter outstanding for the darkness, almost blackness, of its red colour: but Hermitage, the French Cinsaut, is generally looked down on as a prolific bearer producing a wine which may be smooth and easy to drink when very young, but which does not improve with age simply because it lacks the qualities which make improvement possible.
'At Alto, however, Hermitage is not prolific, because it is not allowed to be: all three varieties are pruned to cut down yield, the owner's primary object being to secure that the vines do not bear more grapes than they can bring to full ripeness in an indifferent season. At the price of some loss of wine in a good year, therefore, the owner thus maintains a standard: there is virtually no variation at all in the quality of his wine from one year to another. But he doubtless also raises that standard absolutely, since quantity always seems to be the enemy of quality. The yield of this vineyard is perhaps 1½ tons of grapes per 1,000 vine-stocks, and no more: neighbours may produce over twice as much.'
In terms of vinification, De Bosdari recorded: 'The yeasts natural to the three grape-varieties are used, no selected ones. There is strict control of temperature during fermentation, with mountain-spring water used for cooling: the thermometer is not allowed to pass 85˚F [29.4˚C], and the cellar equipment includes a bed – the sign of conscientious wine-making at the Cape which is the simplest for the non-technical to recognise. Maturing is done in a cool cellar shaded in trees, and in large casks of about 1,000 gallons capacity: it lasts three years, and is therefore lengthy and – owing to the great size of the casks used – slow.'
De Bosdari observed that Alto made no wine apart from Rouge – 'one of the very few Cape Estates thus to specialise' – and that the wine would not pass its prime for many years: 'The owner himself recently tasted a 15-year-old vintage of his that was still at its zenith.' He personally discerned something 'hard' about the wine that he believed 'more years in bottle would smooth' before concluding: 'I do not think this wine can be bettered at the Cape today.'
In his opinion, Cabernet or Cabernet blends that came closest were the 'outstanding' Zonnebloem Cabernet ('a trifle less rich in bouquet than Alto, and perhaps a trifle smoother on the palate when young') and Nederburg Cabernet, followed by the 'Estate Cabernets' of Klaasenbosch, Natte Valleij, Saxenburg and Uitkyk, and the 'big Merchant' brand Chateau Libertas.
At this point, we can fast-forward through six decades, two pairs of father-and-son winemaking teams (Piet and Gerhard 'Hempies' du Toit; Schalk and Bertho van der Westhuizen), the expansion of the Alto range to include a Cabernet Sauvignon, Shiraz and Bordeaux-style blend, and the evolution of Alto Rouge itself in terms of blend composition (alas, no Cinsaut anymore, replaced by Merlot and Petit Verdot).
But isn't it more delicious to savour that little taste from the 1950s? At a time usually written off in SA wine history as an era of bulk production, when the order of the day was quantity rather than quality, we find Manie Malan restricting vineyard yield, implementing strict temperature control during fermentation, and sleeping in the cellar so as to keep a close eye on things.
Hopefully this sort of attention to detail will prevail now that Alto forms part of Distell's newly formed Libertas Vineyards and Estates, and certainly Alto Rouge's performance in the Signature Red Blend Report suggests that matters are well in hand. But here's what I can't help wondering: now that Cinsaut's back in fashion, wouldn't it be very satisfying to see the original 'recipe' for Alto Rouge revived?
POSTSCRIPT
In the end, I couldn't resist doing a little digging… Alto was originally part of the farm Groenrivier granted to Abraham Bastiaansz Pijl on 20 November 1693. Married to Cornelia Claasen, the daughter of Cornelis Claasen and Catharina van Malabar, Pijl seems to have been a wagonmaker rather than a winemaker, and rather intriguingly, there is less in the records about his life than there is about his death.
In short, on the evening of 28 September 1703, Pijl was brought soaking wet into the house of the 'free black' Jan Luij van Ceylon, whose children had rescued him out of the Eerste River. Later that night the family was awoken by gurgling and screams. They found Pijl lying on the ground with his throat slit. The landdrost Pieter Robberts and two heemraden Dirk Coetse and Guilliam du Toit were duly called. On their arrival the following day, they found Pijl still alive with his throat cut through (zoodanig dat de longe-pijp geheel afgesneden was). When asked what had happened, Pijl indicated that the wound had been self-inflicted. After the surgeon Jean Prieur du Plessis had dressed the wound, Pijl confirmed more clearly that he had indeed slit his own throat. When asked why, he answered simply, and without any further explanation: 'Mijn vrouw is er de oorsaak…'
One wonders what Pijl's wife, the mother of his eight children, could possibly have done to drive him to suicide – for he did soon die as a result of his self-inflicted injuries. By 1707 Cornelia had found herself a new husband, Richardus Adolphus, with whom she had a further four children, and in 1718 Groenerivier was transferred to Hendrik Frederik Klopper, who'd arrived at the Cape as a widower in 1713.
BIBLIOGRAPHY
De Bosdari, C: Wines of the Cape, AA Balkema, Cape Town, 1954
First Fifty Years Project: Abraham Bastiaansz Pijl\
Joanne Gibson has been a journalist, specialising in wine, for over two decades. She holds a Level 4 Diploma from the Wine & Spirit Education Trust and has won both the Du Toitskloof and Franschhoek Literary Festival Wine Writer of the Year awards, not to mention being shortlisted four times in the Louis Roederer International Wine Writers' Awards. As a sought-after freelance writer and copy editor, her passion is digging up nuggets of SA wine history.