SA wine history: The mystery of the matching gables
5
One lovely aspect of South African wine history is the evolution of our so-called Cape Dutch architecture, featuring beautiful white-rendered finishes, gracious curves and elegant gables.
I love how modestly it all began: thick walls built hastily for protection using rough stone, earth and clay, smoothed over with ant-heap earth, lime-washed for water-resistance, covered with thatch roofs made from reeds. The earliest dwellings were generally I-shaped, comprising a voorhuis in the middle with a bedroom on one side and a kitchen on the other. Over time an extra room could be added, either in the middle to create a T-shape, allowing for the kitchen and hearth to be moved to the back, or at one end to form an L-shape. As family or fortune grew, additional rooms could be added to create a U-shape with a courtyard (e.g. Groot Constantia) or an H-shape (e.g.  Vergelegen).
Even the Cape's elegant gables were initially built for purely practical reasons – one at each end of the roof to prevent thatch from blowing off; one over the front door in case of fire (to stop burning thatch from falling on you as you ran out) or to make space for a small window (Boekenhoutskloof with its simple wolfneus, for example).
More decorative gables started appearing from the mid-1700s, with Joostenberg's main gable (dated 1756) the earliest surviving example of the so-called holbol style (curvilinear with a plain facade) while Vergenoegd (1773), Meerlust (1776) and the workshop at Spier (1778) have florid holbol gables, decorated with a shell, fan and keystone respectively.
1777 saw the arrival of a German carpenter named Anton Anreith, who by 1786 had built his reputation as a master sculptor, responsible for some of the fancier plasterwork – baroque elements to begin with (scrolls, wavy lines, brackets and more ornate motifs) followed by aspects of Europe's classical revival: triangular or semi-circular pediments supported by plaster pilasters and decorated with anything from an intricate wreath to the magnificent artwork adorning Groot Constantia's cellar (Ganymede, Jupiter's cupbearer, seated on the latter's eagle, pouring wine from a flagon, surrounded by cherubs).
What got me thinking about gables in all their glorious diversity was an interesting question arising out of my column on 'the excellent model of Alto Rouge'. Why does Alto on the Annandale Road between Stellenbosch and Somerset West have virtually the same gable depicted on its labels as Theuniskraal, the Tulbagh wine farm best known for its Cape Riesling and other white wines?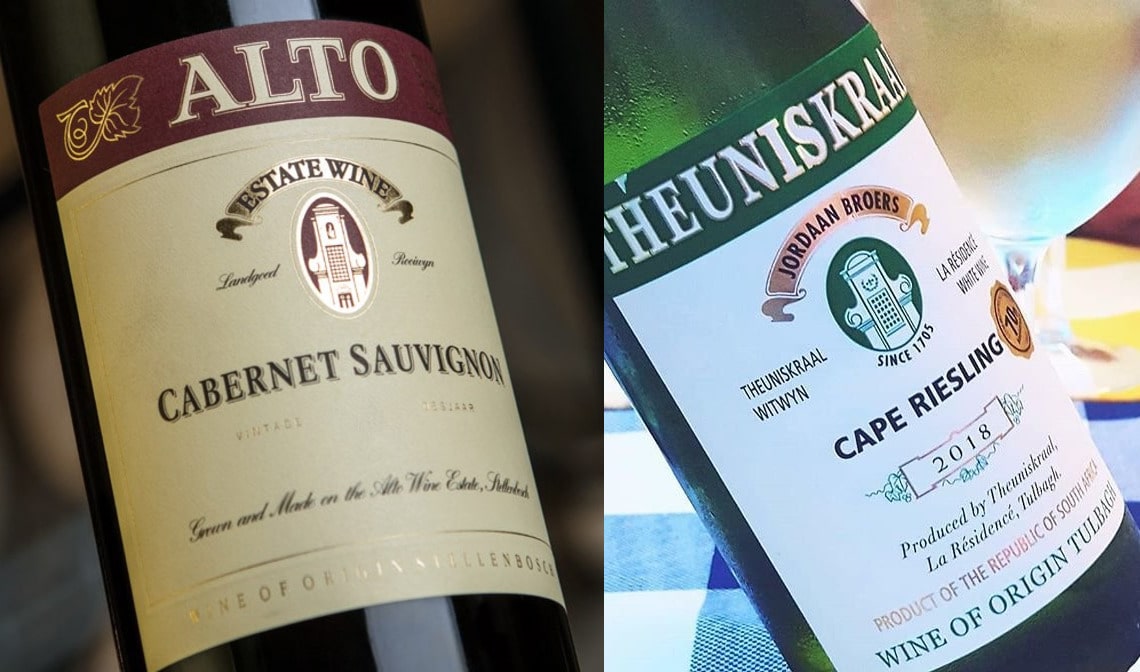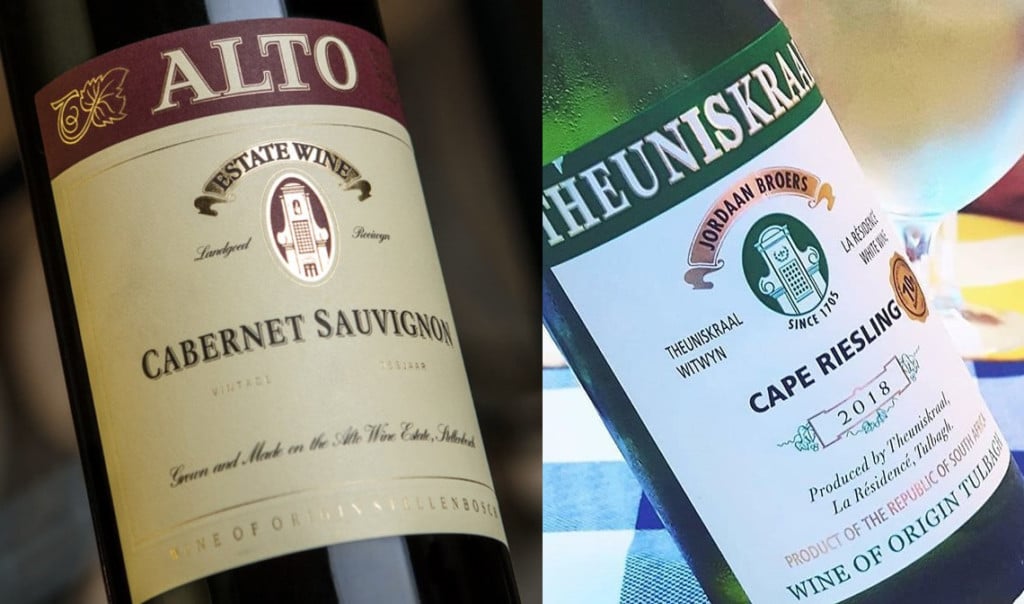 Dating back to 1705, Theuniskraal has been in the Jordaan family since 1927. Dating back to 1693, Alto is now part of Libertas Vineyards and Estates, Distell's standalone premium wine company, having been owned by Piet du Toit in partnership with Distillers Corporation until 1983, and by the Malan family until 1957 (with Advocate AH Broeksma in between).
How to explain the matching gables?
The Libertas marketing department posed the question to me, and eventually third-generation Theuniskraal winemaker Andries Jordaan was able to shed some light. 'After purchasing the farm in 1927, my grandfather started making wine, which was mainly exported to England in wooden barrels. During the early 1940s, my grandfather was approached by Anton Rupert [founder of Distillers Corporation] who had certain ideas for the upliftment of the image of the South African wine industry. He was looking for partners to do it with. One of his ideas was to link quality wine in the bottle to its home – in other words to its specific farm, terroir, climate, soil and family, almost like a chateau in France. In 1945 my grandfather was the first white wine-producing private cellar to go into partnership with Dr Rupert, followed by Alto in 1946 as the first red wine producing private cellar.'
Grown, vinified and matured on the farm, the wines of Theuniskraal and Alto (and others, in due course) were marketed by Distillers Corporation under the La Résidence brand – this was, in effect, the start of the estate wine concept in South Africa, with the words 'La Résidence' eventually giving way to the term 'Estate Wine' on most neck labels.
In the case of Theuniskraal, however, permission was sought – and granted – to continue using the words 'produced by Theuniskraal, La Résidence, Tulbagh'.
Jordaan explains: 'The legislation changed, saying that if you don't bottle the wine on the premises, it may not be called estate wine. So although we only use our own grapes and make the wine on the farm until it's ready to be bottled, we can't call it estate wine because we don't bottle it here. Ridiculous. So we decided to bring the La Résidence back – with the necessary permission.'
The labels of both properties have been tweaked and streamlined in recent years, but they still feature a gable that, while instantly recognisable for each brand, doesn't physically exist.
Nonetheless, in drawing on the past and the Cape's beautiful domestic building style to develop the La Résidence brand and, indeed, to start shaping the modern South African wine industry, Dr Rupert was ahead of his time.
Joanne Gibson has been a journalist, specialising in wine, for over two decades. She holds a Level 4 Diploma from the Wine & Spirit Education Trust and has won both the Du Toitskloof and Franschhoek Literary Festival Wine Writer of the Year awards, not to mention being shortlisted four times in the Louis Roederer International Wine Writers' Awards. As a sought-after freelance writer and copy editor, her passion is digging up nuggets of SA wine history.
Attention: Articles like this take time and effort to create. We need your support to make our work possible. To make a financial contribution, click here. Invoice available upon request – contact info@winemag.co.za
Like our content?
Show your support.
Subscribe