Tim James: Three Swartland wine farms
By Tim James, 16 August 2019
I
There's something particularly lovely about a curving vineyard, gently adapting itself to a hillside. They must be rare, given the exigencies of the trellising and mechanisation that dominates modern vine planting, and the expense of the terracing which is usually a necessary part of the design. I remember my delight back in 2010 at visiting the curvaceous, steeply-terraced, raw-earthed new pinot noir vineyard that Gottfried Mocke had just planted at Chamonix (my report here).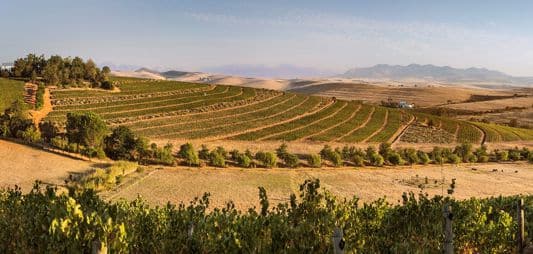 It's a long time since I've seen the Chamonix vineyard, but last week I visited a possibly even more wonderfully beautiful curving vineyard (and certainly a much larger one), at the Roundstone farm of Chris and Andrea Mullineux on the Riebeekberg, just outside Riebeek-Kasteel in the Swartland. It was planted over 2015-2016 and last time I walked in it all the plantings were still undeveloped. Now it's thriving.
I don't know if this vineyard will be the finest monument to the work of viticulturist Rosa Kruger, who designed it, but it will not be the least of them – and will long also honour the vision of Chris and Andrea. How good it must feel to know that you are leaving behind something both beautiful and living perhaps for many generations – and leaving for even longer a human but sympathetic imprint on the land.
What is most special about this vineyard, and the real source of its spiritual and physical beauty, is the richness of the fynbos that is built into its design. The total bounded area of the vineyard is some 18 hectares, but three of those have been planted (by a specialist horticulturist) to indigenous vegetation – some 290 species, mostly endemic to the Swartland. Between groups of rows of vines (chenin, clairette, cinsaut, grenache noir, macabeo, verdelho, syrah) are wide rows of fynbos, widening and narrowing according to the contours and the nature of the soil, with a larger planting where the ground is less suitable for vines. When I walked through the vineyard last week with Andrea and Chris, the feeling of beautiful variousness was such that one can't understand why this pattern of working with nature is not more widely followed. It was a lovely summer winter morning after rain. There was birdsong – and no doubt the buzzing of innumerable insects; any snakes kept discreetly reticent.
In 2018 the first grapes were harvested off this magnificent vineyard. Most went into the Kloof Street range – but some of the reds were so good that a Grenache-Cinsaut was made, for Club members only.
II
There are fine views of the Paardeberg from the heights of Roundstone, across vast fields of youthfully green wheat. This week, Eben Sadie planted a new vineyard on his small farm on that sprawling granitic outcrop. Rotsvas is the name of the farm, Twiswind that of the vineyard (like Roundestone's, on a gentle slope) – meaning something like "quarrelsome wind": It's the most exposed part of the farm, and all the viticulture, says Eben, "has to be aligned and adapted for the very reality of the Cape Doctor and its relentless breath!" So, for example, it has been partially staked, to help support the vines and protect them from excessive breakage by the wind.
This is the second vineyard on Rotsvas – until not long ago a virtual forest of eucalyptus. A mixed vineyard of red-wine varieties is still in its infancy nearby, but the new vineyard is all white grapes, and an even more diverse collection. Packed into the 1.18 hectares are chenin, palomino, assyrtiko, vermentino, grenache blanc, cinsaut blanc, grillo, picpoul, marsanne, semillon…. Well, that's what I last heard. In the years to come these grapes will find their home in Palladius.
It's a good year to be planting on the Paardeberg. Good rains have fallen, coming as a welcome relief to Swartland farmers. "It's been a beautiful wet start!" said Eben.
III
I'm sure that the Swartland winter rains have also been giving satisfaction to Chris and Suzaan Alheit this past week. The Alheit name has not until now been much associated with the Swartland, except perhaps in spirit – though last year they brought out their maiden Swartland wine, a Paardeberg chenin called Fire by Night. That wine was sub-named "A note to the mountain" and was offered as a kind of homage to the Paardeberg, so crucial in the Swartland and Cape wine revolutions of this century.
But just this week Alheit Vineyards took ownership of Nuwedam farm, with its 20 hectares of mostly chenin vines, from which Fire by Night has been sourced. It's the first vineyard the Alheits have owned – but it would not be particularly brave of me to be sure that it won't be the last. Nuwedam was previously owned by Christa von la Chevallerie, who will be continuing with her Huis von Chevallerie brand – her Nuwedam Old Vine Chenin Blanc was the first wine to carry the Certified Heritage Vineyard logo of the Old Vines Project. The Alheits will continue to sell chenin from the farm to Donovan Rall and Gabriëlskloof, but most will go into their own wines. And the Paardeberg will continue to play host to a remarkable number of the great names of modern Cape wine.
Tim James is one of South Africa's leading wine commentators, contributing to various local and international wine publications. He is a taster (and associate editor) for Platter's. His book Wines of South Africa – Tradition and Revolution appeared in 2013.
Like our content?
Show your support.
Subscribe