Tim James: A mature (sometimes over-mature) half-dozen wines
By Tim James, 28 November 2022
One expectation that I'm adjusting in my mind these days, as I try to pay systematic attention to some of the older wines I drink, is the medium-term prospects for the best local whites. I'd vaguely thought that after five years of so in the bottle, for many even of these, one was entering a risky area. But I now think that's ungenerous. Last time I discussed ageing, I mentioned, for example, the delicious maturity of Momento Chenin Blanc Verdelho 2014 amongst others. This time, I have a few more – though less surprising to my prejudices because they come from one of the Cape's foremost white wine producers.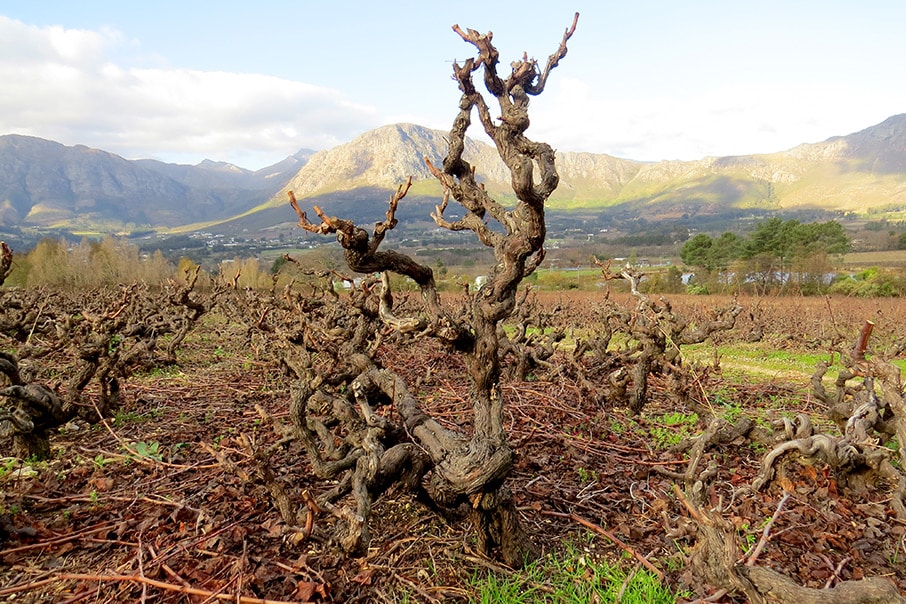 Alheit's semillon is off a 1936 Franschhoek vineyard that includes a good admixture of the red-skinned mutation that in the nineteenth century was probably dominant in the Cape Colony. It's changed its name a few times (for different reasons) since the maiden 2014, which was called Arrow Heart. It then became named for the farm, La Colline, and was later obliged to drop that name and it is now Monument. The Arrow Heart maiden was the only one where the 75% sémillon gris was skin-fermented for a week. (I think if you're going to use "gris", semillon should also be re-Frenchified and resume the accent over the e, which is so often omitted in the Anglo-Saxon world). The skin contact gave it a rich red-gold colour, which has deepened with eight-plus years.
I was initially disappointed when I opened a bottle a few weeks back. The aromas and flavours were rather disappointingly mild and straighforward – with just a hint of tertiary savouriness. The texture was lovely, the acid was in balance and there was the lightly firm tannic grip to be expected from the skin contact. More than decent, but unexciting. Over the glassful, and for a day or two, however, the wine grew in flavour and length and stature, and gave great satisfaction. Like all good skin contact wines (as I've found) it went splendidly with food. It became excellent, I thought, very Alheit-elegant – and still far from effusive. I'm delighted I still have another bottle, and I won't feel any urgency to open it.
My other Alheit of the past month was Cartology 2016. Drinking superbly now, I'd say, though no hurry about drinking it up. Much more intense in flavour than Arrow Heart, but not to the point of ungraceful obviousness; succulent with lemon and peach. Undoubtedly it had been worth keeping it, and there's no reason to panic, but is there any benefit to be gained from holding on to the rest of the case much longer? I'm really not sure, thought I doubt it.
The reds I'm reporting on were mostly rather less satisfactory. Meerlust Rubicon 2006 I found rather confusing – and it's also difficult to explain exactly why its aromas were so very typically those of an older South African red. Essentially, I think, the wine had aged (though certainly not to the point of unviability), but hadn't developed. Perfectly drinkable – the tannins softened by bottle-age – but unexciting; a touch flabby and clumsy at this stage. Too old for me; I'm sure I'd have enjoyed it much more at 10 years or less. I've never, in fact, had a high opinion of Meerlust wines' ageability, and I've tasted a good few verticals over the years.
The Morgenster Estate red, also from 2006, had some links with the Rubicon, in a lack of interesting development, and in a feeling of rich ripeness making for a certain thickness and dullness (the opposite of fresh, perhaps), and a lack of elegance. But although Morgenster was more noticeably sweet-finishing (the curse of so many local Bordeaux-style – and other – reds), and even a little too soft now that the tannins are fully resolved, I thought it in better condition. I admit that a lot of people more sympathetic to the style will probably much enjoy it's easy soft sweetness.
I'd love to know what Pierre Lurton, the great Bordelais wine-person and consultant to Morgenster, would honestly think of that wine now. Another local blend I drank recently, Anwilka 2009, also had a strong input from Bordeaux, in the persons of two other great Bordeaux men, Hubert de Boüard and Bruno Prats, co-owners with Lowell Jooste, then of Klein Constantia. (Anwilka more recently merged with KC, with de Boüard and Prats as shareholders in the whole.) I think they should be a little more pleased.
My Platter's note for the 2009 back then spoke of this vintage as a breakthrough – "adding more depth, seriousness and structure to usual ripe, dense fruit. From 56% shiraz + cab…. Plenty of new oak used, but integrated. Supple and flowing, on implacable but graceful infrastructure. A modern classic, will mature many years." And mature it has. Certainly for me the best of the three red blends mentioned here. Probably the three years in hand was important for this, but I think the structure is inherently superior – and this wine shows development, not just ageing, with interesting savoury complexity from its time in bottle. Its genuine dryness is also important, though the tannins are in fact a little too drying (that's a different matter) – perhaps oak tannins predominate over the grape. And although, strangely, my later tasting note, like the earlier, used the word "implacable" (a quality I find and admire in serious Bordeaux wines), I now found it lacking in gracefulness – revealing itself as a little over-extracted and over-intense. But a very good wine, that I enjoyed drinking much more than either of the 2006s.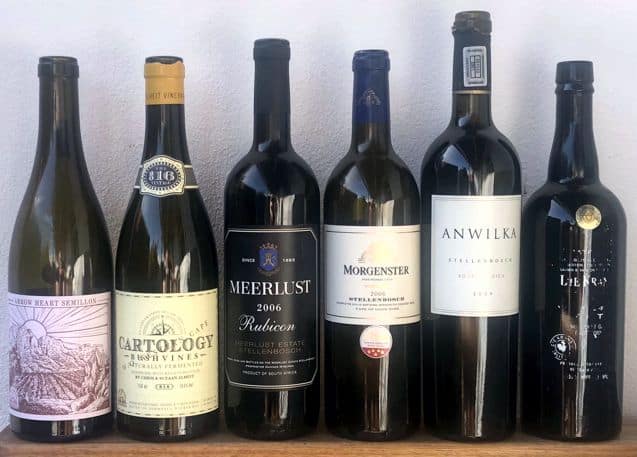 And so to a "port" from Die Krans (the estate hadn't yet changed its name to De Krans). Most of the white paint on the bottle, in lieu of label, has fallen off, so I couldn't see the vintage – but the bottle bore a gold medal from 1997 Veritas (so probably 1994), and looks to be a "Vintage Port" rather than a Reserve. Which is what it tasted like. Quite impressively lively, but without the tannic depth and the character one would expect from a Reserve even at approaching 30 years of age. It's interesting to remember how exciting the new wave of Cape port seemed as a category in the 1990s. De Krans and Boplaas and the occasional other (like Delaire, or the single Sadie-Niepoort tawny, made from shiraz) remain very good, but Bredell gave up and Axe Hill is not what it was; and not enough winelovers care much about fortified wine these days. I do. This bottle was one of a parcel I bought on auction not long ago, and I'm glad for that. The more serious bottles remain.
Tim James is one of South Africa's leading wine commentators, contributing to various local and international wine publications. He is a taster (and associate editor) for Platter's. His book Wines of South Africa – Tradition and Revolution appeared in 2013.
Like our content?
Show your support.
Subscribe