Tim James: A visit to Albert Ahrens and his wines
By Tim James, 15 October 2020
It must be some 17 years back that I first met Albert Ahrens. I was still in the early stages of falling in love with the Swartland and Albert had been since 2002 the winemaker at Lammershoek – under German ownership since 1999 and transitioning from a co-op deliverer into a substantial winery (no doubt with the encouragement of Eben Sadie, making his few wines in a tiny shed on the Lammershoek property). His wines were decent enough (and Lammershoek offered great value, I remember), though not revolutionary – not that we fully understood what exactly was starting to happen back then – there were just a few hints.
Anyway, that was a long time ago in the life of the Swartland as well as of me and Albert. He left Lammershoek in 2008 (with the era of Craig Hawkins about to begin) and was fairly soon established at Goede Hoop on Stellenbosch's Bottelary Hills. But 2008 was a particularly significant year for him, as it was the first vintage of his own label, The Ahrens Family – debuting with a red wine, called Black (soon followed by a White Black with equally minimalist label design – the colours you can guess). He's been concentrating on his own wines for a few years now. He works in a small, rented winery in a spectacular, quite remote part of the Paarl winelands, on the gorgeously named Wildepaardejacht River, up against the mountains – next door, incidentally, to the farm once owned by President FW de Klerk.
And 2020 is also important, with the release of the 2018s – the range having grown to seven, quite apart from the excellent GM & Ahrens bubbly, the 2015 vintage of which Christian Eedes reviewed recently. "We've finally figured out or plan and our story", Albert says. And behind that is the resolution of a "super-tiring" three-year battle with the trademark holders of the names "Bottelary" and "Swartland", which had figured prominently – and totally authentically – in characterising two Ahrens wines. And if you didn't realise that the names of a few Wine of Origin Areas were trademarked by private entities, then be appropriately shocked and realise it. In the present cases it's Perdeberg Winery (Paarl), believe it or not, who registered the Bottelary (Stellenbosch) name before the law changed; and Swartland Winery. I'm told that fairly recently there was a well-funded court battle between Robertson Wines and Van Loveren, who wanted to indicate a prominent "Robertson" in the names of some wines; sadly, Van Loveren lost.
So Ahrens Family finally had to submit. What was the Bottelary OVC [Old Vine Chenin] is now perforce Stellenbosch OVC, with WO Bottelary in demurely small type; and Swartland OVC is now named for Region X. It's a pity, and a sad reflection on winery-businesses that insist on their dubious and anti-wine legal rights. But Albert is moving forward. The 2018s now all have undisputed names for the first time!
And it must be said that, whatever the wording, the packing of the bottles is striking and rather beautiful (once you've removed a fairly plainly printed wrapper, on the inside of which is something of the story behind the wine and the label). Only the Black still has a revised version of that original black label. The others all bear bold, abstract paintings by the well-known artist Lionel Smit. Each year, for all of the wines, Albert and he discuss the character of the wines and the vintage, and the (large!) paintings that Lionel does for each wine present interpretations of those things.
As to what's in the handsome bottles – I must say that I haven't had The Ahrens Family wines for a good few years, and I think that they have grown in confidence and quality. They are indisputably significant contributions to the new wave of Cape wine: made "naturally", avoiding simple fruitiness in favour of more savoury depth, fresh and lively, with a genuine focus on expressing differences of origin. So, for example, three chenin blancs bearing Old Vine Project seals giving the planting dates of their vineyards, from, respectively, Stellenbosch (1982), Paarl (1977), Swartland (1984). I could give some attempts at structural descriptions, and lists of associations, and my preferences (which I doubt are immutable) – but they're all good, serious wines, and you'd like them all, I'm sure, though personal tastes would say which one you liked most.
The other white, the WhiteBlack, is a fine, delicate, silky, fragrant Voor Paardeberg blend of grenache blanc, marsanne, and Roussanne. Alcohol, pretty typical, of 12.5% – part of what makes it a particularly good food wine, I'd say. Beautifully structured and balanced, with a lovely stoniness.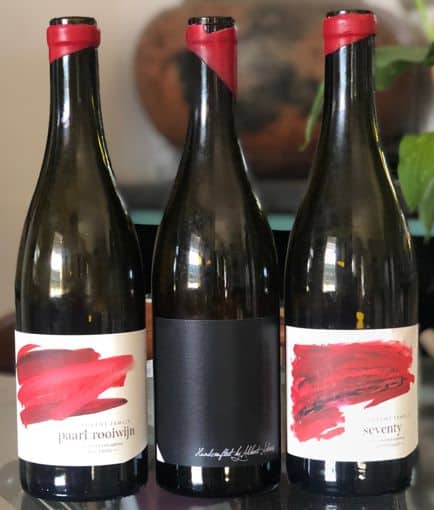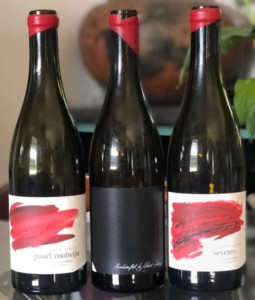 The reds are also good – rather riper, though – and in sufficiently new wave mode. In fact, Albert was one of the early deployers of cinsaut in blends. The first Seventy cab-cinsaut (then "Bottelary", now "Stellenbosch") was, in fact, 2013. There's an edge of cinsaut fragrance, great structure, with firm tannins and some ripe sweetness to the 2018. The Paarl Rooiwijn, 30% cinsaut plus syrah, doesn't flaunt its 14.5% alcohol, and even has some austerity of structure in nice contrast to its charm; a good, serious wine. The Black is now a blend from three Swartland syrah sites and two of carignan (the latter giving 25% of the blend). With just a touch of ripe sweetness here (14% alcohol), it's subtly perfumed, succulent and concentrated, with a serious structure; balanced, but still very young.
Ahrens Family Wines do not yet, perhaps, have the public image that they deserve – though I believe there's a significant following, and I suspect that they are better known in Johannesburg than Cape Town; half of the 30 000-odd bottles are exported. I do recommend that you look out for them, however. At something like R265 for the whites and R300 for the reds they are pretty decent value in these times of spiralling prices for top wines. Oh yes, and they're immensely drinkable.
Tim James is one of South Africa's leading wine commentators, contributing to various local and international wine publications. He is a taster (and associate editor) for Platter's. His book Wines of South Africa – Tradition and Revolution appeared in 2013
Attention: Articles like this take time and effort to create. We need your support to make our work possible. To make a financial contribution, click here. Invoice available upon request – contact info@winemag.co.za
Like our content?
Show your support.
Subscribe