Tim James: A wine that is "full of money"
By Tim James, 21 February 2020
Which is the Cape's most expensive wine range? I'm not sure, though I'll take a stab later. The most expensive individual Cape wines – including or excluding the jokers and wannabes alongside the regular sellers – are fairly easy to determine, and there's been quite a bit of discussion about the category in recent years, given the ever-increasing number of contenders. But the producer with the priciest range is altogether another question.
And it's a bit more complicated to resolve. If you're working on an average price per bottle across the range, which seems fair, do you include a producer whose most expensive wine is only offered occasionally ("in the best vintages" is a common plea)? Or a producer that only has one or two wines in the regular portfolio? Is there a minimum number that must be in the portfolio for it to count as a "range"? I'm not quite sure how De Toren, for example, should be considered. And of course, there's the occasional mysterious candidate: 4G Wines would probably be a fore-runner in this little race, except I'm not quite sure of the extent to which (or how) it really exists, with the website listing a whole lot of names, one per vintage, which possibly refer to the one wine. Plus a second label (Echo of G) whose current vintage noted is 2012 (huh?). Although Christian Eedes recently tasted another 4G (also notably expensive) that's not listed on the website and an Echo from 2011…
Many of the grander producer names with a reasonable number of wines also have an introductory range, which slightly dilutes the average price, even if the majority of the wines are pretty pricey. Larger-range wineries which don't have an entry-level selection, even if their top wines don't compete with the most expensive, would have a pretty high average: Sadie, De Trafford, Shannon. There must be quite a few, as of wineries whose "entry-level" is rather high – Tokara, Kanonkop … But I don't think they'd have an overall winner amongst them.
A leading candidate in that group, and very possibly the leader overall, is the one that prompted me to wonder about this category: Delaire Graff. There are three levels within its offering, but seeing that the lowest level is called, per Platter at least, the "Luxury range", you know not to expect to find those on the supermarket bottom shelf, and that the average price across the whole Delaire range is going to be considerable. That average has recently been bumped up by the addition of a blend called The Banghoek (at around R1800, it comes in a fancy box which probably itself costs as much as a bottle off that lower shelf). It already was a notably high average, however, given a slew of wines over R400, the Cab Reserve at around R700, and the Laurence Graff Reserve currently at R4000-ish.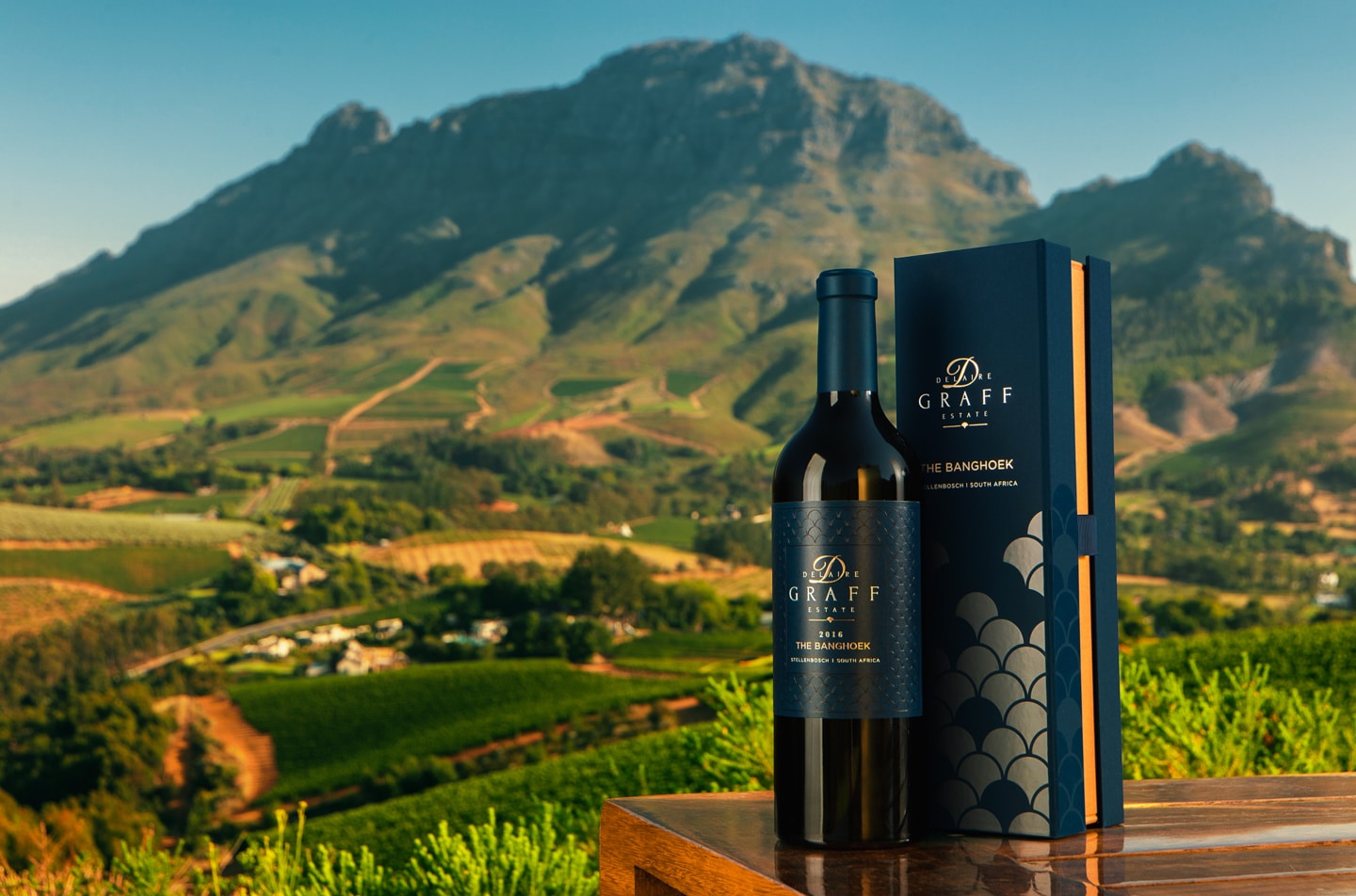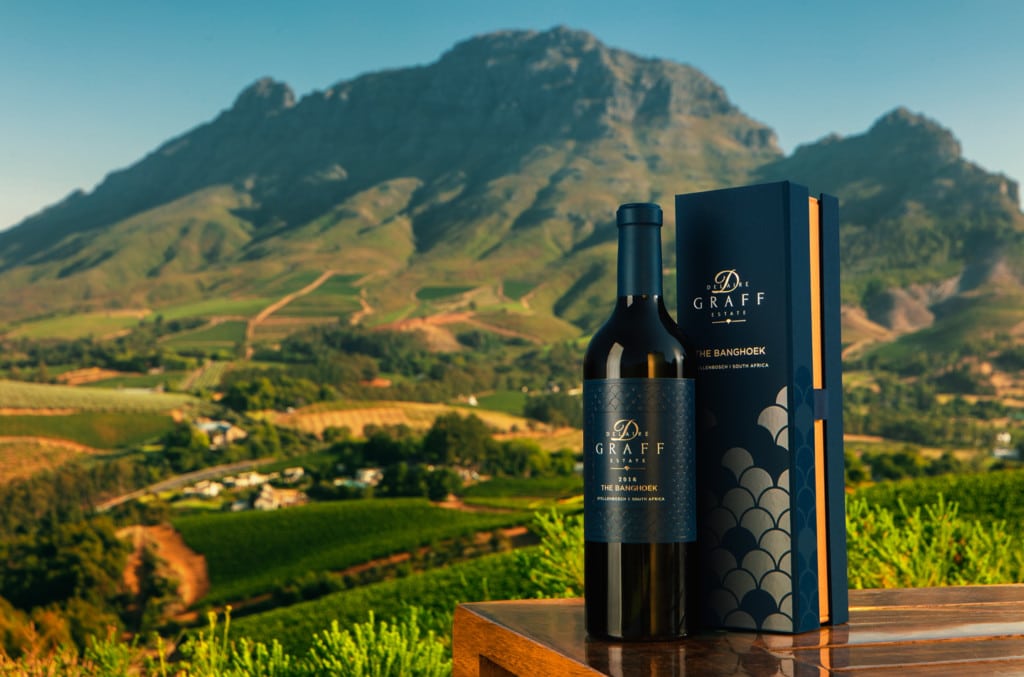 The Banghoek 2016, a blend of about half cabernet franc with cab sauvignon, petit verdot and a touch of malbec, greatly impressed Christian Eedes when he sampled it in December. It impressed me too, if not quite so much, and a bit more ambiguously. I'd tasted it for Platter six months ago and noted the obviously intrusive oak character as well as the power – and "plenty of lurking fruit" – and a little sweetness on the finish partly thanks to the 14.7% alcohol. It's settled a little since then, and, beautifully made, undoubtedly has depth and seriousness of structure; but it remains very much a stylistic choice: a more-is-more, highly polished Stellenbosch red designed for the international luxury market in style as well as price. It made me recall the description of Daisy's voice in Fitzgerald's The Great Gatsby: Nick describes it as "indiscreet", but Gatsby is even more insightful in saying that her voice is "full of money". Well, that's what this wine is like, really.
As such, of course, it fits well into the glittering splendour of the Delaire Graff Estate, perched appropriately high above Stellenbosch. In fact, it seems to me that Morné Vrey's range of wines has been quietly evolving over the last decade to suit its immediate environment, with opulent luxury being a kind of terroir. I see that when I wrote about the Delaire wines in a 2011 article (which I'm now pleased to be reminded I called "Delaires and graces") I suggested that even "beyond the quality claims, they share a character of restraint and finesse". The quality of the fruit and winemaking remains unquestioned and Morné's attention to detail is impeccable – Delaire Graff was deservedly included (in the lower reaches) in Winemag's polled Top 20 producer list in 2018. I would, though, seldom feel impelled to reach for words like restraint and finesse. But full of money, yes.
Tim James is one of South Africa's leading wine commentators, contributing to various local and international wine publications. He is a taster (and associate editor) for Platter's. His book Wines of South Africa – Tradition and Revolution appeared in 2013
Attention: Articles like this take time and effort to create. We need your support to make our work possible. To make a financial contribution, click here. Invoice available upon request – contact info@winemag.co.za
Like our content?
Show your support.
Subscribe