Tim James: Ageing Cape syrah – what about Porseleinberg?
2
The ageability of Cape syrah, especially of the much-lauded new wave examples from Swartland and Stellenbosch, has been a slightly troubling concern for me for a while. A few weeks back, for example, in the context of some doubts about the older standard Mullineux Syrah, I was relieved to note that the more restricted bottlings (CWG Trifecta 2013 and the maiden 2010 Granite) were lovely, and drinking very well. But, as I said of the latter, I wasn't sure how many more years I'd gamble on leaving it. Incidentally, I've been enthusiastic about Sadie Columella, going back to 2000 – but that had about 18% mourvèdre in it right from the start, and the proportion of syrah in the blend has markedly deceased over the years. In fact, Sadie used to have severe doubts about how viable syrah would be as a stand-alone varietal wine in the warm Swartland – though he would be more hesitant about that stance now, I'm sure.
Winemag's annual tasting of 10-year-old Cape wines is not necessarily particularly useful as a guide, given the smallness of the entry and the paucity of recognised top-end examples of syrah, but the grape doesn't do very well there. In the past three years, no syrah has scored more than 91, and most rate lower. It's seldom possible to meaningfully compare ratings with those achieved at the time of their release, but I noted this year that Christian had given DeMorgenzon Reserve 2012 a score of 93 in 2015, compared with 91 now – hardly an advertisement for the trouble and expense of keeping a good wine for a decade. Though Alto Shiraz had gone up a point from its original 89.
Writing about the Mullineux wines, I wondered about how the early vintages of Porseleinberg – arguably the most renowned syrah of the Swartland, and perhaps of South Africa – were doing. It seemed time to find out.
Firstly, though – anyone remember Schonenberg Syrah? As far as I know there were just two vintages released: 2006 and 2007, off a small organically certified, biodynamically-inclined hilltop Swartland farm. Writing of the former in Platter's I called it "wonderfully delicate", speaking of fruit purity unblurred by oak, fine tannins and a lingering finish. 13.1% alcohol. It got just four Platter stars – but that's what wines with descriptions like that got in those pre-inflationary days. Unfortunately, things didn't work out for owners Jaco and Yoland Marais. A fire badly damaged the syrah vineyard (from which, it's worth noting,Eben Sadie had sourced some grapes for his long-lived maiden Columella). They obsessively set about re-establishing the vines, one by one, but soon after sold the farm. They kept their brand (as far as I know it was little used), and the new owners, Boekenhoutskloof of Franschhoek, whose Marc Kent was getting seriously interested in the Swartland, renamed the farm Porseleinberg, for the somewhat exaggeratedly named hill it was on.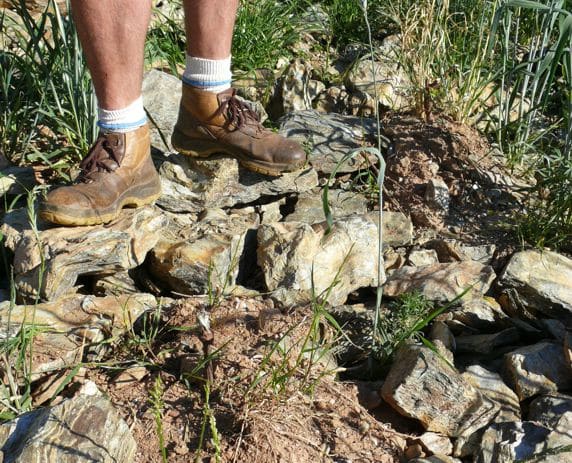 With Callie Louw as the inspired choice as vigneron, a major syrah-planting programme began on the Porseleinberg slopes (eventually to provide the grapes for the famous Syrah, and other wines, from Boekenhoutskloof). The type of stony – no, rocky – soil Callie was dealing with can be seen in the photo above – where there is, if you look closely, a delicate infant vine at the centre, below Callie's boots. Irrigation is vital here – perhaps the long-term weak point in the farm's proven excellence.
But amidst all his expanding viticultural labour, Callie got the go-ahead to make a wine from (initially at least) that fire-damaged vineyard, in the simplest conditions in an old but insulated shed. Platter's 2012 quotes Callie as describing whole grape bunches from the 2010 harvest being given just "a light foot stomp" and "a bit of sulphur". The wine was described there as "superb" – so it also got four stars.
More than a decade later, superb still seems a reasonable word to use for that maiden vintage.It's perfumed, elegant, refined but forceful thanks to the integrating tannins, light and lively in feeling but with substance (13.5% alcohol). As testament to its vitality, I can say that it even improved by the second night. Porseleinberg marked itself from the start as perhaps more of an intellectual than a purely sensual wine.
The 2011 was never commercially released. It was notably tannic (even by what was to become the established standard), and there was talk of "holding it back". Some bottles have leaked out – the wine was sold on the April 2020 Strauss auction, for example. Anyway, next on the market was the 2012, and I thought I'd better open my unfortunately lonely bottle of that. Platter's had raised the rating to five stars and added an exclamation mark to the "superb". This seems an appropriately decorated adjective to me.
As soon as I started lifting the cork from the bottle, the perfumed red-black aromas wound their way up to my nose. Pure fruit dominates, with just a hint of mature syrah gaminess starting to emerge. The palate has a remarkable intensity and depth of flavour (fruit again, perhaps blueberries amongst the red and the darker) that lingers for, oh it seems like five minutes, on the bone-dry, almost stony palate. The tannins are fairly formidable, austere but also somehow seductive and velvety: Swartland tannin typicality taken to something of an extreme; this is not a wine for you if you don't enjoy tannin. I think there's enough fruit there to take the wine further, as the complexity of flavour develops and the tannins polymerise into more graceful harmony. The acidity seems just about ideal, and the 13.5% alcohol too.
So if anyone asks if Swartland syrah can age beyond ten years, I can venture an answer with increased confidence. I reckon this Porseleinberg 2012 could amplify for another decade – my guess, but the wine seems youthful enough and with the freshness and fruit and musculature to cope with the years. (In the context of what seem to me many over-enthusiastic auction buys recently, lucky the person who bought a case of it for just under R2000 a bottle at auction in 2020; and perhaps even lucky the one who paid more than twice as much the following year….)
The condition of the wine helps me with another question, in fact. This wine saw no oak at all (unlike the 2010); it was matured for a year in a concrete egg – surely one of the first ambitious red wines of the new wave to have no oaking. Who needs oak? Not Swartland syrah, as far as I can see if this sort of stark purity is what you value. It's hardly surprising that Adi Badenhorst was able to announce at his latest release tasting last week that his reds are now being matured in concrete only.
I'd love to know how those old Schoneberg Syrahs are doing.
Tim James is one of South Africa's leading wine commentators, contributing to various local and international wine publications. He is a taster (and associate editor) for Platter's. His book Wines of South Africa – Tradition and Revolution appeared in 2013.
Like our content?
Show your support.
Subscribe