Tim James: Alternative red varieties – any bargains to be had?
8
It's maybe not surprising that supermarkets offer little in the way of the lesser-known grape varieties. Presumably, the overwhelmingly large proportion of their wine customers are not willing to splash out even R100 or so on what would be an experiment for them. They're going for brands, and, frankly, the big five or six varietal names function as brands, especially at the less expensive end. Here the wines are made in larger volumes and tend to aim at uniformity (equalling reliability for the average consumer) across vintages. And often the different producers will aim at the same kind of aromatic, flavour and structure profile, thus reducing the grape variety, as I say, to a kind of brand.
This tiny offering of niche varieties is shared even by Woolworths (I'm not sure why I say "even" – it's just Woolworth's reputation for having an unusually good wine selection, I suppose; let it stand). So, among the reds, according to Platter's 2019, there are 15 cabs specially made or at least slightly tweaked for Woolworths, even more merlots, and slightly fewer shirazes; eight pinotages, five pinot noirs, and a biggish pile of red blends. That leaves just seven slots for all the other grape varieties. "All the others"come to mean one each of cab franc, Sangiovese and tinta barocca, two each of Malbec and Grenache. That scant offering is a great pity, I think – but then I'm not selling the stuff and presumably, it's the brand-varieties that are wanted.
Anyway, I sampled three of them in my quest for exciting wine-life under R100, and perhaps the comparative difficulty of selling niche varieties makes for better quality being offered at this price, as they were all at least pretty good value.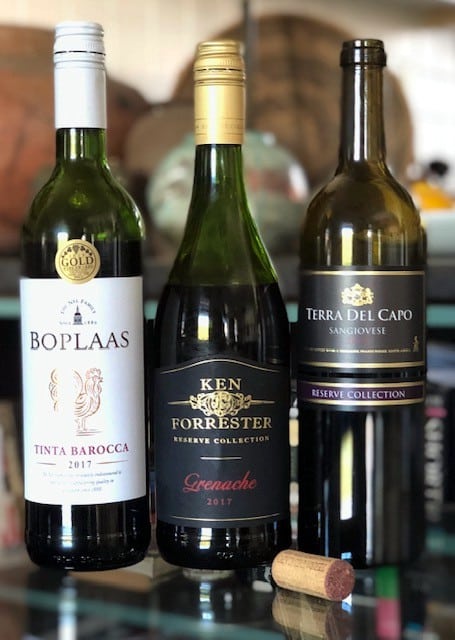 I most enjoyed the Ken Forrester Reserve Collection Grenache 2017 (R80). Or, at least, it's the readiest for drinking now. Forrester makes a few attractive blends with Grenache under its own name, but this Woolworths-only wine from Stellenbosch grapes is the sole monovarietal.  There must be some older-oak ageing involved, to tame the fruitiness and add a savoury suavity, but it is still subtly packed with fresh red-fruit aroma and flavour – just not too overt. Smooth and already quite harmonious, with good acidity and a modest tannic grip. Less exciting than some of the new-wave grenaches from the Piekenierskloof and Swartland, but immensely drinkable and much cheaper.
The priciest of my three was the Terra del Capo Reserve Collection Sangiovese 2015, at R90 (and the only one with a cork – Diam – rather than screwcap). I'm not sure how it relates to the standard Terra del Capo version; both are WO Coastal. This wine improved a lot from my first sampling of it to a second, a few hours later – it had become more open, more integrated, and I liked it a whole lot more. What had initially seemed overtly green had toned down to a bit of tomato leaf, perhaps, along with the good, typical cherry notes. Succulent and savoury, with a firm but far from overwhelming tannic structure and a decently dry finish. The lack of depth of flavour is rather frustrating, as everything else about it is a bit more than good. Although it's four years old, I think it needs a few more to show its best. Should be very good with food.
Boplaas Tinta Barocca 2017 (R75) comes from the fine Calizdorp "port" producer which produces a whole clutch of table wines from the main port varieties. The Tinta B, which is that most uninspiring of appellations – WO Western Cape, came across today as something of a country cousin to the other two: pleasant enough, reasonably flavourful and structured, but rather raw and rustic. All three wines declare 14% alcohol on their labels, but this was the only one which seemed rather hot to me, and a little too sweet on the finish.
Ah well. Two very good buys out of three is not a bad average, and enough to make me wish that the Woolworths wine department and their customers would all spread their wings a bit in finding some other less-standard varieties, including some made at a more ambitious level than even these.
Tim James is one of South Africa's leading wine commentators, contributing to various local and international wine publications. He is a taster (and associate editor) for Platter's. His book Wines of South Africa – Tradition and Revolution appeared in 2013.
Enter this year's Alternative Varieties Report here.
Read last year's Alternative Varieties Report here.
Like our content?
Show your support.
Subscribe