Tim James: Ambitious newcomers to the Hemel-en-Aarde
The Hemel-en-Aarde and Constantia have some some things in common as wine-growing areas. For a start they both have coolish maritime climates, and both are naturally delimited by geography (in a situation where political and other boundaries like roads have come to be significant boundaries). They also have roughly similar vineyard coverage: Constantia has something over 400 hectares of vines and Hemel-en-Aarde something under 400 – both of them are smaller in such terms than a number of single properties elsewhere, like Alvi's Drift (420) and Koopmanskloof (450), for example, and vastly smaller than a few holdings.
A crucial difference to their response to their shared cool climate lies in the planting of those vineyards. In Constantia, sauvignon blanc accounts for not far short of half the vines, with no other varieties being anywhere near as significant. In the Hemel-en-Aarde, pinot noir and chardonnay each account for over a third, with sauvignon next, at about a sixth. Why that is such an important difference can easily be guaged by running an eye over the price tickets at at any superior bottle store: sauvignons over R200 are pretty rare, but pinots and chardonnays under that amount are almost equally rare. I would guess that the Hemel-en-Aarde average bottle price must be easily the highest of any South African wine region, of whatever size.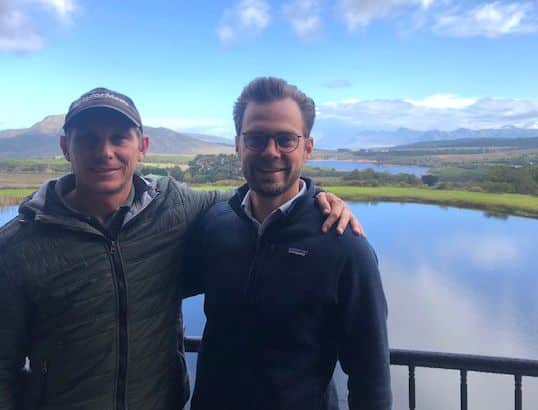 Not doing much harm to that average bottle price, and certainly helping with the vineyard statistics, is a newish name in the Hemel en Aarde: Hasher Family Estate. It was a visit there last week that prompted this flurry of statistics, after owner Frederik Herten ("Hasher" a contraction of wife Céline Haspeslagh's and his surnames) gave me the projected vineyard breakdown for the three Hemel-en-Aarde wards as at the end of 2023. It reflects, he says, "the 20ha of vineyards we have uprooted in the past six months [mostly sauvignon blanc], the 4ha of pinot noir and chardonnay we are planting this year and the 4ha we will be planting next winter". Out of a projected total of 387 for the entire area, those numbers are not insignificant.
If the name is new, clearly the property is not, given the older vines. Frederik and Céline, with family partners back home in Belgium, last year acquired Sumaridge, in the Upper Hemel-en-Aarde Valley ward. (The story goes back a long way – Frederik first came to Hermanus as a boy, and "fell in love" with the area). Excellently situated (contiguous with Newton Johnson), Sumaridge was in fact one of only four Hemel-en-Aarde winefarms at the turn of the century, along with pioneer Hamilton Russell, Bouchard Finlayson and Newton Johnson. As I remarked in my book, Sumaridge was "not yet bottling wine, but at least effectively doing away with what was looking strangely like a requirement for double-barreled names in the valley". Things were rather unsettled for a while, and in fact the wines never really achieved the potential of the land, although there were some very decent ones coming under Gavin Patterson, who left a few years back, and things rather stalled.
Then, also pushing the valley statistics to stress a specialisation in pinot and chardonnay, a small portion of Sumaridge was sold to Boekenhoutskloof. With the guidance of viticulturist Rosa Kruger, they are in the process of planting 10 ha of chardonnay and 4 of pinot for Gottfied Mocke to eventually make wines for the Cap Maritime label (bought-in grapes are being used in the meantime).
And last year the Hashers took the rest of Sumaridge and began a vigorous programme of improvement – starting, as all serious wine producers must, in the vineyards, with the eminent Kevin Watt as consultant. The whole property is large (180 ha), with 53 ha now dedicated to wildlife preservation and nature conservation (critically endangered micro-frogs seem pretty important to the Hashers). This gives them the luxury of making new plantings at some distance from the existing virused ones, working as organically as is practical. Eventually, as the planting program continues, says Frederik, they will have "an estate that is free of leafroll virus with vineyards ready to grow old". A noble projection!
The cellar too, and the existing main winery building (whose cathedral-like appearance clearly doesn't appeal to the Hashers, who want something "more humble") will also get their turn. The winery is in the charge of Walter Pretorius, who had been making wine for some years here, and whose determination to make terroir-expressive wines is also that of the owners. Walter has produced the maiden vintage under the Hasher label – by arrangement with the previous owners in the 2021 harvest before the purchase was finalised.
I had the wines over lunch (Céline is, happily, an excellent cook) in the family house, also on the farm. The vibrant and fresh sauvignon blanc, Fat Lady, was such as to make me rather regret that the vines that produced it are now firewood. But of course the Marimist Chardonnay and Ernest Pinot Noir are the focus – the former obviously named for the conditions on the estate, which is, Gavin Patterson once suggested to me, the Hemel-en-Aarde farm that is most affected by weather vagaries, being most open to winds from land and sea; the Pinot named for the oldest of the Hasher children – and as there are three of those, we might guess there must one day be more wines off the estate to avoid family trouble, at least.
There's also a tiny bottling of Pinot Nouveau – made in delicious, fresh carbonic maceration style as a harvest celebration. All of the Hasher wines are good (see Christian Eedes's review of them here). Given the large investments and ambitions and terroir-devoted hard work of the new team on the estate, we should expect them to get even better in years to come.
Tim James is one of South Africa's leading wine commentators, contributing to various local and international wine publications. He is a taster (and associate editor) for Platter's. His book Wines of South Africa – Tradition and Revolution appeared in 2013.
Like our content?
Show your support.
Subscribe