Tim James: Bald Ibis wines from SA's highest vineyards
By Tim James, 3 February 2020
7
The bald ibis is a large, glossily blue-black bird with a long, curved beak, found in mountainous regions like the Eastern Free State highlands, on the borders of Lesotho. It's not exactly rare or threatened, but its population is, apparently, declining. Considerably rarer in those parts – and no doubt for many wine lovers more to be celebrated – are a small but significant vineyard and associated winery (closer to Fouriesberg than to Clarens), whose wines are named for the bald ibis. I've not been to the area, but photos and reputation suggest that it is a beautiful country.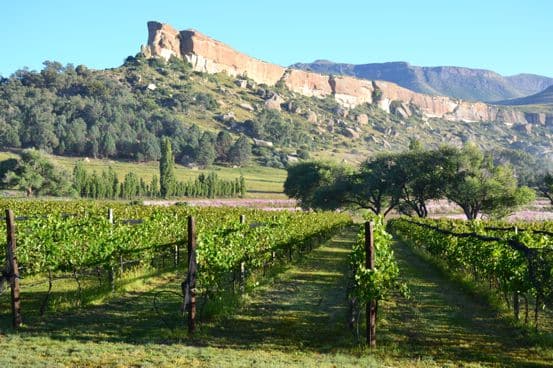 Reasons why vines are rare here, include, as winemaker John Critchley suggests, "hail, frost, snow, and summer rainfall". Not altogether surprisingly, then, this is the Free State's only winery. As far as I know, these are the highest vineyards in South Africa, at some 1700 m above sea level (those at Sutherland in the Klein Karoo are at about 1500 m), and the most resolutely inland. John and Trish Critchley moved to a farm here in 2006 and established a guest house called The Rose House. John has long been interested in wine and, a few years later ("after insufficient research", John admits, and firmly ignoring local advice), they decided to plant some red-wine grapes. At which point, however, they did procure the advice and assistance of viticulturist Johan Wiese. Pinot noir, pinotage and shiraz were decided on – the Bordeaux varieties would presumably have been thought too late-ripening for the cooler conditions. Tempranillo has since also been planted, with its maiden crop expected this year.
As to those problems for viticulture: "Early and late frosts can be problematic", says John, "but pruning methods go some way to fighting this one"; and summer rainfall (sometimes at harvest time and "occasionally with devastating hail") can threat serious outbreaks of mildew. Yet he optimistically feels that "overall, in a good year the quality of the fruit is excellent. Drip irrigation, composting with worm castings and teas complement the overall health of the vineyard." In a good year, the farm produces 5 000 to 7 000 bottles.
So what are they like, the Bald Ibis wines (marketed with the rather grand sub-name of the Estate Altitude Collection)? I recently had the opportunity to taste the range, sent down to me in Cape Town. Mostly 2018s, they were all still rather youthful and raw, and most should benefit from a while in bottle.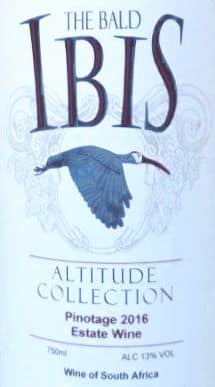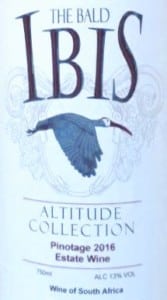 The best advertisement for the possibilities of Free State viticulture, I thought (not to mention for John's winemaking), was the Pinotage. John's general approach is much in line with modern, minimal artisanal winemaking, with modest oaking, and it shows in the natural, unforced quality of the wines, most winningly in this pure-fruited Pinotage, its fruit fullness balanced by a fresh, vibrant acidity and a well-calculated light tannic grip. It's a wine that would be worth a detour to find.
Gaining acidity is clearly not a problem in this high-altitude climate, though full ripeness might be, as evidenced by some of the wines other than the Pinotage. The Pinot Noir is pleasing, with a mix of savouriness and sweet fruit – there's plenty of aroma and flavor, but not quite enough weight or texture. At R120, however (like all the wines), it's a good buy. The light-weightedness of the Shiraz I found less successful, though the upcoming 2018 is more promising than the rather uneasy current-release 2017. It benefited from a few days of being opened, suggesting that some years in the bottle could help to round it out.
There's also a blend, called the SPC (for Shiraz, Pinotage – and Cabernet: I'll come back to that last component!), which is rather good. Again the acidity is fairly prominent, and cab's tannins add to the structure, but there's enough sweet fruit to balance it – though like the others it's young and a touch raw still, deserving a few years' development in bottle.
That cab comes from a very different northerly region: Prieska, in the Northern Cape, from the Coetzee's Lowerland farm which has made something of a name for wines under that label in recent years. A very decent wine – not much intensity, but in fact this comes across more as elegance, and the tannins, acid and ripe fruit are all in balance. Of course, the Cab will not be WO Free State, but WO Prieska is nearly as interesting.
Talking of nomenclature, there seems to be rather a lot of it on these Bald Ibis bottles, what with the brand name, range name and (on the back label) the new overall name of the enterprise: Mile High Vineyards. This latter does nicely draw attention to the uniqueness of the WO Free State Bald Ibis wines – and, I dare say, could draw some ribald comments about a new, perhaps easier way to join the Mile High Club. Certainly, if you're travelling at those altitudes in the Free State Highlands, you could do worse than visit these rare, brave vineyards.
Tim James is one of South Africa's leading wine commentators, contributing to various local and international wine publications. He is a taster (and associate editor) for Platter's. His book Wines of South Africa – Tradition and Revolution appeared in 2013
Attention: Articles like this take time and effort to create. We need your support to make our work possible. To make a financial contribution, click here. Invoice available upon request – contact info@winemag.co.za
Like our content?
Show your support.
Subscribe