Tim James: Eben Sadie, grape-grower
2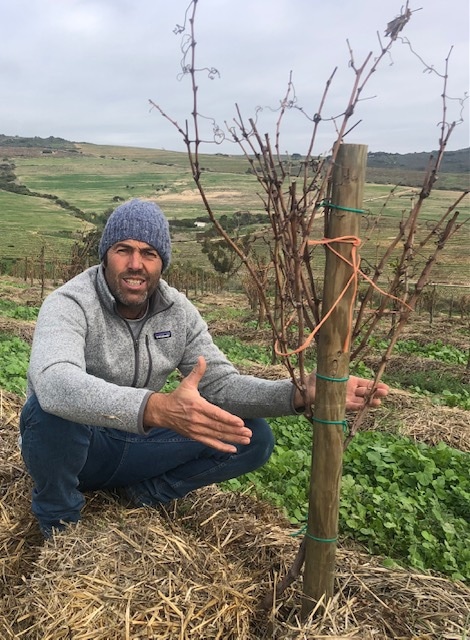 It wouldn't surprise me if, in 30 years, Eben Sadie (approaching 80!) were not best known as a grape-grower and as a provider to the top end of the industry of famously good and famously expensive fruit. His middle-aged children according to this scenario would probably be running Sadie Family Wines. (Of course, as an aside, I myself would obviously be extremely surprised to be surprised at anything in 30 years – but you'll understand what I mean.) I'm thinking of a role something along the lines of Andy Beckstoffer's in California: Beckstoffer makes no wine but owns and nurtures a swathe of highly acclaimed vineyards, for the grandest of which he can earn something approaching R350 000 per ton of grapes. (Can that be? The Beckstoffer formula demands a US ton of grapes to be priced at 100 times the retail price of a bottle of the wine it makes: $250 would not be unreasonable for the fanciest of such bottles). He has become very rich, as you might imagine.
I confess that I have no certain grounds for this semi-prediction – and not the declared ambition of Sadie himself, though we have discussed some aspects of the idea. But the reasonable possibility of such a trajectory is starting to emerge (and of course it would be predicated on the increased international acceptance of high quality and pricey Cape wines). Let me instance two prime reasons.
Firstly, the vineyards on Rotsvas, the Sadie farm on the Paardeberg are starting to produce very good quality grapes – for at least some of which there is going to be no obvious place in the Sadie portfolio, where the Old Vineyard Series obviously excludes them. Eben is already scratching his head hard about this. Introducing new labels or tiers to the range is not a simple alternative, for many reasons. And there are virtually certain to be more Sadie-owned vineyards in the not-too-distant future (watch this space). More vineyards whose produce will need to find homes elsewhere.
Secondly, more simply, farming is clearly what Eben loves most of all. He has a highly accomplished winemaker in the cellar, Paul Jordaan, and clearly, he'd like to spend as much time as possible among the vines – not only those he owns but those he has on lease and whose viticulture he controls; that is 42 of the 48 vineyards he currently works with. He now has a team of 18 permanent vineyard workers, as well as viticulturist Morné Steyn on the job.
But if any Sadie-grown grapes get sold to other winemakers, you can be sure that they will come expensive (at least once the vines mature). Not because of greed, but because Eben's way of farming is very costly. We had a conversation about this while he was explaining the way he is planting his new 3.6-hectare mixed vineyard (including agiorgitiko, trincadera, tinta francesa, cinsault blanc, vermentino, grillo, clairette, palomino, lledoner pelut, a little syrah despite Eben having clearly rather fallen out of love with the grape, and – perhaps most excitingly – the cleaned-up pontac that is becoming available). Each vine has its own pole, but essentially, as I understand it, each will be rather like a bushvine with a trunk holding it well off the ground. The first, red-wine, vineyard on Rotsvas was of more standard bushvines, but the second, for white-grape wines, was also of this higher form of head-trained vines (though on slightly shorter poles because there is less vigour in the soil). It's a system, which Eben thinks is particularly well suited to increasingly dry Swartland conditions without irrigation.
Look at the Rotsvas vineyards and you see a vast amount of mulching with straw – an expensive matter (though at least transport costs for it are lower in the Swartland, where so much is produced). It's part of an expensive programme of hands-on care for the vines. On a side note: that cost doesn't necessarily include the use of horses in working the vineyard. The Sadie percheron, Ben, has been around for a while and has started his working career. A desirable alternative to tractors, it seems generally agreed (largely because it doesn't compact the soil as a tractor does), but a remarkably expensive and comparatively slow one, Eben admits – insisting, though, that it's also a really nice to have a horse around! He has, however, recently acquired the first locally commercially produced tractor – Breda is the brand.
The cost of high-quality grape farming is now up to about R85 000 per hectare, Eben reckons, meaning a break-even price of R14 000 per ton. Incidentally, I asked Rosa Kruger about these figures and, while largely agreeing, she pointed out that it is very difficult to work out average costs for different areas and with different varieties and yields. But she does agree that most farmers are not getting anything like the price per ton that they need to farm well. Presumably, a lost of cost-cutting happens at different levels, with grape quality – and wine quality – the necessary losers.
Eben, as a potential grape farmer selling off expensively-produced grapes, would obviously be aiming at those wanting really high-end fruit. As prices for the best (or some of the cheekiest) Cape wines rise, this should be viable. Along with raising the generally rotten wages of wine-workers, it's one of the few respect-worthy motivations for raising those prices that I can think of (simply to put oneself on a snootier international level is not so). Whether he'll ever reach the astronomical levels of Andy Beckstoffer in California (and raise grape prices more generally here, as Beckstoffer did there) is more than a touch uncertain – I persist in thinking that to have a wine industry really successful at the pricier end could only be based on a larger, richer domestic customer base than South Africa has. But the effort, and the goal of helping to further develop Cape viticulture at the highest level, is a fine and important one.
Tim James is one of South Africa's leading wine commentators, contributing to various local and international wine publications. He is a taster (and associate editor) for Platter's. His book Wines of South Africa – Tradition and Revolution appeared in 2013
Help us out. If you'd like to show a little love for independent media, we'd greatly appreciate it. To make a financial contribution, click here. Invoice available upon request – contact info@winemag.co.za