Tim James: Establishing a firmly terroir-based ward system in South Africa
By Tim James, 21 August 2023
3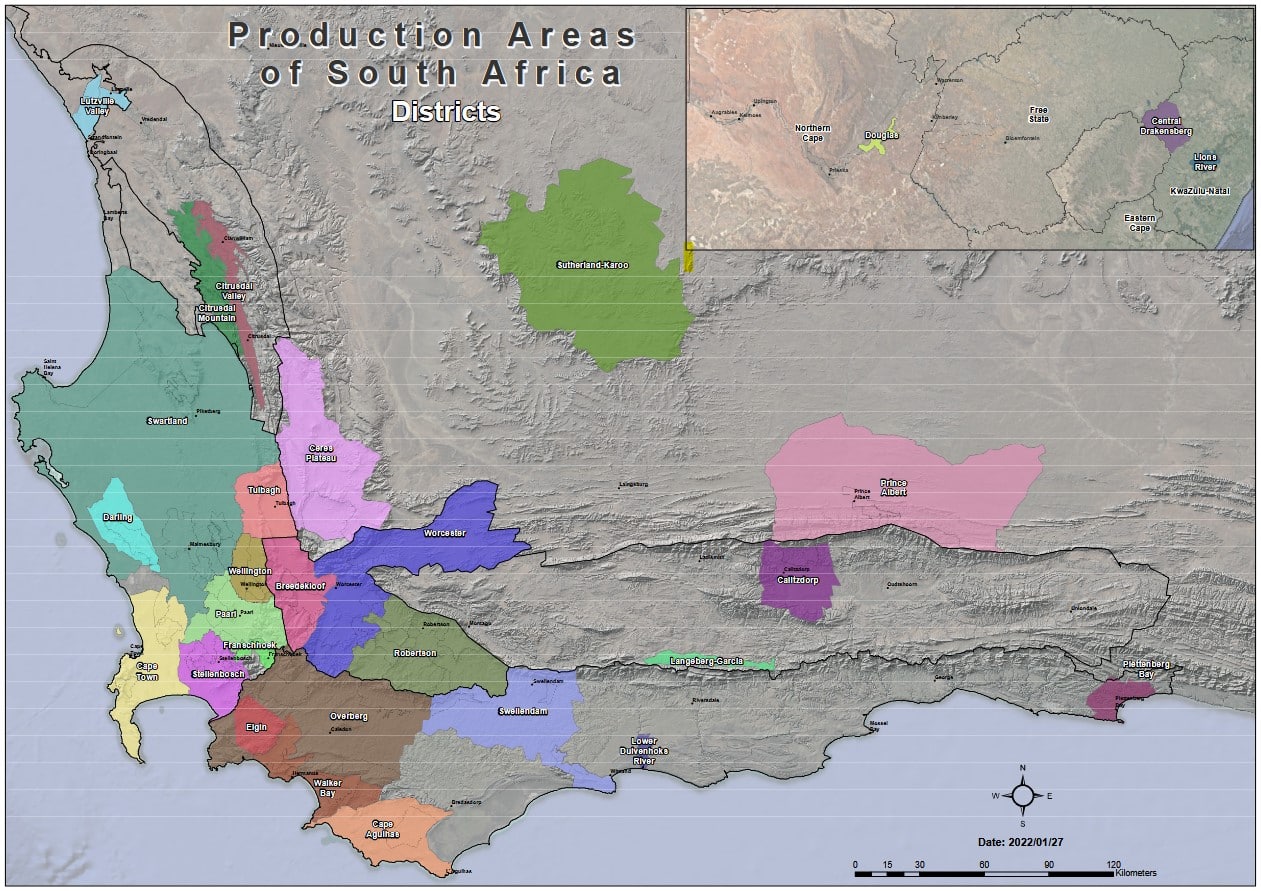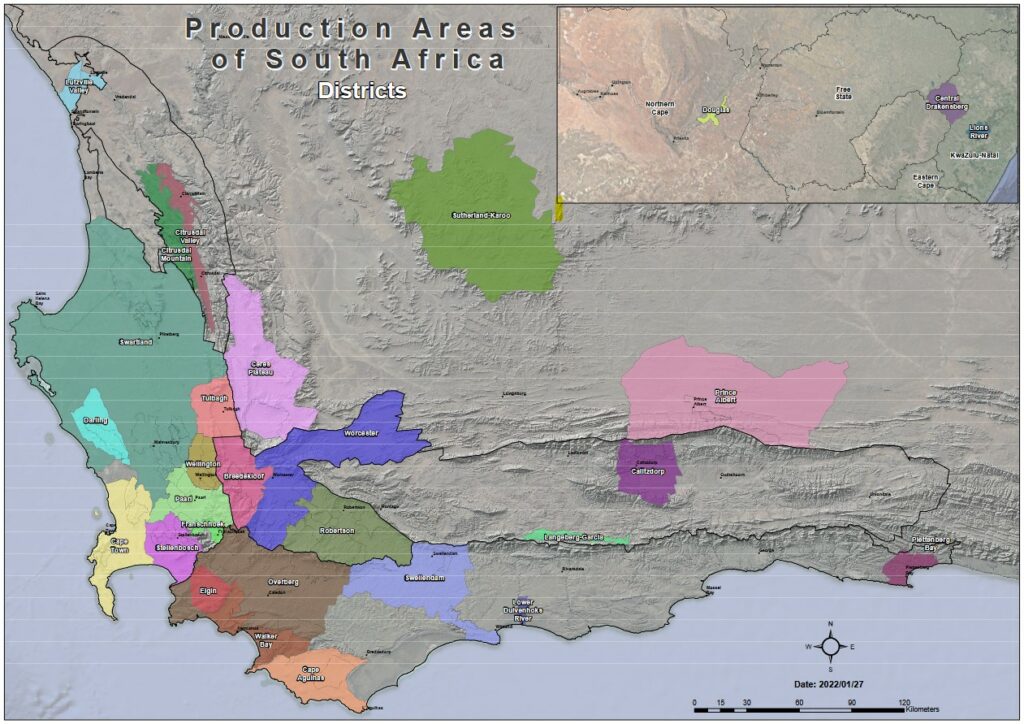 I've been having further thoughts about the whole question of wards since my article on the subject last week. Second thoughts, corrective thoughts, in fact – and largely pushed in that direction by winegrower Eben Sadie, who felt himself to be "collateral damage" of my piece. As a launchpad for a defence of wards, I quoted Eben's significant general doubts about their value in South Africa at present, as mentioned by him at a tasting of his wines recently. Indeed I was wrong to do so without checking with him and putting the doubts in a larger context of his thinking on the subject, and apologise for that.
The reason the topic of wards came up at all on that occasion was that Eben was justifying his preference for using districts within the official Wine of Origin to indicate the source of his wines. I mentioned last week some of his problems with wards, but basically (and he justifies this at length), he thinks that a genuinely terroir-based appellation system should take much more time and wine-growing experience to emerge (in conjunction with rigorous science-based metrics of all aspects of soil, slope and meso-climate) than is happening here. Stellenbosch, he suggests, is one district which can more plausibly develop wards, because grapes have been widely grown and vinified there for a decent length of time.
Districts in the WO system, on the other hand, avoid invoking the real questions of terroir and are based on broader geographical and climate considerations – in conjuction, often enough, with such things as political boundaries. Incidentally, I incorrectly said that Sadie Family Wines avoided using the district names for Skurfberg and Kokerboom, basing that statement on the latest images of labels shown on the technical details sheets on their website. In fact the bottle images shown were composites, with new vintage dates simply applied to older bottle photographs; for a few years now those two wines – and Soldaat, which used to carry the ward name Piekenierskloof – have claimed the district name, Citrusdal Mountain.
Further discussion and investigation has persuaded me that I was naïve in accepting that the drawing up of ward boundaries is beyond reproach. I'd need to do further research to offer details confidently, but I accept the general point that, in terms of offering anything like a definitive terroir-based system, at least many of the wards are problematical.
The greatest models of a genuinely detailed system of terroir for wine are in classic Europe: parts of France (most famously and scrupulously in Burgundy), Germany, and also in other parts, especially in areas of Portugal, Spain, and Italy. Such long-established and close discrimination holds the wider fine-wine world spellbound and envious. If South Africa was probably the first of the "New World" countries to set out on building a serious appellation system, the other major producer areas are also busily at it. California is one of the most assiduous. There are, at the latest count I could find, 139 American Viticultural areas or AVAs there, some of them as small as a few dozen hectares. Napa Valley AVA, which is analogous to a South African district like Stellenbosch (it was designated nearly a decade later) has 16 smaller AVAs nested within it. These are analogous to wards, I suppose, though I know little about the way they are established.
The problem with doing things in rather more of a rush than the hundreds of leisurely years spent by monks, princes and bishops in making fine discriminations in Burgundy and the Rheingau is that mistakes are going to be made, sometimes serious ones, of omission and commission. And then, as Eben points out, you're stuck with them for ever (and that inevitably affects future terroir plottings). But one thing is certain: everywhere around the ambitious wine-growing world, it will be done more or less in a rush. Of course it can still be done in a better or a worse fashion. But half a millennium in a rural, pre-capitalist, pre-information-hungry world is not available.
One producer response is to ignore a problem-riddled system of wards (to call them all that, for convenience). It is a responsible position, and replete with integrity – and certainly, as is the case with the Sadie Ouwingerdreeks, which is mostly de-facto based on single vineyards, there can be every attempt to work in a terroir-conscious fashion. Another is to accept the problems as given and inevitable (and forget about cementing a system which one day is going to fully reveal its inadequacies). I argued last week that in South Africa the ward system has prompted many producers to explore terroir. Perhaps most of them would have done so without the ward system anyway. But serious wine-drinkers are also prompted by wards to consider terroir, as they are by single-vineyard wines and, albeit often to a lesser extent, by estate wines. If the ward system is flawed, there are inevitable problems here, admittedly.
It's not (for me) an easy question to grapple with. But there is a case – fortunately or unfortunately – to be made that there is one fine-wine factor which tends to trump terroir, even in the heartland of terroir-based appellations: the producer. In 2017 on this website I reported on a horizontal tasting of the red wines made by the five landholders in the famous Burgundy vineyard Clos St-Jacques, where the five have essentially, potentially identical strips of the 6.7 hectare vineyard. The five wines showed, I said, "clear differences as well as some similarities, predominantly structural". There was "no question that the viticultural and winemaking skills and sensitivities of the different domaines trumped the terroir at least in what must be the most important matter: ultimate wine quality". That difference is such as to translate, year after year, into consistently very different prices achieved on the international market for the wines. That's subject to change again, of course.
It would not be hard to show that sort of result elsewhere in the great classic appellations. Serious wine-lovers are nearly all united in respecting terroir – but only up to a point. Disconcerting as it is to decide that frequently the viticulturist and winemaker can be more important (but personnel changes; terroir persists), it does offer a bit of comfort while floundering in the debate over wards.
Tim James is one of South Africa's leading wine commentators, contributing to various local and international wine publications. He is a taster (and associate editor) for Platter's. His book Wines of South Africa – Tradition and Revolution appeared in 2013.
Like our content?
Show your support.
Subscribe