Tim James: How a benign fuzziness from wine can help with words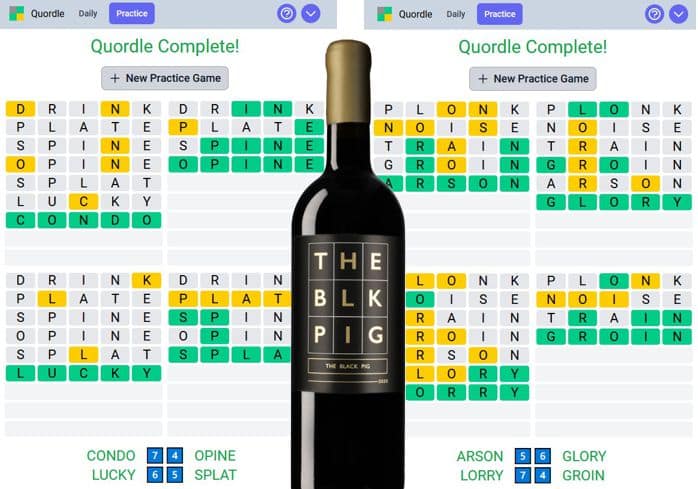 Three decades of fairly serious engagement with wine and its culture has helped me to learn something about such things as geography and history and the perversity of people, and given me a smattering of chemistry and a few insights into farming. Not a helluva lot of any of these, admittedly, though more than I'd have got from many other interests. But mostly I'm grateful for the countless hours (alone or in company, a delicious glass at my elbow) with a warm, fuzzy edge to them.
This benign fuzziness has occasionally been a bit more pervasive in its deleterious effect on my legs and brain, and wine has probably also now and then made me more obnoxious or silly than at other times – as I know it has with some others I have spent time with. But on the whole I have much enjoyed being just a little inebriated for what probably amounts to a not insignificant proportion of my waking life.
Fuzzy, blurry – yes, but there also often a simultaneous and even contradictory feeling of alertness, of vivacity. Contradictory, because it can be misleading. One of the most famous illustrations of the doubleness of the pleasanter side of the effect of liquor on the human organism (and I'm sadly aware of the dark side), was Shakespeare's in Macbeth. In a scene of comic relief, the porter comments on drink and lechery: "it provokes the desire, but it takes away the performance."
Indeed. And I know a car-driver or two who seem convinced that drink improves their skills greatly. It doesn't. Not a bit. Ever. But I've often had rueful cause to think that diminished inhibition improves the way I write. I do feel obliged to check for typos the morning after, but they're not more than usual, and, while on occasions I discover myself to have rambled too inconsequentially and uninterestingly (there's nothing so boring as a drunk can be, as we all know), often there's a relaxation in the prose to match that of my mind as I wrote.
I've recently discovered a further beneficial connection, for me at least, between words and wine. Like millions of the literate and internet-connected world, in a least a few languages, I discovered (somehow, despite eschewing social media) the modest pleasure of the daily word-game, Wordle. And, of course, some of its numerous take-off and derivatives – I'm told there's even an arithmetical version called Nerdle. Wordle remains a pleasure, but my favourite version is called Quordle (presumably pronounced "kwerdle"), which requires you to guess four five-letter words per game, with a maximum of nine shots.
Now, this is much more difficult than the rather easy Wordle. I uneasily confess that my average success rate has slumped to below 80%. For the official, daily-delivered version that is; one of the joys of Quordle is that one can also go to the "Practice" area and play an unlimited number of games. Just the sort of thing for the fuzzier end of the evening.
Which brings me to my point. I have discovered that I do very much better at this game after a drink or two (but who's counting?). Pretty definitely discovered, I'd say, from quite a lot of games played under those conditions – though I daresay it could just be coincidence. A few nights ago, when I was reflecting on this, I played some games where my initial word guess was related to drinking. My success rate was remarkable. To prove it, I offer here two completed games, beginning respectively with "drink" and "plonk". In both of them, I got all the words with just seven guesses. If you don't realise how good that is, I suggest you try playing the game. And most of that session, starting with "drunk", "wines" etc went as well – or nearly as well. Certaily "syrah" was another triumph.
Perhaps I should mention what I'd been drinking that night, though I doubt if the details are important to the story. I first polished off the dregs of a bottle of The Black Pig 2020 – a rather good cinsault-cab sauvignon blend, perhaps the best in the ever-improving range from Spider Pig. That made way for Château Bernadotte 2014, one of the few good value bordeaux reds available (sometimes) in South Africa, despite a hefty mark-up. I last tried this vintage a year or so ago, and hoped it would be a bit readier – but it still needs a while longer, though I enjoyed its iodine classic severity. Good enough fruit, but with the dryness that local cabs and bordeaux blends very seldom achieve. So a few glasses of that, then of course a bit of my beloved KWV 10 Year Old. And I might even have chased that down with a splash of a rustic Jolly Rooster witblits from Stanford estate. It all seemed to have helped with Quordle.
Next morning, however, when I strode, fully sober of course, to my computer for my early fix of Quordle (after a warm-up with Wordle) it was a different story entirely. Humiliatingly, I failed to get the fourth word within the limit of nine guesses. I don't dare think of the lessons of this experiment.
Tim James is one of South Africa's leading wine commentators, contributing to various local and international wine publications. He is a taster (and associate editor) for Platter's. His book Wines of South Africa – Tradition and Revolution appeared in 2013.
Like our content?
Show your support.
Subscribe