Tim James: How low can you go in avoiding alcohol?
1
I'm plunged in the middle of the Platter wine-tasting season. For a month or so, a lot of varied vinous expressions of alcohol have been flowing over my tastebuds, which have reacted with everything from delight to, well I won't say horror, but on rare occasions to something less than total pleasure. ("A lot", I say – but I'm put in my place by being told that while I've been labouring over a hundred or two wines, dithering over scores and descriptions, and retasting wines over a few days, Tim Atkin has whizzed round the Cape, passing judgement on I can't imagine how many thousands more than that.)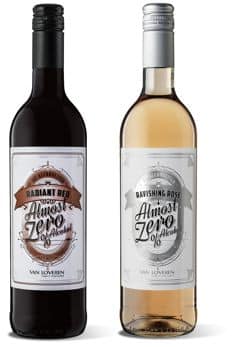 Anyway, admittedly rather more concerned about my liver than my tastebuds, I wondered if both would react with incredulity or relief to two bottles of Almost Zero (almost zero alcohol, that is), sent me by that formidable machine in Robertson called Van Loveren. In January this year I had been moderately enthusiastic about the Almost Zero Wonderful White (a few positive and a few highly negative comments from readers followed, and I confess I didn't convince myself to the extent of getting more of the stuff). So, I turned from appreciating the subtly different nuances in five bottles of Richard Kershaw's splendid chardonnays to my bottles of Almost Zero Ravishing Rosé and Radiant Red – nothing like staking a claim upfront, is there?
Well, if aroma were everything, the Rosé would have just about passed, if rosewatery, muscatty perfume is your thing. I'm a great believer in the importance of sniffing a wine, and I can do so lingeringly with satisfaction – but aroma is a bit like foreplay, in that to really enjoy it you have to be anticipating something more consummatory down the line. And what this Ravishing Rosé – with muscadel somewhere involved before the spinning cones took over – offers is the equivalent of an experience that would make coitus interruptus seem like a welcome escape. A Platter note might mention the elegant pale colour and those aromas and generously leave it as "softly insipid". But in fact there's something rather weird about the taste, a sort of thwarted vinegary sourness, a not-quite-healthy funkiness.
Radiant red also has goodish aromas, which make the news of it being made from merlot grapes convincing enough. And the lightly fruity palate (if that's the appropriate word) is not unlikeable unless it's wine you're craving. But no, it really won't do for people like us, corrupted by decent, proper drink. I really regret to have to say this.
Note too that these beverages are by no means cheap – certainly they're more expensive than some much superior wines would be, at a recommended retail price of R69.99. Ten rands less at Makro, and ten rands more for those people foolish and cash-rash enough to do their shopping at Yuppiechef (but I suppose if there are people foolish enough to drink this stuff in preference to water, which has even fewer calories and even less alcohol, there are people foolish enough to do anything).
I myself would certainly rather have water. And I'd rather have Van Loveren Almost Zero Wonderful White. But of course, water is what I won't have, groans my liver, as I turn back to the agonising task of grappling with descriptions of the marvellous Kershaw chards.
Tim James is one of South Africa's leading wine commentators, contributing to various local and international wine publications. He is a taster (and associate editor) for Platter's. His book Wines of South Africa – Tradition and Revolution appeared in 2013.
Like our content?
Show your support.
Subscribe