Tim James: Is wine getting saltier?
By Tim James, 23 November 2020
16
This was a question I posed at the end of the short article on some trends in South African wine in the about-to-be-published 2021 Platter" South African Wine Guide. The words "salty" and (a touch more evasively) "saline" and "salinity" have been cropping up more and more in descriptions of wine – and not just in Platter's, and not just locally.
By way of rough analysis, I made some counts in Platter's over the last fifteen years. In the 2020 edition, variations of 'salt' or 'saline' were used to describe 110 wines (and I'd bet it's more for the coming edition). Five years ago only 48 wines were, apparently, salty. And in 2005 – just the one (Allesverloren Port, of all highly unlikely possibilities).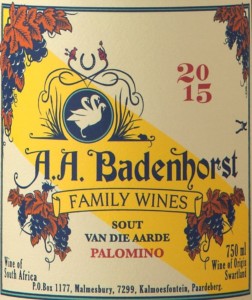 I would imagine that this development is to the confusion of more than a few readers (especially those who don't take wine descriptions without a pinch of, er, salt). It's a descriptor I use rarely. The only time I can recall doing so recently was for Badenhorst's delicious Sout van die Aarde, made from palomino grown close to the Atlantic coast in the northern Swartland. I can easily believe that sea-spray might even be the source of what seems to me to be undeniable justification for the wine's name. Adi Badenhorst, as generally sceptical as I am about tasting saltiness in wine, says that he can lick actual salt off the leaves of these palomino vines at harvest time. But marine-side vineyards are clearly not necessary to evoke the description from less cautious (or more salt-sensitive) palates than mine. Increasingly so, as the tendency in Platter's over the last 15 years reveals.
Disconcertingly, one must realise that it's less likely to be the wines that have changed to that extent than fashions in writing tasting notes. Arguably, however, though no less disconcertingly, if there is something valid to the description, the proliferation of references to it might be accounted for by tasters becoming alerted to the possible quality of saltiness in wine… and then finding it all over the place.
Saltiness might even be used slightly metaphorically, I suppose (or am I clutching at straws?), like that other fashionable term that's so difficult to pin down and seems to mean something rather different for most people – minerality. In fact, the two seem to often be connected and both are more often than not used in descriptions of dry, fairly acidic, non-oaky white wines with a good degree of finesse. There certainly are lots more Cape wines like that now than there were in 2005, I'm glad to say. Platter's uses some version of "mineral" over 250 times in 2020, compared to 175 times in 2015 and a few over 80 times in 2005. So that trend is still on the rise.
If I tend to avoid "salinity" in my perceptions and my notes, and even seldom reach for "minerality", that's less true of another word that's linked at least to the latter. When I trawl through Platter's 2020 for "stony", I find around 35 examples, and a disproportionate number of these notes were written by me (including mention of "stony minerality", which tries to explain, I suppose, something of what I might try to convey by "minerality").
There have always been fashions in wine notes, of course. Sometimes they tend to the national, like the long lists of often recherché aromatic and taste descriptors that form the larger part of most American notes – and are increasingly found elsewhere, too, including this website. Sometimes they're quirkily individual. I've instanced my own penchant for "stony", and I can remember one year – 2004 it was – when Michael Fridjhon described half a dozen red wines for Platter's with comparisons to "prunelle" (a French liqueur distilled from plums), which must have left readers less experienced than Michael scratching their heads.
Tasting notes are notoriously problematical, frequently less useful than we writers of them like to think, as they tend to reflect our own idiosyncrasies as much as those of the wines. Today I've been tentatively exploring the possibility of using verse forms. The Japanese haiku might work for those with a taste for the abstruse. Something like this perhaps:
Saline minerality
Spicy depth to graphite core
Ping! the spittoon
Or, at a less rarefied level, a good old crude Anglo-Saxon limerick might be useful:
There are mineral tannins it's hard to resist
And spices galore and weird fruits on the list.
You could tune up your noses
To find stones, salt or roses –
But ignore the above if you're just getting pissed.
Tim James is one of South Africa's leading wine commentators, contributing to various local and international wine publications. He is a taster (and associate editor) for Platter's. His book Wines of South Africa – Tradition and Revolution appeared in 2013
Attention: Articles like this take time and effort to create. We need your support to make our work possible. To make a financial contribution, click here. Invoice available upon request – contact info@winemag.co.za
Like our content?
Show your support.
Subscribe