Tim James: It's time for Paarl to pull (itself) together
By Tim James, 19 October 2020
24
I know I'm not alone in thinking that Paarl has a rather lacklustre image as a Wine of Origin region: Paarl thinks so itself. It's a well-internalised understanding. For a start, look at the alacrity with which its wards have abandoned it in order to become districts in their own right: Franschhoek and Wellington have done it within the last decade, and my guess is that Simonsberg-Paarl would also abscond if it could summon up the energy – though it would probably rather limply secede to Franschhoek. The estates of Voor-Paardeberg would probably, on the whole, love to belong to Swartland to the North (complication: commitment of many farmers to Boland Winery).
For a second indication of a bad self-image, look at the lack of effort its wineries put into building Paarl's reputation as the source – which it emphatically is – of some excellent wines? To the extent that many of those that are close to the edge of Franschhoek (Babylonstoren, Noble Hill, Plaisir de Merle, Rupert & Rothschild) link themselves to that sexier address by belonging (very misleadingly in my opinion), to the Vignerons de Franschhoek. I asked Kristopher Tiller of Noble Hill, and he points out that there are "proudly W.O. Simonsberg-Paarl", but that it's very practical to belong to the Vignerons, given the number of tourists in Franschhoek. "Paarl as a town in the years that I've lived here has not appeared to me to have come to a consensus agreement that tourism is desirable, to say less about actually attracting visitors."
More generally, is there an inferiority complex of Paarl wineries, or just a defeated recognition that for some reason being WO Paarl is not much to boast about? I wonder how many people know that Vilafonté wines come from Paarl (though the winery address is Stellenbosch)? In fact, I'd guess that these are the most expensive Paarl wines. Yet I couldn't find anywhere on the Vilafonté website a mention of the district where their vineyards are located. I asked part-owner Mike Ratcliffe (chairperson of the Stellenbosch Wine Route, somewhat ironically) about this, and why he thinks Paarl doesn't seem to have the reputation it deserves. I pushed, but he wouldn't be drawn on the website's silence about Paarl.*
Although Mike says he doesn't know much about Paarl terroir, apart from Vilafonté having "gleaned a fair amount of insight into our particular patch of dirt" (dirt being, disconcertingly, the American word for soil), he agreed that "Paarl as a wine region does not appear to have organised itself or given sufficient consideration to its raison d'être." He added that he'd "just googled 'Paarl Wine' for the first time in my career and was surprised that an organisation somehow exists. (My invitation must have been lost in the mail?)"
There is indeed a Paarl Wine Route. It has a nice little slot on the general Paarl tourism website, though it's not going to inform Mike or me much about terroir. The following is the extent of the general information it gives about wine-growing in this historic region:
"The Paarl Wine Route, renowned for its rich, full-bodied, spicy red and crisp white wines, is the second oldest in the country. The area is best known for the quality of its Shiraz, the climate in particular favouring this variety. Chenin Blanc, Chardonnay, Pinotage, Viognier and Mourvedre are increasingly well regarded."
Wow, that'll bring the aficionados and wine-tourists flocking, huh? Spicy reds and crisp whites…. And not all that surprising, sadly in line with my impression about Paarl wine's self-image, is that it would appear to have only 21 members (one of those named being Spice Route Wines, the Swartland producer that has a home in the Fairview complex of attractions, another being the Strooidak Kerk which apparently has a 0.9 ha vineyard of cab). I don't know exactly how small a percentage that is of Paarl's producers, but it's not impressive. Missing from the list are some of the best – those allying themselves to Franschhoek, as well as, amongst others, Avondale, Doran, Eenzaamheid, Glen Carlou, Joostenberg, Nelson, Tempel, Vondeling and Vrede en Lust.
There are also new-wave wines these days, made elsewhere but off Paarl vineyards – and they don't trumpet their origins, I think, as much as they would if they came from Swartland or even Stellenbosch: Thistle & Weed's Duwweltjie, for example, and Van Loggerenberg's Kameraderie.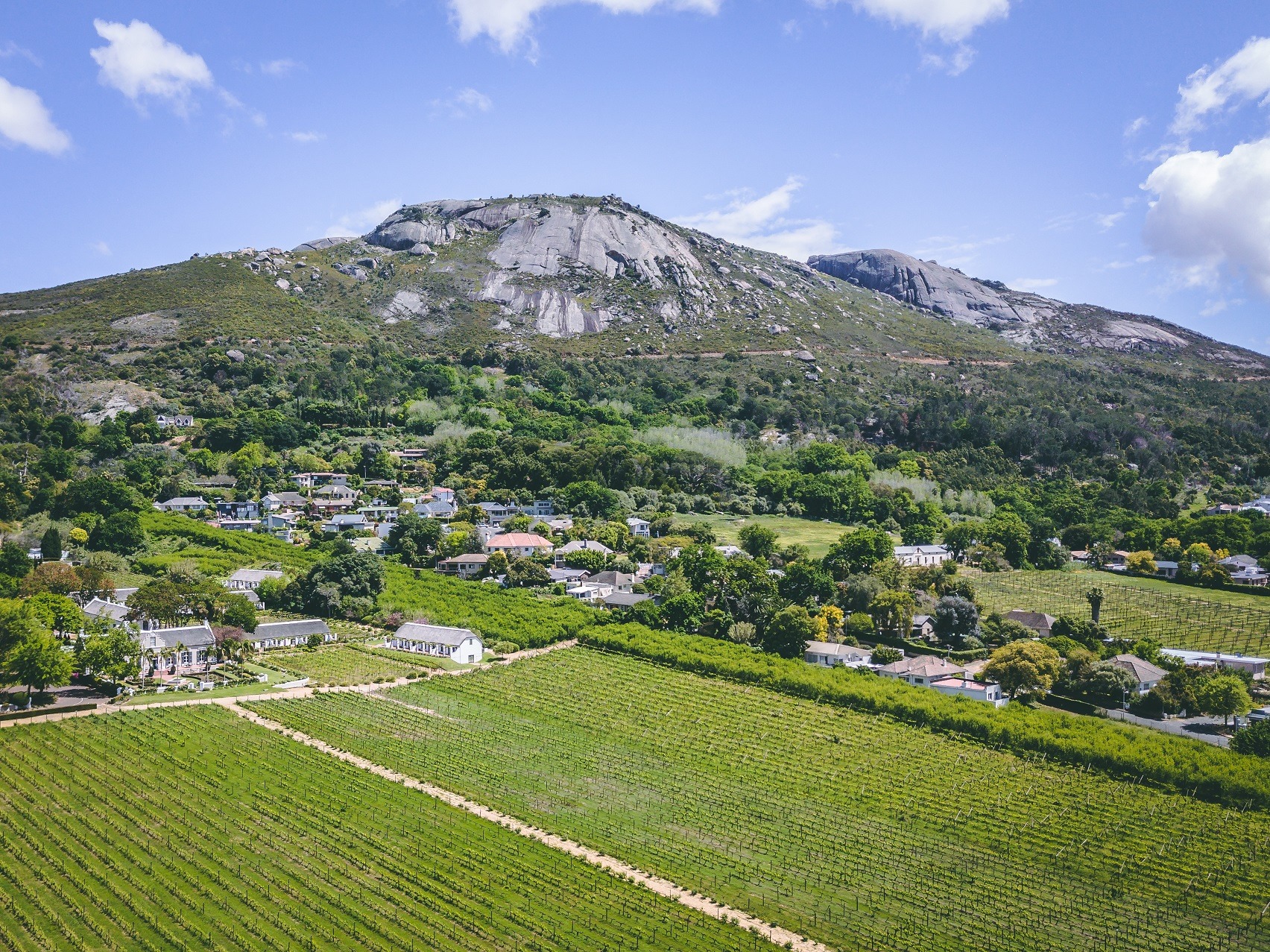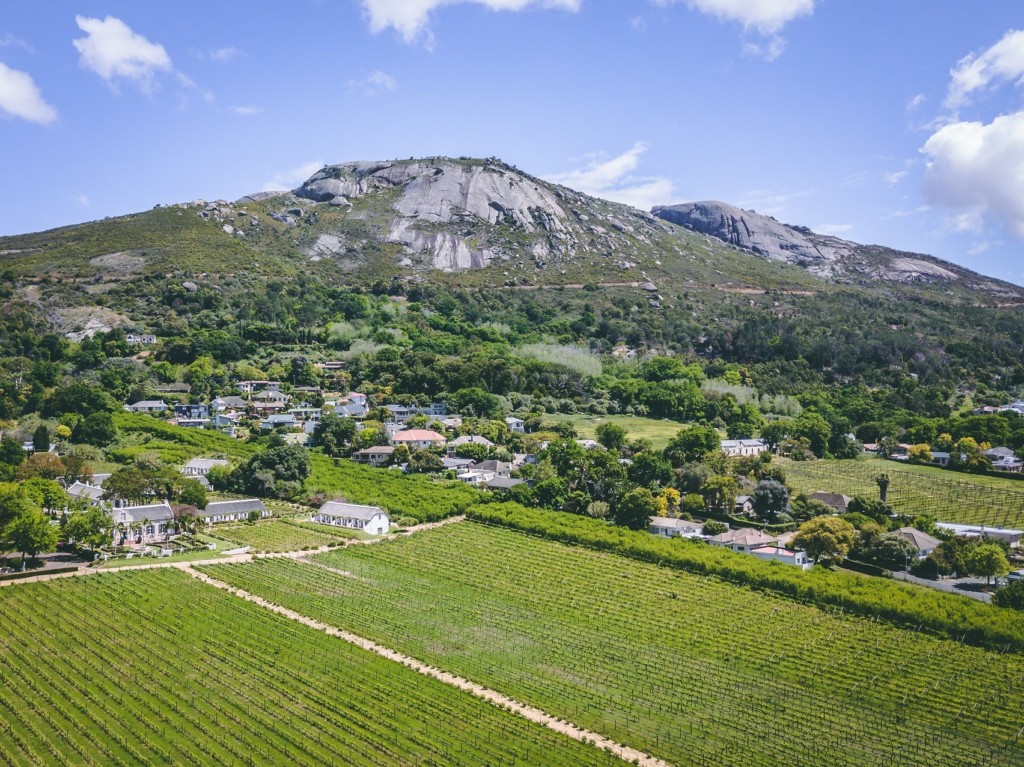 It's true that Paarl doesn't have a really big name producer – I suppose Vilafonté would be the grandest, and I'd vote especially for the rather reclusive Avondale and modest Joostenberg as heading the list of those deserving a larger reputation (and I recently mentioned Noble Hill as another) – and that's probably a problem. Could it also be a complementary problem that Paarl is associated in the public mind not only with a lot of co-ops (Windmeul, Perdeberg, Boland) but also with Nederburg and KWV?
Could it be that you stand somewhere in the middle of Paarl and look about you and on the horizons you see mostly mountains that belong to other, better-imaged appellations – Swartland, Franschhoek, Stellenbosch – with own Paarl Mountain dominated by its interesting big rocks and the Afrikaans Taal Monument?
Oh dear, quite against my will, I am depressing myself, and maybe you, about Paarl, which was genuinely not my intention. Perhaps the difficulties in building Paarl's reputation are not to be overcome, despite the inherent quality. Perhaps they could be, and it just needs some dynamic leadership and an infusion of imagination of something more than the humdrum present. Never easy.
If Paarl can't be built, then the sooner the Simonsberg-Paarl escapes to independence the better, leaving the rump of the area to struggle along as now, with acknowledged centres of excellence doing their best to build individual reputations. Could Voor-Paardeberg do likewise? Less easily, given the predominance of grape farmers supplying the coops rather than producing estates.
But for now, there's a lot of wasted potential, and a depressed image – which does at least mean that Paarl is the source of some very good bargains.
*Footnote: After I'd submitted my piece, Mike sent the following interesting comment: "I don't think that we consciously downplay anything – rather we choose to place significant emphasis on the very specific vilafontes soil and terroir found on our property. Having said that, the locality descriptors on our labelling and packaging are SOUTH AFRICA and PAARL – in both cases these are the only words capitalised and emphasized on our labels. We have also included the precise GPS coordinates of our vineyard on our label, on our cartons, on our corks and in our communication for the best part of 15 years.
Tim James is one of South Africa's leading wine commentators, contributing to various local and international wine publications. He is a taster (and associate editor) for Platter's. His book Wines of South Africa – Tradition and Revolution appeared in 2013
Attention: Articles like this take time and effort to create. We need your support to make our work possible. To make a financial contribution, click here. Invoice available upon request – contact info@winemag.co.za
Like our content?
Show your support.
Subscribe