Tim James: Looking forward to the Strauss & Co wine auction
4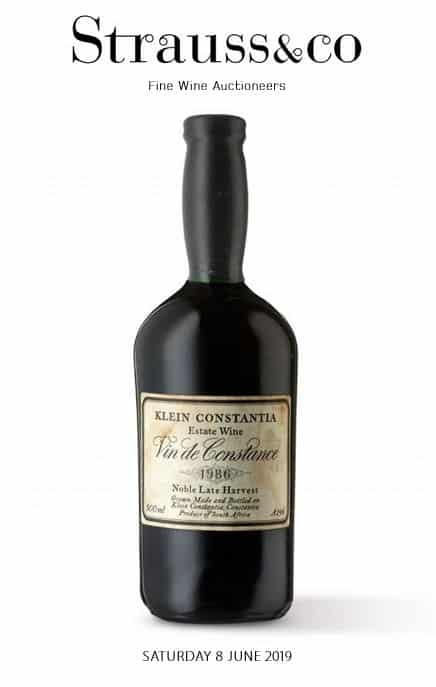 Some weeks ago I wrote about the first straightforwardly commercial wine auction in South Africa – in recent times at least – organised by a major auction house. Strauss & Co are teaming up with Wine Cellar and Higgo Jacobs, and, without knowing too much detail, I greeted the announcement with a bit of scepticism and a bit of regret at the onward march of speculation in wine. My fears and distaste were partly prompted by Strauss's rhetoric of "collectability" and "South Africa's finest wines" and "bringing an exciting new asset class to our client base": it looked likely to be a showy, ultra-expensive affair – though I did wonder how many Cape wines would qualify for speculation at this level.
Well, the catalogue is now available (here; and the lots more easily browsable here), and the auction is just a week away – in Johannesburg on 8 June. And not only is it all looking less grand than I feared, but I'm intrigued and looking forward to see how it goes. Having browsed through the impressive range of offerings and raised my eyebrows at the estimated prices for a couple of rare items (GS 1966 estimated at between R28 000 and R32 000; Vin de Constance 1986 at R30-40K), I'm even thinking that a lot of the estimates for less-venerable wines are on the low side. There are many wines there that the "ordinary" person (one that can sometimes afford Sadie, Kanonkop, Crystallum, etc) would be able to aspire to – unless, of course, those estimates do turn out to be significantly low. And one must not forget that there's also a buyer's premium of 12% (plus VAT on that amount) to be paid.
In fact, there are quite a few highly desirable, maturing or mature wines that are estimated to fetch sometimes less than double what the current vintage would cost – for example, Sadie 'T Voetpad 2010 (estimated at R1800–2400 for three; I would pay that right now!); Mullineux Syrah 2010 (estimated at R8000–10000 for a case of six); Delaire Graff Botmaskop 2000 (estimated at R4000–6000 for six). That's not much extra to be paying for unquestionable gains in maturity, let alone the storage involved. Current storage costs at Wine Cellar, where many of these wines have been kept in optimal conditions, are R150 per year for a 12-bottle case, R87 for 6.
The majority of wines on offer have reasonable estimates (meaning reasonable reserve prices – probably set at the lower estimate). The crucial question is what they get on the day – generally, not just a few established "collectable", "asset class" wines. And if they do much better than estimated, indicating that there might, in fact, be a robust secondary market for South African wine – well, then the next question will be if further auctions can confirm that robustness. In my sceptical guise, I do suspect that some of the producers (especially those that have provided wines for auctioning) will make sure, in one invisible, insidious way or another, that their wines get a good price. Because it'll be useful advertising if they do, of course.
It's going to be fascinating to see the results. I wish I were going to be there to watch it all unfolding.
Cape Town's turn will come in September, and Roland Peens of Wine Cellar tells me they're hoping for two to three times the volume then. That seems probably necessary if the auction as a continuing concern is going to prove viable in economic and time terms. He says of the current auction that "the workload has been immense". Obviously, there's been quite a bit of learning to be done in preparing for this first auction. And, Roland says, "We are learning as we go."
I'd actually raised a few problems with him and Higgo. Firstly, that the photographs online and in the catalogue are potentially misleading: when one looks closely, six bottles pictured are actually one bottle multiplied, so that in reality there could be different ullage levels. In fact, when one requests a "condition report" on any of the lots, if there might be a difference of ullages or label quality perhaps, they happily send a less manicured and blowdried photo of the actual bottles – I trialled this with Meerlust Rubicon 1984 (see the pic; I don't know how good it'll be now, but it was one of the best reds of the 80s). Or they assure that all the bottles are in apparently perfect condition, as when I also asked about comparatively youthful Boekenhoutskloof Journeyman 2005 (drinking excellently when I last tried it, not too long ago).
A second problem I had is possibly more significant (or am I being too pedantic?). Some of the quoted comments about the wines do not have dates attached to them. So that, for example, the pricey Vin de Constance 1986 quotes Angela Lloyd calling it "amazingly youthful" – but not indicating that she said this 17 years ago! That's a wrinkle that'll be easy to sort out in the future.
The future is what this auction is all about really. It's debatable whether it should be welcomed or not by wine lovers who detest the notion of being considered "collectors" and who, unlike producers and some commentators, don't want prices to rise. Personally, I can't pretend I might not be an occasional seller, but will certainly always be a more enthusiastic buyer. Perhaps even at auction, if the price is right.
Tim James is one of South Africa's leading wine commentators, contributing to various local and international wine publications. He is a taster (and associate editor) for Platter's. His book Wines of South Africa – Tradition and Revolution appeared in 2013.
Like our content?
Show your support.
Subscribe