Tim James: New-wave syrahs in early maturity
By Tim James, 28 February 2022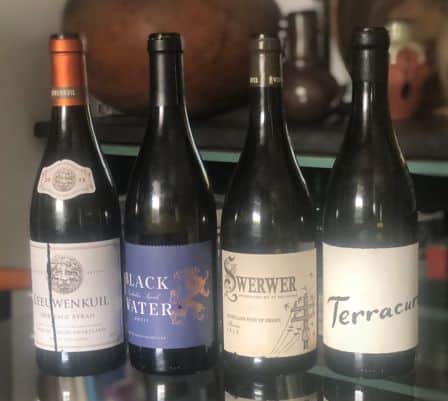 Looking recently for something to drink in the semi-chaos of a wine fridge (I seem incapabable of updating records, and this cooler needs a thorough sorting and listing as soon as the weather allows having the door open long enough) I noticed a Leeuwenkuil Heritage Syrah 2013. Not likely to be near its peak but should be both lovely and interesting, I thought.
It was the second vintage of this wine off a hitherto rather neglected Kasteelberg (Swartland) vineyard, made in the early years by Rudiger Gretschel at Reyneke. The maiden 2012 had been rather overbright and stalky, but the 2013 had had more fruit depth, though it too was redolent of dry stones. It still did last week and in fact was more interesting than lovely on the first night, but improved and rounded itself out nicely for the second.
The experience made me think that it might be good to try a few more of the new wave of Swartland syrahs that were emerging around this time with notably lower alcohols (12–13%) than we'd found previously in the likes of Sadie and Mullineux. Also, and thus, a pronounced freshness, often with at least some wholebunch pressing. Much credit for this development in the Swartland must go to Craig Hawkins then making wine at Lammershoek – where, whatever the problems (and there were some) he definitively established that earlier picking was a more plausible and potentially rewarding strategy than had been deemed likely.
So I rummaged around and settled on four light and bright Swartland syrahs – two from the famous 2015 vintage, two from the early drought year 2016. Old enough to make it interesting to see how this style of syrah was developing as it started to approach maturity. There has been some wondering about whether the lighter style would age well. So far, at six and seven years age, things are looking good. All four of these would benefit from further cellaring I'd say – especially judging by how much they gained from substantial aeration, even a day or two in open bottles.
Readiest to drink is the Blackwater Cultellus Syrah 2016 (MMXVI as the label has it). But I suspect that might always have been the case, for this is the lightest of the four tasted last week, the only one indicating just 12% alcohol. It was was first made in 2011 by Francois Haasbroek while he still had his day job at Waterford. There's charm and character and freshness and, tellingly, it was the first bottle to be emptied in the hot days of last week. But the undoubted loveliness of flavour did have a touch of dilution and lack of complexity, I thought. A touch more grape ripeness would have improved things.
The other 2016 was the Swerwer Shiraz, the first solo appearance of the grape from JC Wickens. Swartland-typical dryland bushvines, minimalistically made (like all these), made partially with whole-bunch fruit – which comes through clearly on the bright, red fruit perfume and flavour. There's still some primary fruit there, and this is a most lovely wine. It's velvet-textured, with the firmest tannins of this quartet – but these typically Swartland in their meltingness – and fresh and pleasingly un-heavy at an indicated 13% alcohol. I don't actually want to say "light", because it's only that in relation to heavier, more extracted and riper wines. Elegant will do fine to indicate the balance.
The two wines from the famously easy 2015 vintage had perhaps more intensity. Leeuwenkuil Heritage Syrah was definitely better than the 2013 I'd tried – no doubt showing the benefit not only of the vintage but the vineyard having been well looked after for a few years. Perfumed, with some darkness of fruit added to the bright red, and a silky richness; with an exciting note of dried herb-fynbos savoury austerity. Softly firm tannins, but I felt the wine to be particularly youthful still and deserving more years to bring it into greater harmony. Excellent stuff, but I certainly will hold my other few bottles for five years at least.
Terracura Syrah 2015 (the maiden vintage) was assembled by winemaker Ryan Mostert from half a dozen vineyards, vinified in typical hands-off fashion; with, obviously, like the other wines here, only older oak elevage. Readier to drink than the Leeuwenkuil but just as fine, I reckon. Floral, spicy and succulent, the fresh acidity and informing but unassertive tannin structure beautifully balanced and already seamless. Gorgeous wine and would probably get my vote as the winner of this quartet on the day. Try it now if you have a few bottles, but I think it too will benefit from further ageing.
So much for a handful of new wave Swartlanders in their early adulthood. They were made at the time when a new fresh, unwoody style of Stellenbosch syrah was on the horizon. Reyneke (under the guidance of Rudiger Gretschel) was already doing exciting stuff along these lines and I'd thought of including the great 2015 Red Reserve (pure syrah) and the Biodynamic Syrah in my little lineup. But these can wait for a few other Stellenboschers, like Reenen Borman (Boschkloof and especially Sons of Sugarland) and Lukas van Loggerenberg, to join them as another demonstration of just how splendid new-style Cape syrah can be, and how it promises to develop well with some maturity.
Tim James is one of South Africa's leading wine commentators, contributing to various local and international wine publications. He is a taster (and associate editor) for Platter's. His book Wines of South Africa – Tradition and Revolution appeared in 2013.
Like our content?
Show your support.
Subscribe