Tim James: Omens and luck at Lammershoek
By Tim James, 10 October 2023
Rain fell generously on the Paardeberg on 16 December 2022. It was clearly a lucky omen for the Johannes family, who took possession of their new farm, Lammershoek, that day. Almost exactly a year earlier they'd inquisitively driven past the property, having heard it was for sale, but it was all so relentlessly hot and dry, with the effects of the long drought still very obvious, that paterfamilias Martin had vetoed any idea of buying it. Later he and the others changed their minds, and this rain, rather than the usually invoked sunny smiling skies, must have seemed a blessing on the whole project.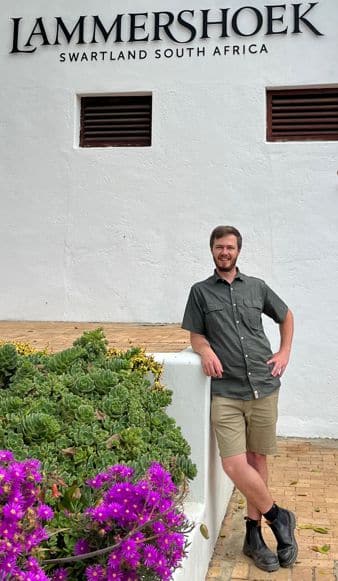 "It was a crazy turn of events", says young Stefan Johannes, now firmly installed as CEO and winemaker. I visited Lammershoek just recently, and it was looking lush and lovely after a winter of profound rain for the whole of the Swartland. That's not to foolishly predict that water – or its lack – is not going to become a problem again, but as Stefan says firmly and confidently: "You need to manage water properly."
The move was a big relief to Stefan. The rest of the family had moved to Australia in 2017 from Mpumalanga, where they had had substantial forestry interests. Stefan had stayed behind – he'd been living in the Cape since 2013, getting increasingly involved with wine, and was unready to leave – though he was planning to follow the family to the farm they'd bought in the Hunter Valley. It seems a complicated story, but one in which Covid restrictions played a crucially shaping role, and the Johanneses returned to South Africa in 2021, and started looking for a farm in the Western Cape.
Lammershoek has not been a lucky place since the late 1990s, when it became one of the first signs of the emerging Swartland revolution after being purchased by a German family. Various ownership mutations (generally German-centred) happened over the years, and various philosophies of winemaking and viticulture – some more technically and commercially successful than others, some revelatory of potential, some near-disastrous; along with rather too many changes in branding. The latest bout of bad lack happened after it seemed as though at last Lammershoek was settling down to the success it deserved as a farm (there's never been any question about its potential to produce wines of the highest quality). But owner Andreas Abold, after investing substantially into the estate, was obliged by ill-health to sell up and return to Germany.
Eben Sadie had begun his own venture in a shed on Lammershoek, and later bought the smallholding which remains the base of his wine-substance. He was obviously concerned about his next neighbour and put the word out amongst his contacts in the industry. And that's how the Johannes family come into it again, persuaded by the man who was supposed to be finding them a property in Stellenbosch to have another look at this farm on a very different – though now perhaps equally famous – mountain.
So they changed their minds and here they are and, with their entry welcomed by rain (ok, the winter rain did also burst their dam), a new chapter in Lammershoek's history begins.  Forget about the bad luck in the past, as Stefan says: "Let's start talking about the potential. It's now all about the farm and what it delivers."
Still talking of luck, however, it strikes me that Stefan has had a pretty reasonable share of it – quite apart from ending up largely responsible for one of the more substantial, interesting and promising wine farms in the Swartland. But as so often with luck, it seems to accord well with determination. He'd come to Stellenbosch University to study agricultural economics, but fallen in love with wine (not the first Stellenbosch student to shift direction like that).
In the short term, however, for various reasons his move to winemaking was thwarted for a while and, as the 2018 crop became ripe, he started urgently looking for a wine-job for the harvest. Christo le Riche, to Stefan's continuing gratitude, gave him a chance, and his initiation into learning about viniculture. He realised that if he could get a permanent job like that, "I wouldn't need to study wine!". Incredibly, when the Le Riche job inevitably ended with the harvest, and after enormous efforts trying to find a place, the scarcely experienced Stefan got a job as an assistant winemaker (doing very basic stuff) for Pieter Walser at BlankBottle in 2019. "What a perfect place for me to learn all about wine. Here I worked with 30-odd cultivars from almost every region in the Western Cape. I learnt a lot about everything regarding winemaking here." Eventually he worked his way up to being BlankBottle cellarmaster, helping to build that remarkable brand.
Stefan has realised the need to have a fundamental rethink about Lammershoek and rebuilding its image and its projected stability as a producer of fine Swartland wines. "We're not in a hurry", he says; getting things right is what counts, and making the the best of what the farm delivers. Production of Lammershoek wines paused for the 2023 harvest, with the grapes or wines all sold off early, while he hones his strategy. Stefan's intention is to have two wines as a focus, a red and a white blend. There are some remarkable vineyards on Lammershoek, including some fine old ones, and Stefan thinks that the farm lends itself, as he says, to producing excellent blends, reflective of the Paardeberg.
But the first efforts of the new regime have gone, as they should, into work on the vineyards. With new farm manager André Bruyns (whose viticultural work arouses the not easily given admiration of Eben Sadie, and who will also make his City on a Hill wines here), the decision was taken to remove some 12 hectares of under-performing vineyards, leaving 44 hectares. An interplanting program, filling in vineyard gaps, has already begun.
I first visited the Paardeberg something over two decades ago. The change in its wine-world in that time has been remarkable. It's not just the great winemaking names that are now firmly rooted here (literally), most notably Sadie, Badenhorst, David & Nadia; a host of others take grapes from these granitic slopes to make some of the Swartland's greatest wines. It's time for Lammershoek to shrug off the bad luck and take its rightful place among its neighbours, and there seems every reason to think that it will. "Yes", says Stefan, "it has its challenges, but my-oh-my this is an exciting place and adventure."
As a footnote: Lammershoek's existing stock is all now being sold under the existing Mysteries label. There are at present eight 2019 wines, line-priced at R200, which means that they are genuinely good buys, as a recent retasting of them confirms. My own favourites among the whites are the Chenin Blanc and the White Blend (chenin has always been the highpoint here, but how not mention the fascinating and rare hárslevelü wine, Die Haarde Blaar?). With four years in the bottle, they're drinking near their best, I reckon. The Red Blend is also great, with the Syrah this year appealing more to those wanting their reds rich and ripe; and the tinta barocca from very old vines, Die Ou Man, this vintage also in rather luscious and delicious mode. I'm happy to recommend them all, and not just as bargain-priced. I see they are offered by Port2Port, if you're interested, or you could email Stefan directly with enquiries and orders.
Tim James is one of South Africa's leading wine commentators, contributing to various local and international wine publications. He is a taster (and associate editor) for Platter's. His book Wines of South Africa – Tradition and Revolution appeared in 2013.
Like our content?
Show your support.
Subscribe