Tim James: On Some Older Cape Reds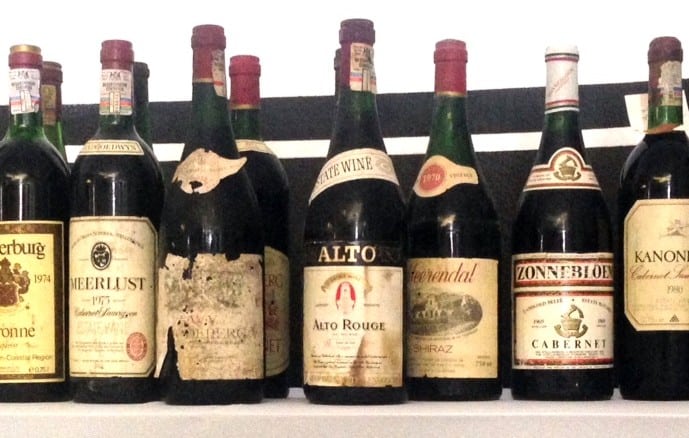 Having spoken about the white wines at the latest of Michael Fridjhon's annual old wines tasting, I should say something about the reds, as I know there are people out there fascinated – as I am – by the good and very good (and of course sometimes grimly decrepit) relics of the Cape's twentieth century wine culture. As Michael remarked at this tasting, it's a great pity that there are so few survivors available from the 1940s and 1950s, as already in the 1960s a slight decline was perhaps starting to happen, as demand grew somewhat, met by increasingly stretched vineyards and pragmatic blending.
The joint-oldest in this tasting of 23 reds was Lanzerac Cabernet Sauvignon 1965, which was rather odd and not so nice, though it was still structurally sound, with a decent grip and acid balance, but a sweetish, rustic finish. And a very good '65 blend, Chateau Libertas: still showing a dark ruby heart, leading to a tawny rim; lively, slightly green herbal nose. Good tannic grip, some concentration, volume and power; plenty of acid, but integrated and balanced by fruit. As always, old Chateau Lib with something to offer.
Actually I lie about the oldest wine of the tasting – perhaps I was simply trying to forget Lanzerac Pinotage 1964, which was tannic and generally the opposite of impressive.
A little younger, Nederburg Selected Cabernet Sauvignon 1967 was disappointingly (for a famous label) simple and also a touch sweet; thickly textured, and soft despite a whack of unintegrated acid. But Zonnebloem 1969 cab was very pleasing, with fine tannin and even a bit of elegance; rather pure, full flavours of maturity, good length.
The only other variety represented at the tasting from the '60s (of course a time when you couldn't really believe the labels anyway) was shiraz, with an over-the-hill, toffeeish, unvinous Vergenoegd 1969. Meerendal Shiraz 1970 was porty and beefy, with rather hard acid, but much more pleasing.
From the 1970s, the best was a well balanced, refined Alto Rouge 1973, which Christian has written about here. Meerlust Cabernet Sauvignon 1975 (the first Meerlust bottling of the modern era) also showed some interesting development; silky, savoury and fairly dry-finishing, though just a touch insipid, I thought. Amongst some other '70s cabs and blends (including nice-enough Roodeberg 1973; too-oxidised and old-school Nederburg Baronne 1974; very drinkable Groot Constantia Cab 1973; notably herbal but fairly well balanced Montagne Cab 1972), the best was KWV Cabernet Sauvignon 1974. In a rich style, still very much alive, with integrated acid, resolved tannic grip – but if we'd been told it was a Rhône-style blend, we'd have all thought that more likely than cabernet. And who knows, it might well have had just 30% cab and conformed with the regulations as they were at the time….
And some pinotages, including a very decent, camphory Neethlingshof 1973, and an even better, fresher, more flavourful and long-finishing Meerendal 1978 (with just a hint of varietal bitterness) – from the then-young vineyard which now gives Meerendal's excellent Heritage Block Pinotage.
Into the uncelebrated 1980s, with none of what we tasted doing much to redeem the decade's dull reputation. Kanonkop Cab 1980 might have helped, but the bottle was corked. The Backsberg Pinotage 1982 helped least of all: acetoney, soft, clumsy, herbal bitterness. Bertram's Cab 1983 showed a remarkable amount of fresh, almost primary fruit; there was some charm, but it was sweetish and simple.
I had hopes for Delheim Grande Reserve 1982 (strangely, not tasted alongside the cabs, though cab is what it is). It was indeed in pretty good shape, even if not showing a developed tertiary complexity, with a herbal quality that didn't worry me – but that too-frequent Cape disfiguring sweetness on the finish, which did. Others admired it more, I think.
So, altogether another great, privileged experience with what remains of the Cape's vinous past.
Tim James is one of South Africa's leading wine commentators, contributing to various local and international wine publications. He is a taster (and associate editor) for Platter's. His book Wines of South Africa – Tradition and Revolution appeared in 2013.
Like our content?
Show your support.
Subscribe