Tim James: On the unusual pleasure of sweet wine
Perhaps strangely, given an admittedly sweet tooth, I seldom drink late harvest wines – and can't remember when I last bought one. They can be marvellous, of course, but given the choice I would always choose a fortified sweet wine instead.
The glass of unfortified that I remember best was my first German riesling Trockenbeerenauslese, many years ago, a young wine at a fine producer on the Saar River, Schloss Saarstein. I suspect the only reason I got to taste what is always a great and expensive rarity was because my visit coincided with that of the estate's American importer, but that was okay by me.
The thrilling, razor-edge balance of intense sweetness, intense acidity and intense fruit was a revelation of finesse. I think I must have done something like gasp, and I remember the American saying understandingly, that yes, wines like this make Sauternes seem rather coarse!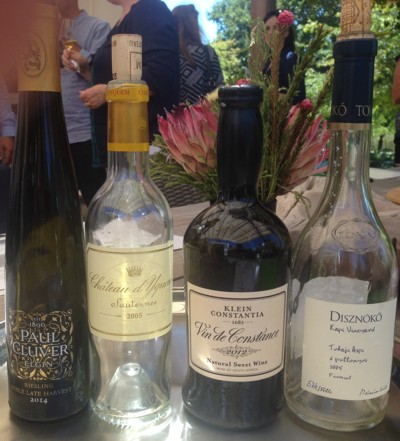 Sauternes, the great Bordeaux sweet wine, and Germany were both represented in the "Sweetheart Lot", a grand collection of sweet wines from around the world offered at the recent Cape Wine Auction. Klein Constantia Vin de Constance and Paul Cluver Riesling Noble Late Harvest were in the volume lead in the selection, which made R700 000 for charity.
Shortly before the Auction, continuing the producers' spirit of generosity, a small function at Klein Constantia gave a lucky handful of people the chance to taste four of the wines (accompanied by mostly savoury food): Paul Cluver 2014, Vin de Constance 2012, Château d'Yquem Sauternes 2005, and (I suspect the rarest of the line-up), a Tokaji: Disznoko Kapi Vineyard Aszu 6 Puttonyos, also 2005.
All were impressive – and notably different; from different grapes, for a start – the Tokaji from furmint, the others as we know. Vin de Constance was the only one without the botrytis influence that is important to most of the world's great dessert wines. I didn't take notes, so I can't offer to bore anyone with them, but my favourite was the superbly elegant, polished Vin de Constance, closely jostled by the Tokaji, which was full of character as well as the expected elegance – a touch of rusticity perhaps, but this adding to its appeal. I'm a great admirer of the Paul Cluver, but the 2014 was, I think, just too young and primary to compete here.
And what of the Château d'Yquem, certainly one of the world's most famous (and expensive) dessert wines, and this from a reputedly good vintage? Well, I thought (and I know I wasn't alone, as I asked a few people) that it was impeccable, polished and suave, but just a little boring compared with the others, not as complexly fascinating as I know mature Yquem can be. Perhaps it's going through a dip, as great wines sometimes do.
More recently I've sampled two local 2013 Noble Late Harvests made in the Sauternes tradition – though each from a different variety – which point to the extraordinary quality and value available in this category here. Tokara is from sauvignon blanc and showing beautifully in its youth, poised and charming. But Boekenhoutskloof, from a riverside semillon vineyard on the Franschhoek estate, is perhaps in a class of its own, a superbly tailored mouthful tapering off to a remarkably dry finish. This is always one of the lowest-flying great Cape wines, but deserving the finest of reputations. I'd put my own very modest reputation on the line and insist that this wine, in a line-up of serious Sauternes (at many times its price), would not suffer in the least from the comparison.
I do wish I wanted to drink more of the stuff and that my waistline were more encouraging!
Tim James is founder of Grape.co.za and contributes to various local and international wine publications. He is a taster (and associate editor) for Platter's. His book Wines of South Africa – Tradition and Revolution appeared in 2013.
Like our content?
Show your support.
Subscribe