Tim James: The origins of South Africa's modern fine white blends
By Tim James, 18 November 2019
1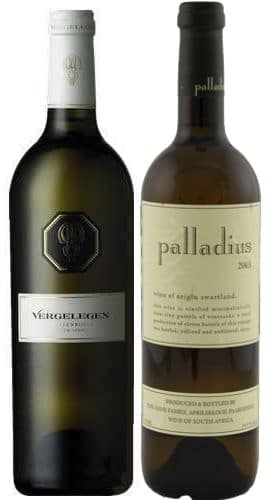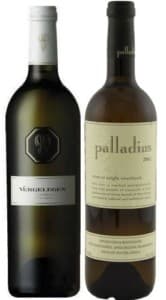 It's easy to forget just how recently white blends in South Africa gained the eminence – if not exactly popularity – that they now have. Last Saturday I attended my second-ever vertical tasting of Sadie Family Palladius, and suddenly remembered the first. It was back in early 2008, comparing the Cape's two, very different, pioneering white blends: Vergelegen White, as it was then called, 2001-2007, and Palladius, 2002–2007. The tasting took place at Vergelegen, with the two winemakers there.
It was arranged so that I could write about the wines for World of Fine Wines, the London-based magazine (the report appeared in Issue 21, 2008; so those who regard me as a groupie will at least give me credit, I hope, for length of service). Neither wine was particularly well known internationally at the time – nor was the significance of the premium white blend category. Going back just a little closer to those two auspicious maiden vintages of Vergelegen White and Palladius: In 2004 Angela Lloyd had written in Grape an equally pioneering report of a tasting of white blends, in both emerging styles: five sauvignon-semillons, and six "others" (I'll come back to that troubled nomenclature). I guess that's all we could find back then. She began by suggesting that "the notion of a premium or flagship white blend is not one that even the most savvy of wine commentators spends much time considering", and finished by expressing some hope for "a category still very much in the evolutionary stages". Just 15 years ago, that summed up the place of white blends in the Cape!
Between then and the double-vertical, I'd written a lengthy article for World of Fine Wine about white blends. It began with the suggestion (not then widely held) that white wines were what South Africa was doing best, at all levels, and went on to argue that it was "the varietal blends that that are announcing themselves as the most exciting development".
I even ventured to suggest that we shouldn't call the "other" category "Rhône-style blends" or "Mediterranean blends", as some people were doing, but rather "Cape white blends", acknowledging the role of chenin blanc in many of them, and that really they had nothing to do with Europe (beyond some inspiration) but were firmly and irrevocably local. It's an opinion about the name that I still hold, though it hasn't caught on widely. Nor have the other names, though, and Eben Sadie was amusingly irritated at this last vertical when (albeit proudly) referring to Platter 2020 having given Palladius 2017 the award for "White blend, other". That categorisation is a real failure of our collective imagination, I fear. Can't we come up with a generic name? One that doesn't refer back to Europe, even for a quintessentially local style. Better call it a "Swartland blend": if we can refer to a Bordeaux blend because that's where it developed, then why not "Swartland blend"? – at least for those with a significant chenin component, further contributions coming from other varieties that do better in warmer climates than does sauvignon blanc (and arguably semillon).
In my 2007 article I reported that there were "still comparatively few Cape winemakers following the Bordeaux model for white wines", though, looking now in the 2007 Platter I see a few dozen already, listed in both "Sauvignon blanc-based" and "Semillon-based" categories, with separate listings for wooded and unwooded versions. I also note in my article that, in the style taking its cue from Palladius, I seemed very interested by the long-since defunct The Observatory Chenin-Chardonnay, whose early-picked lightness, at 12.5% alcohol, I contrasted with the Sadie wine (which "can sometimes push rich ripeness quite far"). In fact, gaining freshness and lightness through earlier picking was to be a significant part of Palladius's evolution. Platter 2007 listed these other wines under a whole lot of categories according to varietal components (Palladius was, strangely if not entirely inaccurately, under "Viognier, blends with", though that variety was being further downplayed each year). Nowadays Platter basically lists all the white blends together, with distinctions only for woodedness and sweetness – but then, for Wines of the Year, breaks the blends down into "White Blends, Cape Bordeaux" and "White Blends, Other", thus occasioning Sadie's humorous exasperation.
The two styles of white blends tend, of course, to come from cooler and warmer regions, respectively. As far as blending philosophy goes, a more intriguing distinction emerges. The sauvignon-semillon blends are almost inevitably constructed according to the kind of balance (structure, aroma, flavour) sought by the winemaker. Many of the Cape white blends, though, are not created at the tasting bench: while any problematic barrel would be excluded, wines like Palladius and Badenhorst Kalmoesfontein are intended to express their origin, with a multiplicity of varieties adding complexity as well as being there basically just because they belong. Palladius is actually a kind of field blend – with the field being the whole of the Swartland.
In my next post, I will talk about that tasting of the first fifteen vintages and the long evolution of what had always been conceived of as a work in progress.
Tim James is one of South Africa's leading wine commentators, contributing to various local and international wine publications. He is a taster (and associate editor) for Platter's. His book Wines of South Africa – Tradition and Revolution appeared in 2013
Attention: Articles like this take time and effort to create. We need your support to make our work possible. To make a financial contribution, click here. Invoice available upon request – contact info@winemag.co.za
Like our content?
Show your support.
Subscribe