Tim James: Three great wines – but what of their presentation?
31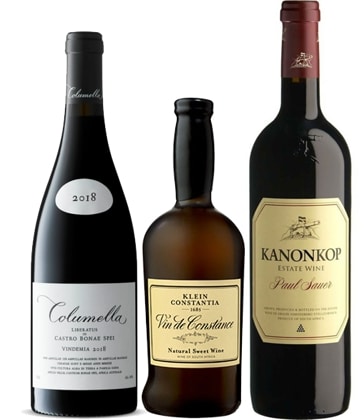 Let's take the quality of the wines discussed below as unassailable. Is the aesthetic judgement – and in one case, the political one – merely a matter of taste (or conviction)? Well, they're at least questionable.
I don't think I've ever seen a public reference to Sadie Columella's comprehensive use of Latin on its elegantly designed display label ("Liberatus in Castro Bonae Spei", etc), apart from Christian Eedes referring to it, apparently approving of its originality, in his introduction to the second Wine Label Design awards. Otherwise, I suppose it's either an elephant-in-the-room thing which embarrasses commentators, or else no-one apart from me finds it odd enough to be worth mentioning. De Toren uses a Roman numeral for the "five" part of the name of Fusion V, and there is the occasional label using them for the date – such as Steenberg Magna Carta, where the practice is perhaps saved from silliness, if not pretension, by relating to the Latin name, I suppose. Sadie, however, inverts this latter process, so that it is in fact ONLY the number which is not Latinate; it's in standard Arabic numerals. The Latin link to the name is, of course, that Columella was an ancient Roman agronomist (so too was Palladius, but that label is in English, like the "back", official, label of Columella….)
Eben Sadie told me many years back that he was so in love with his maiden wine that he thought neither English nor Afrikaans good enough for its label – hence the Latin. Some time later I asked him (and I suspect he sensed my own doubts) if he regretted having done something so unusual, and he emphatically denied that. Myself, I think the later choice of Afrikaans for the Ou Wingerdreeks/Old Vineyard Series entirely more appropriate than Latin. Incidentally, I wonder if Sadie is the only producer in the world to use three different languages (unmixed) on his labels, as well as the only producer with one of those languages being Latin?
*
The foreign language on Klein Constantia's Vin de Constance label is, of course, French – though limited to the name. I don't find that pretentious, but I fear the whole effect of the packaging is rather kitsch, which is perhaps even worse. Using a bottle manufactured by modern techniques to imitate a wonky 18th century hand-blown one (and repeated as a magnum) – well, it's rather like those electric heaters that have a moulded plastic cover electrically illuminated from behind and painted to supposedly resemble glowing coals. I believe they found the bottle in Italy and subsequently patented the design; the rather ugly label is designed to match. Groot Constantia's Grand Constance, another wine inspired by the old Constantias, also alludes directly to an antique-style bottle but doesn't pretend that the allusion is more than that, so it ends up that much less vulgar. A pity that Vin de Constance, one of the Cape's few indisputably iconic wines, and one of its most expensive, should be packaged like this, so self-consciously coy.
*
The problem with the public presentation of Kanonkop Paul Sauer is rather more serious and more fundamental: the problem is the name itself. I guess if the wine were named after Hendrik Verwoerd, more people might notice the problem and, I hope, join me in objecting. But I suppose few international admirers, and maybe not all that many local ones, realise that Paul Sauer was more than just another run-of-the-mill National Party minister in the apartheid era – even if the overwhelmingly white (mostly right-wing?) local constituency for fine wine perhaps realises it and doesn't much care. The Kanonkop website says that Paul Sauer was a politician most famous for serving "in the South African parliament for forty-one consecutive years". It doesn't mention that, very importantly, he chaired the Sauer Commission, established in 1947, to formulate an alternative new policy for traditional racial segregation, and whose work has been seen as the theoretical basis for the apartheid system that Sauer's party was to soon start enforcing.
The only other Cape wine producer I can think of that honours a famous racist is the KWV, with what was Abraham Perold Tributum and now appears to be The Mentors Perold. A.I. Perold was, of course, an important local viticulturist and no doubt his achievement (particularly his creation of pinotage) is what the KWV wants to honour. But he was also, inescapably (it's not often mentioned by the Pinotage Association or others), a Nazi supporter and member of the Ossewa Brandwag before his premature death in 1941. (Incidentally, Sadie Columella also mentions 'tributum" on its label – but the tribute is to someone who died two millennia back, distant enough for use to ignore that he was, apparently, a supporter of slavery.)
History is history. It happened. But it doesn't need to be insisted upon when that history is offensive to so many people. No one admires Kanonkop as a wine producer more than I do. But is it really acceptable that one of South Africa's finest, best-known wines are still named after a person so deeply implicated in establishing the policies of grand apartheid? The names of streets, airports, cities etc deemed offensive to most South Africans have been changed in the last few decades, statues have toppled…. Shouldn't the name of the Kanonkop flagship have also discreetly changed – to PS, perhaps (the suggestion made to me by Jancis Robinson, when I asked her opinion of this)? Its persistence seems to me one more measure of how little the wine industry has shifted since 1994 to reflect – let alone to help build – a successful post-apartheid society.
Dragging Perold with it, Paul Sauer Should Fall! Not the wine, of course (let's not be radical here), just the name.
Tim James is one of South Africa's leading wine commentators, contributing to various local and international wine publications. He is a taster (and associate editor) for Platter's. His book Wines of South Africa – Tradition and Revolution appeared in 2013
Help us out. If you'd like to show a little love for independent media, we'd greatly appreciate it. To make a financial contribution, click here. Invoice available upon request – contact info@winemag.co.za
Like our content?
Show your support.
Subscribe