Tim James: Value, international comparisons and Leeu Passant
The most expensive bottle of chardonnay listed by Cape Town merchants Wine Cellar is, unsurprisingly a burgundy: Henri Boillot Montrachet Grand Cru 2019, at a very little under R20 000. If it's bargains (of a kind) that you are looking for, you should rush out and buy the two bottles they have in stock – unusually for South Africa, that's actually a remarkably low price: Wine-searcher.com lists it at about R25K in the UK, and a shop in New York offers it at R36K, both of those scary prices excluding sales tax. But even those tickets are pretty modest, in fact, if you want the priciest (ludicrously so) white burgundies – but we can leave them to the Maserati drivers, I think.
At Wine Cellar, for the price of the Boillot, you could buy 17 bottles of the most expensive local, Richard Kershaw's 2018 "Deconstructed" bottlings of his Elgin Chardonnay. Wouldn't it be nice to have bottles of both Kershaw and Boillot on the table and discuss the nature of bargains? Next most expensive on the locals list at this retailer is the American-owned Capensis 2016 at R950 (the Capensis website is offering the 2017, and the current Platter's reviews the 2018, which does suggest that perhaps this wine is not leaping off local shelves). Even at this one retailer there are, by the way, at a similar sort of price, a few pretty famous premier cru burgundies and one well-known Californian, from Sandhi.
Then come a handful between R600 (Storm and HRV both about R630) and R700 (Oak Valley Tabula Rasa). The upper end of this clutch will also include Leeu Passant Stellenbosch Chardonnay, the 2020 vintage of which – being released around now – I tasted recently.
The point of this preamble is that you might instinctively and very reasonably consider that the higher-priced local chards cost a lot of money – which they do, in most people's terms. But even compared with Australian and (especially) Californian examples, they are excellent value, as I think most knowledgeable people anywhere would agree. Recently, my monthly tasting group had the pleasure of sampling chardonnays from around the world (mostly comparatively modestly priced ones), the best of which, in my opinion and that of at least some others at the table, was a 2012 Giaconda Estate Vineyard Chardonnay, from Australia. Current vintages sell for well over R2000 per bottle. I'd be happy to put the cream of Cape chardonnays alongside it.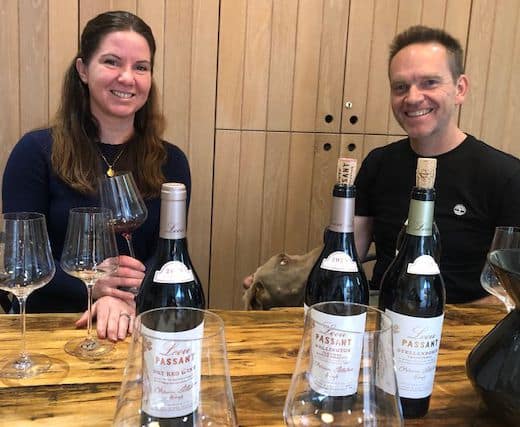 Including Leeu Passant Stellenbosch 2020. From the sandstone and ferricrete heights of the Helderberg, with a cooling maritime influence too, the grapes have the inherent balance and acidity to allow, as winemaker Andrea Mullineux says, a genuine lack of interference in the cellar. Even sulphur: the first drop is added only at blending, after the wine's maturation in older and 30% new barrels. It almost threw me back when I first sniffed it last week. That's an exaggeration, but it felt like that – you can sense the quivering vibrancy right from the start. There's power, too, but expressed with real grace. At R700, it can't be called expensive, I'm afraid, even if that's a lot of money for even the majority of serious local winelovers.
There are, happily for those who like nationalist triumphs, a couple of other new Leeu Passant releases which are, I'd guess, at or near the top of their ladders internationally. There's plenty of cinsault made elsewhere – including California – but the majority of the ambitious and expensive ones seem to come from South Africa. Most of the locals, though, are made in the merely very pretty, very light style that, in my opinion, becomes rather boring to drink after a while. Not the Leeu Passant Basson Cinsault, from the Wellington vineyard with the oldest red-wine grapes in the country (planted by 1900). Fragrant with flowers and spice and red fruit, the 2020 mixes effortless lightness with intensity. Pay R620 and enjoy, and patriotically delight in one of the world's most expensive cinsaults.
I dare say the Dry Red (it's the 2019 released now) is also at the price summit of blends of cinsault with cabernets sauvignon and franc – it costs abround R1080 per bottle, and I fear I have to opine that's not bad for one of the Cape's best reds. This was the year when three-quarters of the grapes were stolen just before they were due to be harvested (a security guard is now employed in the latter growing season, adding to the expense of farming this historic vineyard). But enough cinsault remained to add its lovely perfume to the leafy fragrance of cab franc and the glories of good cab sauvignon (from 40 year old dryland bushvines in Stellenbosch). Andrea finds a "confident wildness", and of course I do too – along with ripe deliciousness and layers of flavour, real freshness, a seductively smooth (already!) but far from trivial structure. Gorgeous wine, the best evidence we have for the excellence of cinsault as a blending component (its greatest attribute, in my view, even despite the varietal bottling from Leeu Passant).
Back to the great international varieties. The Leeu Passant Stellenbosch Cabernet Sauvignon 2020, comes from the lower Helderberg slopes. Remarkably, the grapes were picked in April – extremely late for Stellenbosch – yet the wine is just 13.5% alcohol and elegant, with a winning varietal herbal note to the clean ripe berry fruit. Firm, rather chalky tannins, fine acidity, supple and restrained. At R400, another kind of good value.
Tim James is one of South Africa's leading wine commentators, contributing to various local and international wine publications. He is a taster (and associate editor) for Platter's. His book Wines of South Africa – Tradition and Revolution appeared in 2013.
Like our content?
Show your support.
Subscribe