Tim James: Visiting the Paardeberg – 3: A significant new Sadie wine
7
On reflection, it is rather odd that Sadie Family Wines, so associated with the renaissance of the Swartland and with its treasure of old chenin vineyards, has not had a Swartland chenin in its portfolio – Mev. Kirsten is from Stellenbosch, Skurfberg from Olifants River. A further oddity, perhaps, is that, despite its home base being on the Paardeberg (whose own renaissance came after Eben Sadie brought it fame), Sadie has had no wine coming exclusively from that mountain since the earliest vintages of Palladius.
The 2022 vintage sees both those anomalies resolved. In a wine, moreover, that marks another signifcant breakthrough for the Sadie Family range: the first wine to come off a Sadie-owned vineyard, as opposed to vineyards that Eben leases and/or manages.
Rotsbank is the name of the new wine in the Old Vine Series (the first such for many years, since Treinspoor), and the vineyard is a recently purchased one, on the highest point of the farm. It's a vineyard that Eben says he has wanted for some 14 years, but only recently persuaded his neighbour to sell. (Sadie aficionados might recall that the first vintage of Sequillo featured on its label a drawing that included a stretch of barbed wire fencing and a rickety farm gate – those were taken from this vineyard.)
The purchase had even more significance, in fact. The piece of land was contiguous with the large Jakkalsfontein farm, which had long supplied grapes to Sadie, Badenhorst and many other prime producers, and also became available last year. By far the larger part of the farm went to Badenhorst Family Wines, whose Kalmoesfontein is contiguous to it on the opposite side from Eben's farm, but Eben was now able (according to the law governing such things) to take a section of Jakkalsfontein to graft onto his existing farm. Adi Badenhorst now has quite a little empire on the Paardeberg, especially if one includes land he leases! And he and Eben are now direct neighbours as well as being close friends, which seems a fitting thing for the Paardeberg.
Sadie's Rotsvas farm has in the last year more than doubled in size, then, to some 37 hectares. Some of the vines on the Jakkalsfontein plot have been pulled out, with the soil now being prepared for new plantings – the other older, vines will now be farmed according to Eben's meticulous organic and quality-devoted standards. Incidentally, they include pinotage, some of which actually went into the 2021 vintage of Columella for the first time – a serendipitous decision and commitment that was made before the puchase of the farm became a possibility.
That gives Rotsvas a total of 19 ha of vineyards, including the young mixed vineyards on the original farm, with another 8 ha planned. That's much in excess of Sadie needs, given that most of the Old Vines Series (bar the forthcoming Rotsbank, of course) must inevitably continue to be sourced from far-flung vineyards. As I suggested in an article last year (where I had to keep quiet about the almost-finalised new holdings), Eben is now pretty well destined to become a full-time farmer rather than winemaker (made easier with the experienced and excellent Paul Jordaan in charge of the cellar), providing very expensively farmed, high quality grapes to some other ambitious winemakers.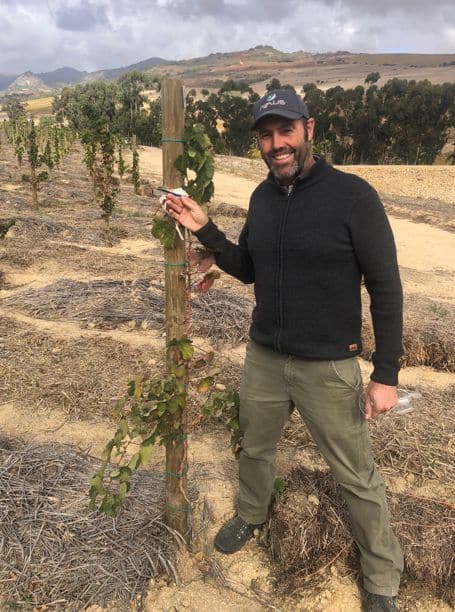 On my recent visit to the Paardeberg, we looked together at the thriving vines in the most recently-planted mixed vineyard – called Sonvang. There are at least a dozen varieties here, both white and black grapes, from Agiorgitiko to Palomino. But arguably of greatest interest (emotional and historical, at least) is the pontac, that almost mythical red-wine variety which was once qualitatively important in South Africa (including in some of the great old Constantia wines), but got neglected because of its low yields in the 20th century when quantity was what most counted. The vine material became badly virused, but newly cleaned-up stocks are becoming available, and these infants in the Sonvang vineyards are amongst the earliest to be planted (Hartenberg was the first to get some for planting). In this vineyard,incidentally, is also planted alicante bouschet, which is a French crossing that has Pontac (known as Teinturier, the tinting grape, for its rare dark flesh and juice) in its pedigree.
Getting pontac into Cape soils again counts for me as significant and exciting news. With any luck the quality will be such that – apart from any number of new wines around the Cape – pontac can be included in the ever-widening blend of varieties in Columella.
And good news it is too that at last there will be a Sadie Family chenin from the Swartland. Rotsbank 2022 should be released in a year or so. I tasted the emerging wine from the cement tank in which it is now waiting, and it promises, predictably, to be excellent.
Tim James is one of South Africa's leading wine commentators, contributing to various local and international wine publications. He is a taster (and associate editor) for Platter's. His book Wines of South Africa – Tradition and Revolution appeared in 2013.
Like our content?
Show your support.
Subscribe