Tim James: Warm autumn poses problems for the winelands
It's almost with guilt that I've been enjoying the gorgeous weather here in the Western Cape – the sunshine has made suburban lockdown so much pleasanter than it would have been with drear dullness, cold and wet out there. A little decent rain a few weeks back, and the merest trickle since then, amidst an unseasonably long run of warm and bright days in April and early May. What's to complain about in a golden time like this – more late summer than the autumn that should have arrived?
Guilt? Well, at the least some nervous apprehension in sympathy for winegrowers seems appropriate, given my now notional involvement with the industry that's still happening out there in the real world. The drought that afflicted us for three years was partly broken last year, but certainly not definitively so, and signs of winter rains arriving would be paradoxically cheering. Winter cold too, to urge the vines into their dreamless, restorative sleep.  And then a few days back I received some pictures from Eben Sadie, showing compost being broadcast over the vineyards on his Paardeberg farm. I was startled to see how green the vines still were under those blue skies – unsurprisingly so, I then realised, given the reluctance of autumnal conditions to arrive. Of course, I haven't set eyes on a real live vineyard for at least six weeks.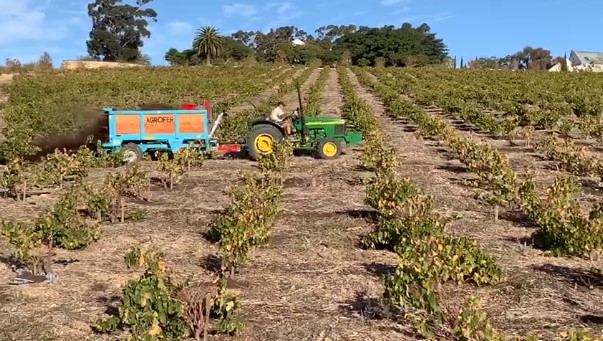 The crucial task for most grape farmers at this time of year is (in addition to enriching the soil if necessary, as on Sadie's Slangdraai vineyard) sowing the winter cover-crop. Ideally, that needs rain to encourage germination. Is the lovely weather proving a worry to winegrowers, in addition to all the pandemic-imposed problems of April? A phonecall revealed that it was not, in fact, a problem to Carl van der Merwe of DeMorgenzon in Stellenbosch. Carl's cover crops had actually gone in before the rain, so all was well in that respect. He confirmed that "leaf fall has been very much delayed" by the warmth, but even here he could look on the positive side, thinking of all the photosynthesising still going on, building up the vines' reserves. (Other news is forthcoming regarding Carl and DeMorgenzon, but that too is shut down for now…).
Incidentally, Carl also sketched me a picture of the busy farm and winery under Covid19-imposed conditions, with the team in masks, after their temperatures were taken on arrival at work to ensure that no-one was feverish. Let's hope everyone out there in the Cape Winelands is being equally careful, and wish them well as they work.
If DeMorgenzon is fine, viticulturist Rosa Kruger confirmed for me that for the very many farmers who hadn't done an early cover-crop sowing the too-clement weather is indeed proving a problem.  There seem to be, what's more, at least another few weeks of sunny warmth to come,  and for a while, it's getting even hotter. Most farmers will wait another week or so for their cover crops but, Rosa says would be very reluctant to plant after the third week of May.
Uncertainty about labour availability under different government lockdown regimes is making many farmers nervous, Rosa says, and pushing them to get things done. The first pruning might be pushed forward as a result, she says, even before proper dormancy has set is, because of a fear that there might be a lack of pruners if tighter regulations are returned to.
Rosa is also clearly depressed and worried about the effects in the Winelands of lockdown and restrictions on the wine business. VinPro (admittedly seldom keen to present a rosy view of farmers' prospects) is apparently forecasting widespread financial failure amongst farmers by the end of the year. Undoubtedly farmworkers are already suffering. Wages are being cut, Rosa says, and there are retrenchments. Contract workers are particularly feeling the tightening; Rosa knows of just one contract viticultural team at work, of the more than half-dozen that should normally be active at this time.
Another beautiful day was dawning in Cape Town as I took my dogs for a walk around the suburban streets today. And dawning too across the beautiful Winelands. If only I could plausibly wish myself the sunshine and, for the vines, plunging temperatures and dark rolling clouds bringing rain.
Tim James is one of South Africa's leading wine commentators, contributing to various local and international wine publications. He is a taster (and associate editor) for Platter's. His book Wines of South Africa – Tradition and Revolution appeared in 2013
Attention: Articles like this take time and effort to create. We need your support to make our work possible. To make a financial contribution, click here. Invoice available upon request – contact info@winemag.co.za
Like our content?
Show your support.
Subscribe