Tim James: William Kentridge – art and wine
By Tim James, 26 August 2019
2
Cape Town is abuzz with the newly opened and massive double exhibition overviewing the sculpture and other work of South Africa's most famous artist, William Kentridge (sculpture at the Norval Foundation; drawings, prints, films, installations, etc at the Zeitz MOCAA at the Waterfront). That is, to be honest, about 0.01 percent of Cape Town is abuzz, but for us it's a big thing. So it seems a good opportunity to do a little retrospective on wine and wine-related themes in Kentridge's work.
In the current exhibitions, it must be admitted, matters vinous do not loom large. I noticed two corkscrews in the sculpture gallery – one a part of a few shelffulls of small bronze works derived from common household items, the other gigantic and rather more abstracted. But that's about it.
As far as I know, the first time William referred to wine in his art was when, in 2000, he with great generosity made two lithographs as a fund-raising effort for Grape, the absurdly quixotic, ambitious little magazine that a few of us were trying to maintain on a non-commercial basis (it eventually migrated, with our relief, only online and is at present in suspended animation). We had a total of about 100 prints to sell. William was already approaching fame, but not yet with the international renown he now has. We should have priced them a bit higher than R1000 – if not at the approximately R25­–30 000 each print is worth now.
These images (printed on page-spreads from Mrs Beaton's Household Management) were more about grapes than wine: La Cosecha (Spanish for harvest) features an old-style grape-picker with a wicker basket on his back; the other, Jug in Vineyard, is, well, pretty exactly of that.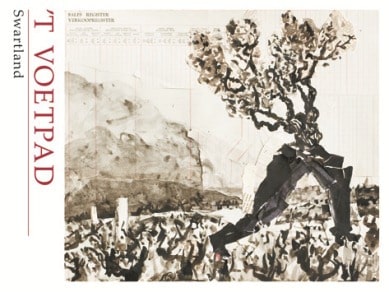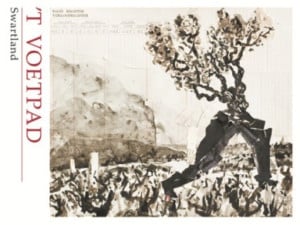 Nearly ten years later came a rather more substantial involvement with Cape wine. It was, if I may say so, a good idea to introduce to each other the country's internationally best-known artist and winemaker. Eben Sadie was shortly to launch the maiden, 2009, vintage of his Old Vineyard Series, and I persuaded William to get involved. He came down from Johannesburg and the three of us spent a day touring the Swartland and Olifants River vineyards that were involved. First William produced the six inkwash and collage drawings – some of them very large, some smaller. Eben was allowed to use images of them on labels (which I minimally designed) for the inaugural boxed set of the Ou Wingerdreeks. Kentridge also made other works related to this project, notably a 2010 set of etchings called the West Coast Series, most of them featuring Swartland and Olifants River vineyard landscapes, with his own slant on them.
I don't know of any Kentridge drawings or other art fully connected with wine until (reflecting the artist's much enlarged international reputation) some fairly recent commissions from European wineries. The famous Tuscan estate Ornellaia commissioned a series of limited-edition labels for variously sized bottlings of its 2015 vintage. William made ten charcoal drawings featuring vineyard workers and tools morphing into each other, on the handwritten pages of old Italian cashbooks he'd found in a flea market. He was quoted as saying: "The aspects of wine-making that combine both manual craft and mechanical processes suggested the transformation of people into machines and machines into workers." On a rather larger scale, two of the drawings – a lattice corkscrew and a worker with her head become a basket of grapes – were transformed into three-metre tall black steel sculptures, for installation on the Ornellaia estate.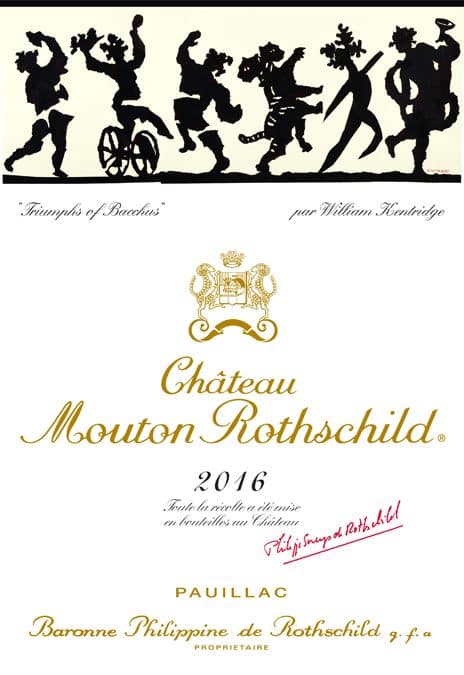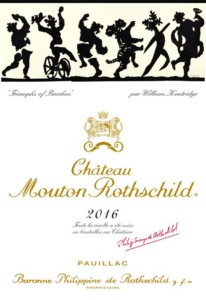 By comparison with the Ornellaia work, the image Kentridge made for the latest in the long line of artworks for the Mouton Rothschild grand vin label seems rather trivial, though pretty and clever: a black silhouetted series of celebratory figures called Triumphs of Bacchus, drawing on his own traditions of torn-paper figures and processions.
Incidentally, the artist is also a wine-lover, and has an air-conditioned cellar in his house in Johannesburg. Last time I heard, he still had a few of the cases of the Sadie Old Vineyard series, which he was loath to break up as they were the last connection he had with a project he'd much enjoyed. I daresay that there are now also some bottles or boxes of Ornellaia 2015 and Mouton 2016. Lucky for William that he had such great vintages to illuminate.
As to the current Cape Town exhibition, it is stupendous and exhilarating (especially, for me, the MOCAA section), almost overwhelming testimony to more than four decades of brilliant artistic creativity. Try to get to it if you can.
Tim James is one of South Africa's leading wine commentators, contributing to various local and international wine publications. He is a taster (and associate editor) for Platter's. His book Wines of South Africa – Tradition and Revolution appeared in 2013.
Like our content?
Show your support.
Subscribe