Tim James: Wine shopping again!
16
Earlier this week I saw Chris Mullineux, undoubtedly one of Cape wine's grandees (despite his hard work and his pleasing modesty of mien), acting as deliveryman, dropping off some online-ordered Mullineux wine a few houses down my road. All hands on deck, it seems, in these strange times….
It's undoubtedly been an atypical week in the life of South African drinkers as well as producers, all of us released after a few months of semi-prohibition. I must assume and hope that for readers of this website it has not involved some of the wild excesses of over-indulgence, domestic and public violence, and dangerous driving that has inevitably been reported. And not too much crowding – I believe there was significant congestion in parts of Soweto resulting from the newly permitted liquor-shopping.
We respectable wine lovers, though, have all been excited in a much more decorous way, haven't we? Many will have been, like me, restocking (and some will have been doing so into desperately empty wineracks). I have this week done the following in this regard, and I suspect many of you will have had rather similar experiences: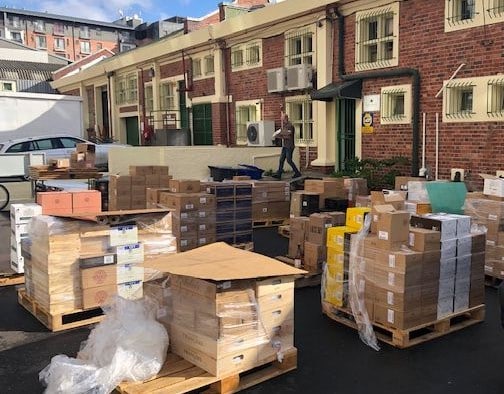 (1) I've been to collect from an online retailer some wine I'd ordered – and found the parking ground half occupied by piles of cases that had been delivered by suppliers, and more cases ready to be dispatched to customers eagerly awaiting delivery. Fortunately, the moderate autumnal sunshine was not wreaking damage for the wines' hopefully short time in the open. A plethora of masked workers bustled about, one of whom efficiently penetrated the mayhem and found my case of modest Bordeaux.
(2) I've been to a newly-reopened bottle-store. Actually, all I wanted was some brandy – but I really wanted it, and had been hankering after some really strong drink (something more powerful that your effete wine) for weeks. There wasn't a lot of choices available where I went, but there was KWV Ten Year Old at under R300 per bottle – one of many great buys in local brandy. (Incidentally, a friend emailed me today, mentioning that he'd considered a bottle of "real Cognac" at Checkers for R250. To which I replied with vehement conviction that there was no cognac below the level of the best that could begin to compete against the quality:price ratio of the local stuff. It makes me angry that many cultural-cringers don't recognise this truth!) I've been enjoying a post-dinner tot or two of brandy this week, and much enjoying it. Them.
(3) I happily took delivery just today (not as much sanitising involved as I believe there should have been, but still) of wines ordered online. Four 12-bottle cases! One of them was from Stellenbosch (Reenen Borman's wonderful Sons of Sugarland Syrah, and his fairly wonderful Patatsfontein Chenin). Unfortunately, I'm still not allowed to travel to the Winelands and have the pleasure of collecting for myself.
The other cases delivered were all of international wines that I'd ordered when it became clear that the rand was dropping inexorably in value, and I'd better get what I could afford while I could still afford something. The excitement of opening the boxes was increased because it had been so long since I'd placed the order that I'd partly forgotten what I'd asked for. (And, crucially, what I'd paid for them – actually a mix of modest and medium-pricey wines.) Bordeaux, Mosel (the largest portion of this bunch), Jura, Chianti, Vaucluse – magical wine names to conjure with and lustfully anticipate…. Wines to give comfort and sensual delight in the midst of some future calamity (let's hope not that).
Tim James is one of South Africa's leading wine commentators, contributing to various local and international wine publications. He is a taster (and associate editor) for Platter's. His book Wines of South Africa – Tradition and Revolution appeared in 2013
Attention: Articles like this take time and effort to create. We need your support to make our work possible. To make a financial contribution, click here. Invoice available upon request – contact info@winemag.co.za
Like our content?
Show your support.
Subscribe