Tim James: Young guns, old hands and Uva Mira
1
I daresay I'm as much to blame as anyone for encouraging skewed perspectives, but I hope I show, in my more sober moments, that I realise that the new and path-breaking achievements are not the only valuable developments in Cape wine. If you don't realise this, if you continually search for "young guns" to shoot everything down and stand triumphantly sweating on Main Street with weapons smoking, you're missing out on a lot of quiet, steady improvement that doesn't break moulds (gosh – I can count at least three metaphors/clichés that I've already mixed) – but is important to a balanced industry.
The young guns are, of course, a vital part of the Cape wine revolution, but not enough. It needs the brilliant solidity of Kanonkop, Reyneke's brilliant revision of traditions – and the steady (brilliant?) improvement in any number of "conservative" Stellenbosch producers (sticking to that area for now). What would modern South African wine be without (just quickly, taking a few obvious examples) other wineries like Tokara, Vergelegen and Delaire Graff?
Quite apart from the fact that if all Cape winemakers started abandoning cabernet and chardonnay and new barriques in favour of early-picked cinsaut and skin-fermented grenache blanc matured in old foudres – if that happened, where would be the distinctiveness of the modern Swartland and the avant-garde in general?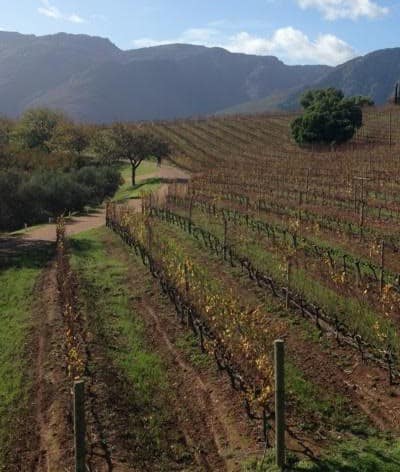 This all occurred to me (again) after a recent visit to Uva Mira, high on the Helderberg. There have been substantial personnel changes in the last year or two, including, in chronological order: Christiaan Coetzee as the new winemaker/viticulturist in time for the 2013 vintage; Toby Venter, CEO of Porsche South Africa buying the estate for a lot of money in mid-2014; Christo Crous arriving as viticulturist, also in 2014.
I reckon all three of these are playing a significant role in what looks to me like a major ramping up of quality (especially for red wines). The most obvious role thus far is that of the winemaker, of course, but the intricate and intelligent work that Christo is undertaking in the (expanding) vineyards is going to be increasingly important. (Christiaan and Christo are working together very closely, which is, I reckon, a vital component of success at any winery.) And, given that the work is also labour-intensive and therefore particularly expensive, the deep pockets and devotion to quality of a Porsche-man are also vital.
Uva Mira has almost certainly been best known for its chardonnay, but I myself was never highly impressed by its earlier flamboyance and, frequently, rather obvious sweetness. Under the new regime, there are three versions – chardonnay being the only grape that features in the new tripartite quality structure. All of them are at least good. The full, rich Mira Chardonnay 2014 is the entry-level offering at R145 – and if you think that's pricey, the Single Tree Chardonnay 2013 is R450 and the lovely and excellent Uva Mira 2013 is R600.
There are two sauvignon blancs, but none in the "Icon" range. Immediately interesting for me when I came to them in the tasting were the three 2013 reds in the lower Mira range, being much better than I'd been expecting. There's a Merlot, which is rather delicious, elegant and fresh, without that shuddering combo of overripeness and greenness that is the commoner fate of this variety in the Cape, and a fairly serious, graphite-elegant and balanced Cabernet Sauvignon, and an equally impressive Shiraz (R25 more than the others at R190).
Joining the Chardonnay at the top (R600) level are two 2013 reds due for release only in October. The OTV is reminiscent of the older-style Uva Mira reds, tending to opulence and a sweet-fruited finish, but I was particularly struck by the Cabernet Franc, which is already intriguingly complex, savoury-umami, and succulent, all announced by the fragrance which cab franc is so generous with at its best.
I'm skimping on tasting remarks and judgements here, as I'll be tasting the wines again shortly for Platter's 2016 (a pleasurable prospect) and don't want to anticipate that more careful lengthy process of tasting. And I'm pointing to the prices, because this is, interestingly, one of the Cape's higher-priced portfolios. A lot of people will be interested to see if the model works – not least those who realise that the sort of viticulture employed at Uva Mira demands good prices if it is to be sustainable.
Tim James is founder of Grape.co.za and contributes to various local and international wine publications. He is a taster (and associate editor) for Platter's. His book Wines of South Africa – Tradition and Revolution appeared in 2013.
Like our content?
Show your support.
Subscribe