Arcangeli new releases
9
Arcangeli Wines in Bot River is owned by Sandro Arcangeli who originates from Italy, each wine given an Italian name bar the Feiteiras Verdelho, a nod to the previous Portuguese owners. Krige Visser, one half of Mount Abora Wines, is the winemaker and the wines are inevitably feature minimal intervention – note the old press icon depicted in the bottom left-hand corner of the label along with words the "Vini Autentici" meaning Authentic Wines.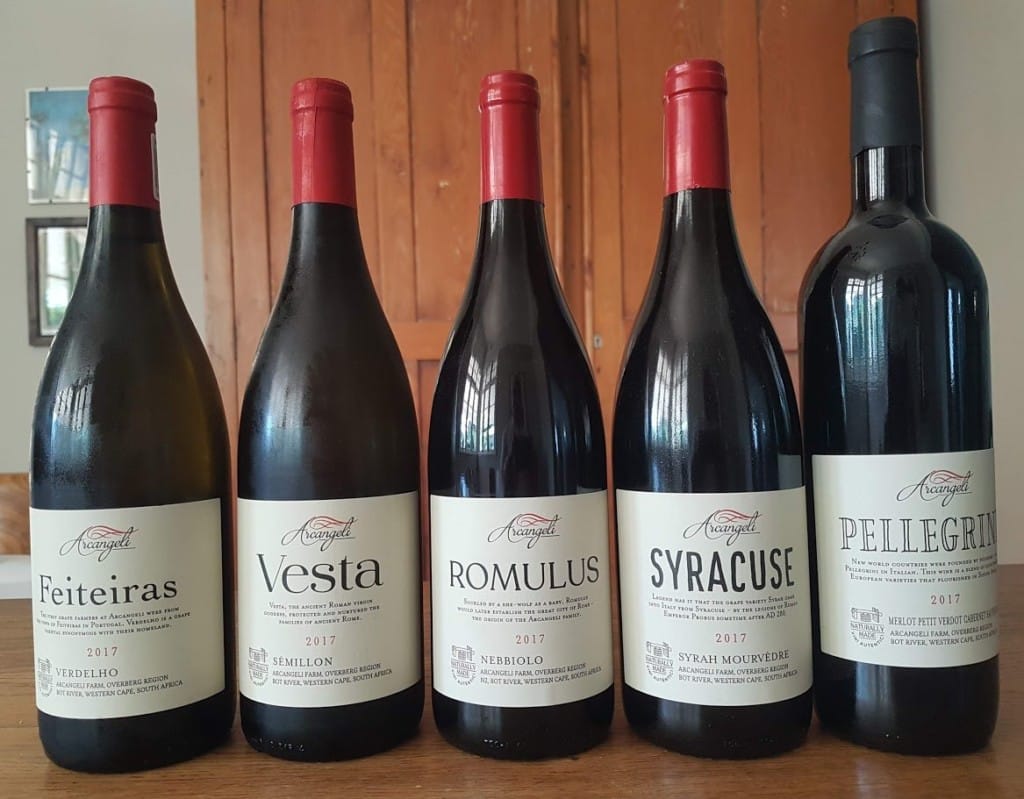 Arcangeli Feiteras Verdelho 2017
Price: R200
Component fermented on skins. Orange, stone fruit, some nuttiness plus some leesy complexity on the nose. Lovely fruit density, punchy acidity and a salty finish – very characterful.
CE's rating: 93/100.
Arcangeli Vesta Semillon 2017
Price: R150
Component fermented on skins. A subtle nose showing peach, blackcurrant, some waxiness and a little herbal character. The palate is lean with driving acidity and a pithy finish. Unusual but compelling.
CE's rating: 92/100.
Arcangeli Romulus 2017
Price: R250
From Rawsonville Nebbiolo. Whole-bunch fermentation before maturation in old 500-litre barrels. A faint whiff of play dough before rose, cherry and a hint of spice. The palate is light-bodied and fresh with powdery tannins, the finish gently savoury.
CE's rating: 90/100.
Arcangeli Syracuse 2017
Price: R150
67% Syrah and 33% Mourvèdre. Whole-bunch fermentation before maturation in old oak. A compelling nose with notes of red and black fruit, fynbos, earth and spice plus that wildness that difficult-to-describe that Mourvèdre brings. Light yet flavourful with lemon-like acidity and fine, gently grippy tannins.
CE's rating: 91/100.
Arcangeli Pellegrini 2017
Price: R150
58% Merlot, 21% Cabernet Sauvignon and 21% Petit Verdot. Whole-bunch fermentation before maturation in old oak. Aromatics of dark fruit, violets, undergrowth and earth. Full-bodied but balanced – dense fruit and very firm tannins make this rustic in the best sense (alcohol is 14.5%). Plenty of grunt but equally just enough freshness.
CE's rating: 90/100.
Check out our South African wine ratings database.
Attention: Reviews like this take time and effort to create. We need your support to make our work possible. To make a financial contribution, click here. Invoice available upon request – contact info@winemag.co.za