Chateau Libertas 2019 revisited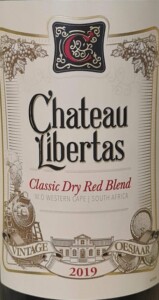 The maiden vintage of Chateau Libertas was 1932 and steeped in history as it is, there probably isn't a local wine lover who doesn't want modern incarnations to be good although it has become something of a rather plain commodity wine, the 750ml bottle priced at around R59 while it is now also available in 2-litre bag-in-box at R120.
Defying expectations, however, the 2019 vintage placed in the Top 10 of the Prescient Signature Red Blend Report with a rating of 92. This was met with a combination of both glee and disbelief by most observers. Could it really offer such great quality relative to price? Had the producer submitted wine from a select batch? Was the panel simply wrong?
In an exercise designed to delve a little deeper into the phenomenon that is Chateau Libertas 2019, I arranged to taste it blind against some more or less relevant counterparts.
The line-up (in order tasted):
Chateau Libertas 2020 (2-litre bag-in-box)
Price: R120
Chateau Libertas 2019 (store-bought)
Price: R59
Chateau Libertas 2020
Price: R59
Chateau Libertas 2019 (second bottle originally submitted by producer)
Price: R59
Zonnebloem Lauréat 2018
Price: R170
Nederburg Baronne 2019
Approximate retail price: R80
Alto Rouge 2019
Price: R110
There was no meaningful difference between the bottle of 2019 submitted and that bought at random. In its favour, it's perfumed with lots of fleshy fruit while stopping short of being overtly sweet. It doesn't have the most intricate structure but there's still lots to like – I was inclined to score it 90 rather than 92 this time around.
The 2020 vintage is notably simpler, the sample from bottle showing a pronounced reductive note that was not evident on that from bag-in-box. Score: 88/100.
Zonnebloem Lauréat 2018 was easy to pick, possessing the extra detail you'd expect given its price. Dark berries, tea leaf, oak spice and vanilla on the nose while the palate is medium bodied and well structured – pure fruit and bright acidity before a dry finish. Score: 92/100.
Baronne 2019 was rather charmless. Reduction and sawdust notes on the nose while the palate was light with an astringent finish. Score: 86/100.
Lastly, Alto Rouge 2019, which showed really well. Red and black berries, tobacco, some herbal character, pepper and spice on the nose while the palate has good fruit concentration, fresh acidity and nicely grippy tannins. Balanced and flavourful. Score: 91/100.
Like our content?
Show your support.
Subscribe