Constantia Glen Two 2012
How to keep adults and children amused over school holidays? The Cape Point Vineyards picnic venue was closed yesterday (eh?) and those at both Buitenverwachting and Eagles' Nest fully booked so a relief to discover that Constantia Glen could accommodate us.
The tasting room has recently undergone a significant upgrade, interior designer Graham Viney combining Cape Dutch, Georgian and Victorian elements to good effect. There's now plenty of seating inside and out but we were glad we'd booked as we got a prime table.
First up, a bottle of Constantia Saddle 2013, an unwooded blend of 86% Sauvignon Blanc and 14% Semillon only available from the tasting room at R60 a bottle. Uncomplicated but appealing, it was just about finished before our cheese and charcuterie boards (R80 each) had reached the table.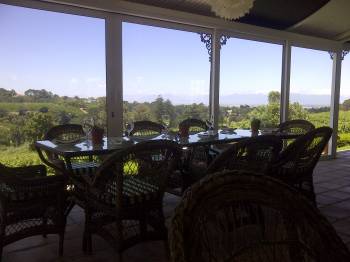 With the food, a bottle of the Constantia Glen Two 2012 (71% Sauvignon Blanc and 29% Semillon, fermented and matured in 600-litre barrels, 28% new, R175 a bottle). It was rated 4½ Stars in the RisCura White Hot Wine Awards I convened earlier this year and is currently looking splendid.
Overall, our experience was excellent – friendly and attentive service, high quality cheeses and meats, freshly baked baguettes and really smart wine. Constantia Glen are nailing it.