Constantia Glen Five 2017
2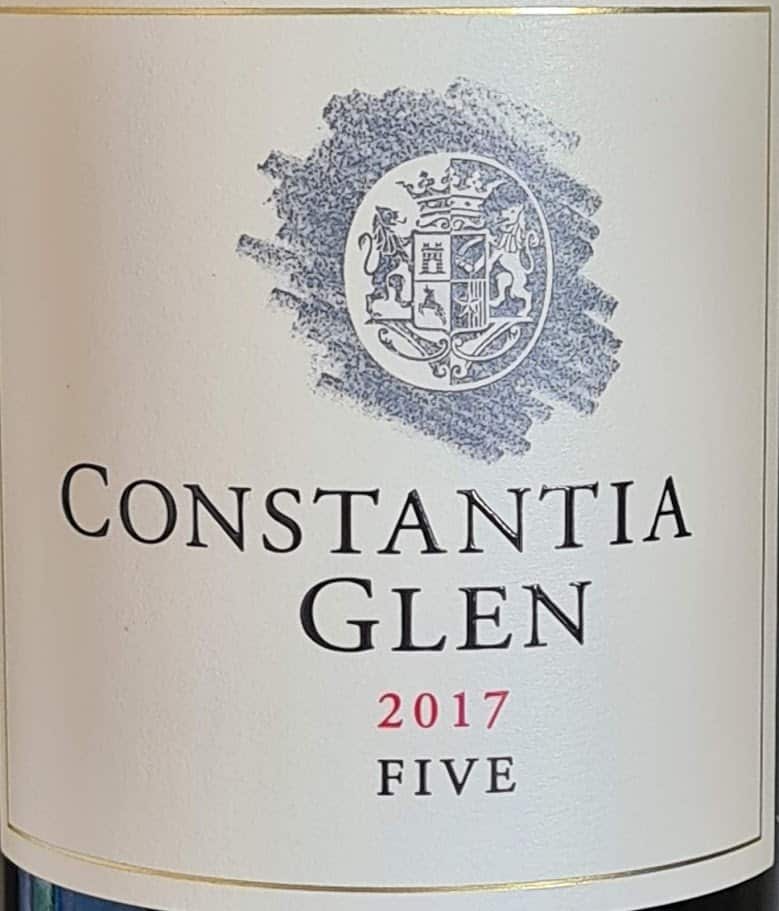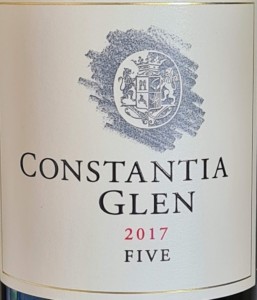 To mark the launch of the 2017 vintage of the top-end Cape Bordeaux Red Blend from Constantia Glen, a 10-year vertical was proposed by winemaker Justin van Wyk. At my suggestion, we decided to 1) taste blind in random order so as to remove prejudice regarding the relative merits of any particular vintage; and 2) include a few vintages of Gourveneurs Reserve, the equivalent offering from nearby Groot Constantia, wines of the same vintage to be poured as a pair:
Here is the order of tasting with my ratings alongside (plus the original winemag.co.za rating where applicable):
Constantia Glen Five 2012 – 91 (vs 88 in June 2017)
Constantia Glen Five 2008 – 90
Constantia Glen Five 2016 – 92
Constantia Glen Five 2017 – 93
Groot Constantia Gouverneurs Reserve 2017 – 93
Constantia Glen Five 2009 – 89
Groot Constantia Gouverneurs Reserve 2010 – 89
Constantia Glen Five 2010 – 92
Constantia Glen Five 2013 – 91 (vs 89 in June 2018)
Groot Constantia Gouverneurs Reserve 2013 – 94 (vs 94 in June 2016)
Constantia Glen Five 2011 – CORKED
Groot Constantia Gouverneurs Reserve 2006 – 94
Constantia Glen Five 2014 – 88
Constantia Glen Five 2015 – 93 (vs 88 in July 2019)
Groot Constantia Gouverneurs Reserve 2015 – 93 (vs 92 in June 2018)
Some general observations: Taken as a whole, the wines in the line-up seemed to have a coolness and perhaps even an austerity by virtue of being from Constantia that you don't get from Stellenbosch.
It was initially difficult to discern the "house style" of either property (they are some two kilometres apart with the Constantia Glen vineyards around 100m higher than those of Groot Constantia) but upon discussion with Van Wyk and Boela Gerber, his counterpart from Groot Constantia, we agreed that the Constantia Glen wines tended to have relatively more opulence of fruit and those of Groot Constantia were more tannic.
Regarding the less successful wines, it was fascinating to note that there was always some kind of explanation as to why this was the case. The Constantia Glen 2009, which seemed relatively imprecise, was the only vintage to Petit Verdot driven, this variety making up 40% of the blend; the Groot Constantia 2010, which presented as relatively lean and tart, had an unusually large component of Cabernet Franc at 37%; the Constantia Glen 2014 was an unusually wet vintage…
In line with conventional wisdom, both sets of wines from the 2015 and 2017 vintages showed magnificently. Tasting notes and ratings for the two 2017s as follows:
Constantia Glen Five 2017
Price: R490
32% Cabernet Sauvignon, 24% Merlot, 17% Cabernet Franc, 17% Petit Verdot and 10% Malbec. Matured for 18 months in French oak, 75% new. The nose is currently rather shy with dark berries and a little reduction in evidence. The palate is powerful with dense fruit, fresh acidity and firm tannins – comes across as extremely youthful and should probably not be opened until at least 2022. Alcohol: 14.5%.
CE's rating: 93/100.
Groot Constantia Gouverneurs Reserve 2017
Price: R494
38% Cabernet Sauvignon, 32% Cabernet Franc, 24% Merlot 24% and 6% Petit Verdot. Matured for 15 months in French oak, 75% new. A perfumed top note before red and black berries. Relatively medium bodied with pure fruit, fresh acidity and fine tannins, the finish very long – particularly elegant. Alcohol: 13.88%.
CE's rating: 93/100.
Like our content?
Show your support.
Subscribe