David & Nadia new releases
Nadia Sadie of Swartland label David & Nadia says of her 2021 wines that they are "more upfront". My take is that while they are immensely engaging and rewarding, they are also among the most complex and intellectually stimulating yet released by any producer from this vintage. Tasting notes and ratings as follows:
David & Nadia Aristargos 2021
49% Chenin Blanc, 9% Clairette Blanche, 8% Semillon, 7% Grenache Blanc, 7% Roussanne, 6% Verdelho, 6% Viognier, 4% Marsanne and 4% Colombard – nine varieties from 19 different vineyards and involving 21 pickings. Expressive and yet not obvious aromatics – hints of quince, peach, yellow apple, potpourri, fennel and spice. The palate has a good core of fruit and well-integrated acidity before a finish that is long and savoury. Intricate in every sense being intensely flavoured, slightly grippy in texture and just beautifully balanced.
CE's rating: 96/100.
David & Nadia Chenin Blanc 2021
Grapes from eight vineyards involving 18 different pickings. The nose is backward in the best way with hints of jasmine, hay and dried herbs before peach, apple and naartjie. The palate possesses weightless intensity, soft but sufficient acidity and long finish. A wonderfully coherent and detailed wine – nothing obvious and super-sophisticated.
CE's rating: 96/100.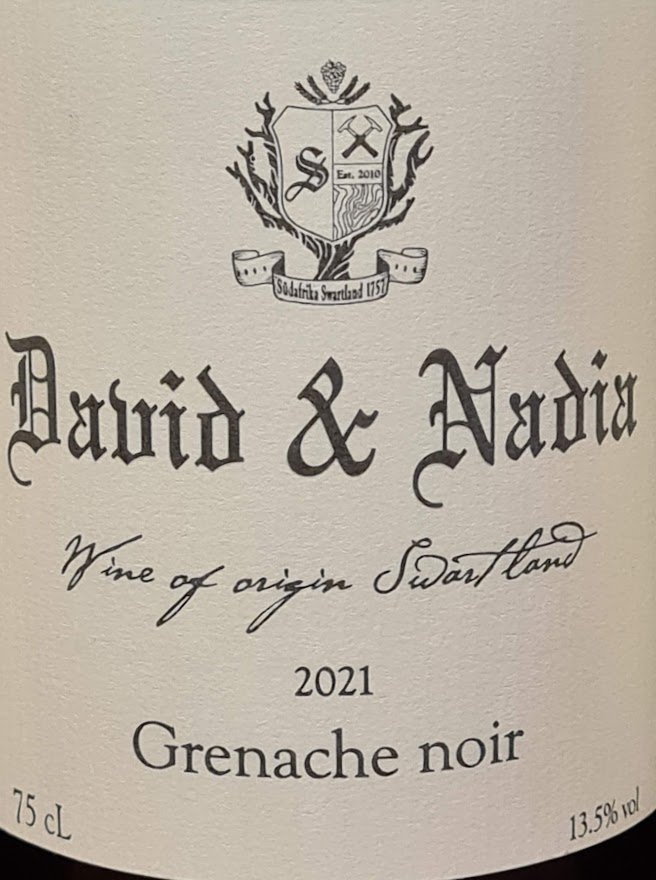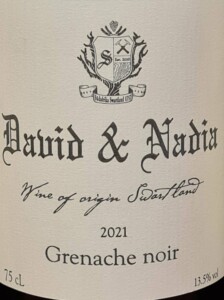 David & Nadia Grenache Noir 2021
Grapes from four Swartland sites, the majority from a Paardeberg vineyard planted in the early 2000s. 12 different pickings were done and winemaking saw 60% whole-bunch fermentation before maturation lasting 12 months, 60% in concrete and the rest in old oak.
The nose is complex but equally unshowy – red currant, cherry, pomegranate, a hint of rose, olive, white pepper and earth. The palate has excellent fruit purity to go with a great line of acidity and powdery tannins, the finish extremely long and dry. Narrow and poised.
CE's rating: 97/100.

David & Nadia Elpidios 2020
38% Grenache, 36% Syrah, 10% Cinsault, 9% Carignan and 7% Pinotage. Somewhat curious but intriguing aromatics with notes of mint, fynbos, earth and spice to go with red and black berries. The palate shows dense fruit, bright acidity and firm tannins. The wine has a "sappy" quality to it but also appears a bit unknit and even a bit rustic.
CE's rating: 91/100.
Check out our South African wine ratings database.
Like our content?
Show your support.
Subscribe