Klein Constantia Vin de Constance 2017
2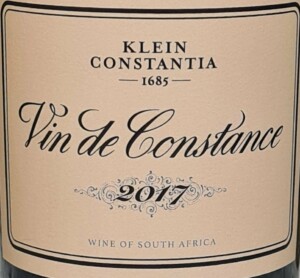 Klein Constantia has been attempting to make its iconic sweet wine in a lighter style in recent times and while quality has never really been in question, the quibble might have been made that 2015 and 2016 were a little underdone.
Not so in the case of 2017 (R1 250 per 500ml bottle) which is really profoundly good. From Muscat de Frontignan, 40% of the vines are untrellised, grapes harvested in 22 batches over two months. Maturation, meanwhile, involves 18 months in 500-litre barrels, oak and acacia before a further 18 months in foudre.
The nose is wonderfully perfume with notes of citrus and apricot with overtones of flowers, mint and other herbs and spice. The structure and balance of the palate is almost perfect – lovely fruit delineation and a great line of acidity before a finish that is long and dry. It's hardly weighty but has the sort of abundance of flavour and, yes, sugar befitting of one of the world's great sweet wines (alcohol is 14% and RS is 165g/l).
CE's rating: 98/100.

Check out our South African wine ratings database.
Help us out. If you'd like to show a little love for independent media, we'd greatly appreciate it. To make a financial contribution, click here. Invoice available upon request – contact info@winemag.co.za