Saxenburg The Family Series 2nd Generation Syrah 2020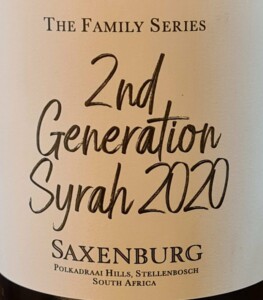 Using whole bunches (not destemming) in the fermentation as a means of achieving extra interest has been fashionable for a while now, especially for Syrah. It was therefore curious to Dirk van Zyl, who took over as winemaker at Saxenburg in December 2019, that the technique had never been used by any of his predecessors, despite the Stellenbosch property's long association with the variety.
He immediately opted to use stems in making a small-batch wine 2020, the long-serving cellar team apparently rather bemused at how little work they were now required to do! The hugely successful result is The Family Series 2nd Generation Syrah, available to club members at R215 a bottle.
Picked relatively early, 55% of the clusters were left whole while maturation lasted 12 months in older oak (alcohol: 13.3%). Despite an approach to vinification that often achieves more elegance, the wine still has a darkness and even wildness that might be considered a hallmark of the property. Black-berries, pepper, fynbos and earth on the nose before a palate that has good depth of fruit, bright acidity and nicely grippy tannins, the finish long and super-dry. Altogether compelling and a fine addition to the collection of very smart examples of the variety that are coming out of the general Polkadraai Hills area.
CE's rating: 95/100.
Help us out. If you'd like to show a little love for independent media, we'd greatly appreciate it. To make a financial contribution, click here. Invoice available upon request – contact info@winemag.co.za