Trizanne Signature Wines Reserve Sauvignon Blanc Semillon 2018
1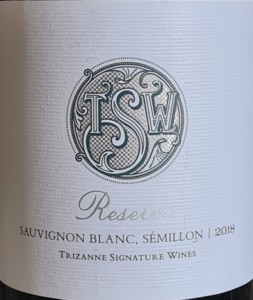 Do wines change in bottles? The Reserve Sauvignon Blanc Semillon 2018 from Trizanne Signature Wines was first reviewed on this site nearly 18 months ago as part of the Sauv-Sem Blend/Wooded Sauvignon Blanc Report 2019. It rated 91 points on the 100-point scale whereas the Reserve Semillon Sauvignon Blanc 2017 from the same producer, also in the line-up, rated 93.
The 2018 is now set for commercial release (R225 a bottle) and is drinking very well indeed. It's a blend of 64% Sauvignon Blanc and 36% Semillon (compared to the 2017 which consisted of 52% Sem and 48% Sauvignon Blanc) and some bottle maturation has allowed it to knit and unfurl.
The nose shows lime, white peach, herbs and elderflower plus a hint of waxiness while the palate has great purity and focus – it's concentrated and smooth textured in the best sense but equally possesses a great line of acidity. The density of fruit is impressive, the clarity and drive compelling.
CE's rating: 94/100.
Check out our South African wine ratings database.
Attention: Reviews like this take time and effort to create. We need your support to make our work possible. To make a financial contribution, click here. Invoice available upon request – contact info@winemag.co.za