Anna Trapido: SA restaurants in the time of Coronavirus
Of all the economic activity damaged by the novel coronavirus (COVID-19), few have felt its impact as immediately and as deeply as those in the hospitality business. All over the world social distancing to reduce virus spread has rendered many commercial eating and drinking options unusable. Even where fear is not epidemiolocally or legally mandated, cautious patrons are staying away.
In South Africa the pandemic has already resulted in a significant reduction in international tourist arrivals. Many major food focused events (including the 2020 South African Cheese Festival in Stellenbosch and Johannesburg's Chinatown New Year celebrations) have been cancelled. Across the country restaurants are increasingly empty as diners hunker down at home. Some have closed shop entirely while others are trying to remain open with a modified takeout/ delivery service. At the other end of the food chain spare a thought for the hawkers at football stadiums and the ladies who make a living selling magwinya outside our currently closed school gates. And, of course, there are also the knock-on effects for ingredient suppliers everywhere.
This is just the beginning. Of those that close now, who knows how many will reopen? A crisis of this scale and scope is unprecedented. To date there seems to be no state or industry strategy in place to prevent a collapse. All this could not have come at a worse time. Prior to COVID-19 many South African hospitality businesses were struggling in an ailing economy within an industry that, even in the best of times, runs on very thin margins. When those restaurants that survive do reopen, they will do so with a dining public who have experienced their own lost income and have less money to spend on eating out.
Those restaurateurs who are turning to home delivery for the first time are facing a slew of unexpected challenges — from changing their menus to make them delivery friendly to figuring out new logistics and factoring in the added expense of delivery charges. For diners who are fortunate enough to be able to follow the recommendation for social distancing there may be ethical issues involved. Is it right to expose delivery workers to the risks that they themselves seek to avoid?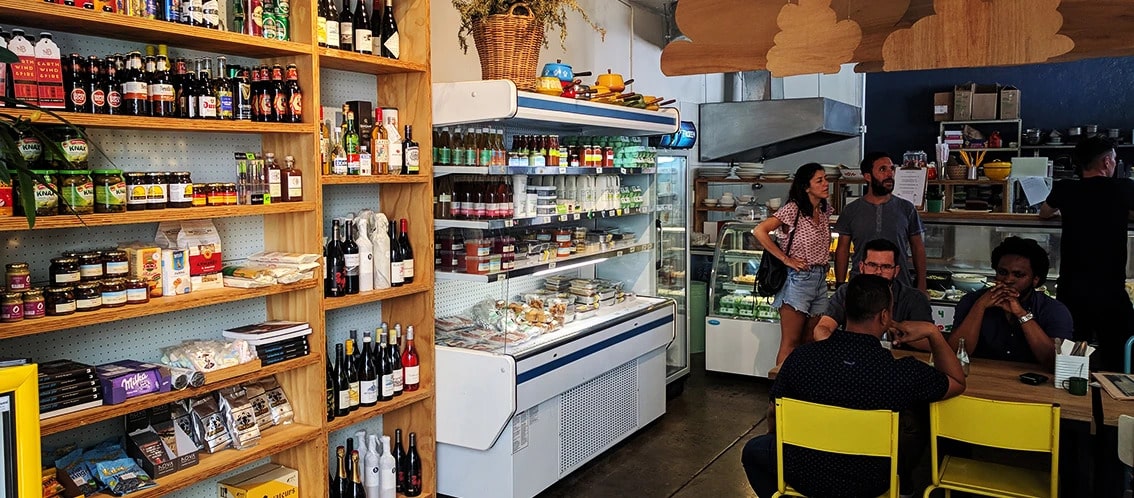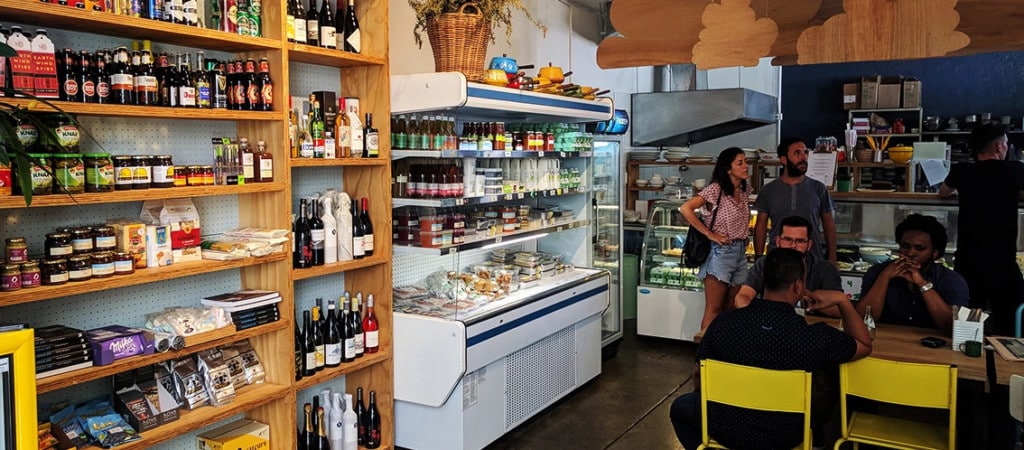 Even those who have always had deliveries as a significant part of their business are struggling. Chef Andrea Burgener of the Leopard Food Company, Johannesburg offers both an in-restaurant dining and also home delivery service. She says: "The actual sit-down space is looking like the zombie apocalypse – we have offices all round us and usually lots of workers pop in for meals. With those people working from home they aren't there to have breakfast and lunch. They are ordering more online but not enough to replace the loss of in-person customers." For the record what Burgener's customers seem to be ordering in is brownies. She says: "I imagined that they would go super healthy, wanting immune boosting stuff but there seems to be a sort of end of days, give me chocolate thing going on."
Corporate function catering has crashed. A Pretoria restauranteur who didn't want to be named said: "At the beginning there were lots of cancellations. Not so much now but it still means that we have lost a lot of business that would otherwise have come our way. Last week we lost a 100-pax order which was all prepped and ready to go when the cancellation came through. In that case we were okay financially because they had paid upfront but that food was all done. We asked the client what to do and they said give it to a good cause so we donated that order to the children's home."
Some of South Africa's highest-profile restaurateurs have voluntarily temporarily closed their doors. Chef Luke Dale Roberts has made the decision to close all his restaurants (The Test Kitchen, The Pot Luck Club, The Shortmarket Club and Salsify at The Roundhouse) for the next fourteen days. He said: "A great percentage of our clientele are travelers from around the globe and as such, it is best that we temporarily close shop and do our part in stemming the current health crisis". The plan is to re-open on Monday, 30th, however, a final decision on this will be made on Friday, 27th.
All the hospitality facilities at Stellenbosch's Kleine Zalze wine estate (including Terroir restaurant and all wine tastings) are also closed until until 29 March 2020. Chef Michael Broughton says: "Although there is no reason to believe that any of Kleine Zalze's staff have been exposed to anyone infected by the COVID-19 virus, we think that being pro-active is the responsible thing to do. It is a precautionary health and safety measures to safeguard both visitors as well as our staff." In the meantime, he will spend time sorting out a range of associated administrative issues – most notably what kind of leave are his staff actually on? As Broughton points out: "No one knows. Is it sick leave? Annual leave? It seems to be neither! But they were told to stay away so it definitely some sort of leave. We need a legislative decision on the matter."
The larger restaurant groups and those with outside investors may be able to 'mothball' for a while but even they cannot do so indefinitely. Many of the small chef-patron restaurateurs might not be able to return to restaurant ownership at all. And then where will we be? Restaurants are an invaluable part of the social fabric. They provide us with community and entertainment and so much more. We rely on chefs to nourish us, to host our celebrations and to drown our sorrows. What will we do if they are not there to meet us when we come out of this?
Update: As of 18 March, Government has announced severe limitations on the sale of liquor – all bars, shebeens and some restaurants must close at 18:00.
Dr Anna Trapido was trained as an anthropologist at King's College Cambridge and a chef at the Prue Leith College of Food and Wine. She has twice won the World Gourmand Cookbook Award. She has made a birthday cake for Will Smith, a Christmas cake for Nelson Mandela and cranberry scones for Michelle Obama. She is in favour of Champagne socialism and once swallowed a digital watch by mistake.
Attention: Reviews like this take time and effort to create. We need your support to make our work possible. To make a financial contribution, click here. Invoice available upon request – contact info@winemag.co.za
Like our content?
Show your support.
Subscribe