Book review: Durban Curry – So Much of Flavour
3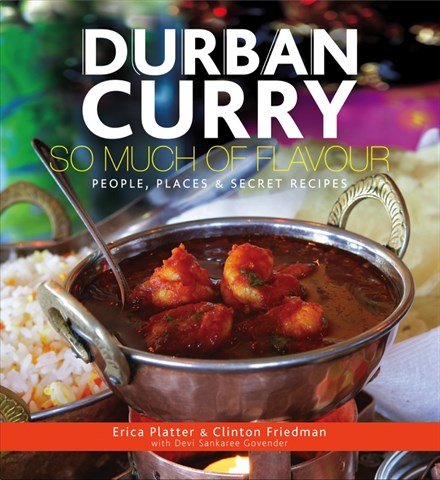 I read and reviewed lots of lovely cookbooks in 2014 but Erica Platter and Clinton Friedman's Durban Curry – So Much of Flavour (PawPaw Press:  R295) was the one that seemed most likely to become an enduring culinary classic. In a publishing environment where obscure titles are this season's foodie fashion, it is refreshing to find a book title which so succinctly describes the contents.
The pedantic might point out that the geographic range included is slightly larger than the eThekwini municipal boundaries but we all know exactly what the phrase 'Durban curry' refers to. The authors' intention is to delineate the KZN terroir-specific Indian Diaspora food form that inspires love and recognition all over South Africa. This they do with aplomb.
In particular, the book offers a glorious guide to KZN curry restaurants complete with contact details, menu descriptions and chef profiles.  Even if a reader never once took out a pot, they would still be in possession of a food route for where to eat out when in the land of the warm sea.
Every kind epicurean experience is catered for. A visitor could use the book to skip happily from the dainty vegetarian chaat bites of Durban's inner city Snack Bar at the Spice Emporium (031 332 5888) to the great, greedy, hands-on, claw cracking, sweet meat-sucking, no table manners flourish of crab curry at Impulse by the Sea at Tinley Manor Beach (032 554 4626). Whether you pick posh nosh palaces with smart wine lists (Jeera at the Suncoast Casino 031 314 7878) or late-night-munchy bunny chow joints (Sunrise Chip 'n Ranch in Overport 031 209 20 20) all the restaurants written about are well worth a visit.
We all use recipe books differently and I am not presuming to speak for anyone but myself when I say that I like cookbooks that combine an original concept with well-described (and well-illustrated), appealing recipes that I couldn't have worked out for myself  and a sense of the cultural and emotional significance of the dishes under discussion. Durban Curry – So Much of Flavourdoes all of these things.
There are other South African Indian cookbooks but this one works better than any of its predecessors as a how-to manual. KZN Indian Diaspora cuisine is predominantly a soul food genre transmitted mother to daughter. When such recipes are printed, I find that they often don't taste the same. Either those giving the recipes have been unable to clearly demonstrate what it is they usually do to an outsider or they have been actively choosing not to do so.
My suspicion is that the recipes in previous books have been impaired by the politics of race, class and gender in South Africa. Food and identity are connected. When cooks are uneasy with researchers they don't reveal their true selves. The good news is that all the recipes that I have cooked from this book taste 'right' as if the real recipe was parted with. It is testament to the skill of the author and photographer that cooks felt comfortable giving of themselves so completely. I can't guarantee that my recreation of Umhlali spice merchant Cindy Valayadam's chicken and egg curry is as good as the original but it tastes damn fine.
It would be a mistake to think that the book is trapped by a home food focus. John Platter has provided a wine and curry pairing guide that draws on international modern Indian restaurant research and deliciously debunks conventional wisdom.
The food photography is not styled out of all reality and therein lies its strength. Each recipe shines off its page because of its deliciousness not because a stylist sprinkled parsley just so and spent the day before the shoot scouring décor shops for backdrop vases. This food needs no such primping and pimping. Beauty is in the eye of the beholder and Clinton Friedman clearly loved and respected the home-style classics he beheld. There is a visceral, reach-out-and-touch, masala-infused tingle to the photography.
Many Indian from India cookbooks (and even some published in South Africa) include references to Diaspora recipes but almost invariably with a sense that deviation from motherland formula is a failing. Within any food genre 'wrong' is not a helpful concept. Even Indian in India shows wide regional diversity. In Durban Curry – So Much of Flavourdifferences are enjoyed. The food is presented as a dynamic, inspiring blend of old and new ingredients and cooking methods. Every recipe makes it clear that migrants are different from those who stay at home. There is a direct, assertive, flexible vigour in Durban curry that is not found in motherland Indian cuisine. It is not better or worse but it is definitely different.
Without wishing to advocate a soppy kumbaya approach to cooking, this book is enormously heartening in that it reveals our interconnectedness. South Africans spend a lot of time thinking about social and racial differences but here the recipes reveal how much the people of KZN have in common. The base of all the recipes is broadly Indian but almost all show signs of having been influenced by people and landscape that the migrants met in their new home. There is such a vicarage tea Englishness about Mrs Hall's tomato chutney recipe. Mrs Govender's Deepvalie dumpling recipe shares much with a Zulu dombolo. Amasi and samp are common ingredients.
The authors don't explicitly say it but I came away feeling that the combination of distinctive taste and affection for the idea of Durban curry has the potential to translate into economic value. The sad truth is that it is currently doing no such thing. South African-style Indian restaurants are losing ground to restaurants selling dumbed down, broadly North Indian style food. If food and national pride are intertwined we are failing to make patriotic restaurant choices. Durban curry should be cherished, promoted and protected. So what are you waiting for? Your edible icons need you!
Dr Anna Trapido was trained as an anthropologist at King's College Cambridge and a chef at the Prue Leith College of Food and Wine. She has twice won the World Gourmand Cookbook Award. She has made a birthday cake for Will Smith, a Christmas cake for Nelson Mandela and cranberry scones for Michelle Obama. She is in favour of Champagne socialism and once swallowed a digital watch by mistake.
Like our content?
Show your support.
Subscribe