Recipe: Grabouw boerewors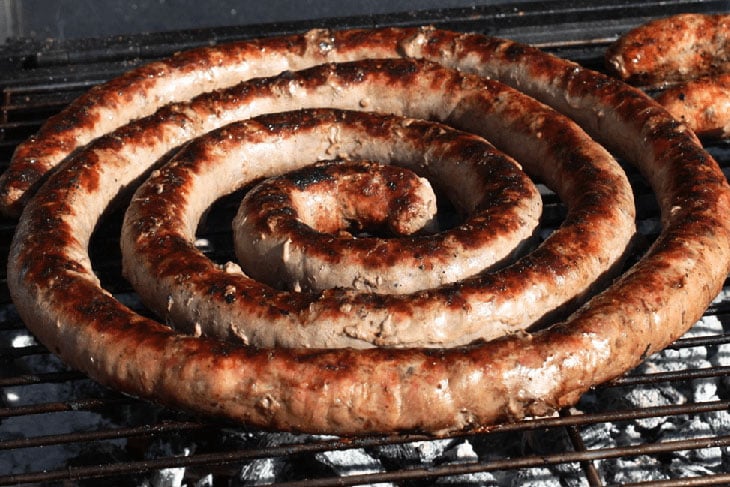 Whether we eat it at Umlazi shisa-nyamas or agricultural shows in Elliotdale, this coil of cholesterol brings us together. From Cape Town to Kakamas, it is impossible to imagine a school fête or sporting event without a boerewors-roll stall.
Perhaps the ultimate boerewors king is Archbishop Emeritus Desmond Tutu. Speaking at the 2007 inaugural National Braai Day (with a boerewors roll in one hand and a braai grid full of scorching sausage in the other), the cleric confessed that "boerewors is really my favourite thing for a braai. More than chops or mealies, what I like is the wors. It's lekker, lekker, lekker. It is something that can unite us. It is so proudly, so uniquely South African".
Most of us agree with the Arch that boerewors is lekker, lekker, lekker, but what exactly is it? On one level everything you need to know is right there in the name. It's a boere (farmer's) wors (sausage). We all know what taste (beef and coriander), texture (coarse) and diameter (approximately 2cm casing) of sausage we mean when we say the word. We all know that we mean a foodstuff of Afrikaner origin, but with a general South African appeal.
Rules and regulations of boerewors: "braai wors" doesn't mean "boerewors"
Those who feel the need for more precise descriptions can refer to the inspiringly entitled 'The Regulations Governing the Composition and Labelling of Raw Boerewors, Raw Species Sausage and Raw Mixed Species Sausage'. This edifying tome was published under Government Notice No. R. 2718 of 23 November 1990 by the minister of national health and population development in terms of section 15(1) of the Foodstuffs, Cosmetics and Disinfectants Act, 1972 (Act No. 54 of 1972).
Still awake? If so, you should know that the aforementioned regulations state that "raw boerewors shall be manufactured from the meat of an animal of the bovine, ovine, porcine or caprine species or from a mixture of two or more thereof. It shall be contained in an edible casing and shall contain a minimum of 90% total meat content and not more than 30% fat content". The regulations continue that "there shall be no offal except where such offal is to be used solely as the casing of the raw boerewors and it shall contain no mechanically recovered meat". As to seasoning and fillers, the act is very specific that "no ingredients shall be added except cereal products or starch, vinegar, spices, herbs, salt, other harmless flavourants, permitted food additives and water".
So now you know, if you see a suspiciously cheap supermarket sausage marked 'wors' or 'braai wors' you can assume that it does not meet the criteria set out above. Think soya and cereal fillers and then walk away. There are no legal guidelines as to the specific contents of regional sub-categories, but convention generally dictates that the prefix of 'Ossewa' boerewors implies a strong clove flavour while Grabouw indicates mild spicing and Cederberg suggests a sausage that is highly spiced.
A boerewors recipe from a First Lady
Whatever its origins, boerewors tastes so good that it has long since become a unifier rather than a separator of South Africans. Because we all love boerewors, it has accompanied us on a journey through almost a century of the best and worst of South Africa's life and times. Boerewors was there the night, in 1985, that police, acting under the direction of Vlakplaas commander Eugene de Kock, murdered Eastern Cape activist Bathandwa Ndondo and then celebrated the kill with a braai, but it was also present at the 1995 Rugby World Cup victory and at our 2010 soccer spectacular. And at a million inconsequential family feasts in-between.
However far we have come, on some level, we do still all feel that he who holds the boerewors controls the country. The nationalist appeal of boerewors has adapted over time, but it is no less potent a gastro-political power tool today than it was in 1938. In January 2011, ANC bigwigs celebrated the ANC's 99th birthday with a banquet in Polokwane at which the starter served was Jack Daniel's honey-glazed beef boerewors on red onion and tomato salsa. In the same month the AfriForum Youth wing and the Potgietersrus District Agricultural Union grilled 290 continuous metres of the sausage to make a new world-record boerewors at the Windpomp Festival in Naboomspruit. The AfriForum Youth spokesman said that money raised from the sale of the record-beating boerewors would be used to fund their Equality Court lawsuit against ANC Youth League leader Julius Malema. And so the struggle for control of the sausage sizzles on…
In the light of the above it seemed only fitting that the boerewors recipe served up in this piece should come from a First Lady. Tragically, not one of our current First Ladies have yet published a sausage recipe but Tini Vorster (wife of BJ Vorster and First Lady 1978- 1979) did and here it is…
Yield
Makes 3kg of sausage (enough for roughly 20 boerewors rolls).
Grabouw boerewors recipe ingredients
1.5kg beef, use a fatty cut such as chuck head or the top part of the brisket
1.5kg pork, use a fatty cut such as top belly or shoulder
50ml whole coriander seeds
3ml cloves
2ml nutmeg
5ml pepper
5ml vinegar
25ml red wine
25ml brandy
25ml salt
85g hog wors casing (the butcher will know these as '32 long')
Preparation method
Rinse the sausage casings in cold water.
Roast the coriander until light brown. Take care not to burn it as this will make for a bitter flavour. Grind and mix the coriander with all the other spices.
Combine all ingredients with the meat and then mince coarsely.
You can stuff sausage casings by hand or using the sausage-making attachment of most kitchen mixers. Open the end of the casing and ease open the first five-centimetres in order to fit it onto the stuffing tube.
Pipe your mince mixture into the casing. Remember not to stuff too tightly or the sausage will burst. The sausage mixture is best left to stand in the refrigerator overnight in order for flavours to mix.
If all the stuffing and fiddling around with casings seems too much bother, chef Heston Blumenthal has a recipe for a boerewors burger where he makes the spiced mince and then simply forms the mixture into a patty.
Additions & alternatives
Renata Coetzee's The SA Culinary Tradition (1977) suggests the addition of sage leaves and orange zest. Leipoldt recommends ginger, mace, fennel, thyme and a mixture of equal parts wine and vinegar be worked into the boerewors mixture. Lannice Snymann in Rainbow Cuisine (1998) adds allspice. Some other recipes call for Worcester sauce.
Cooking method
Whether you are braaiing or cooking on the stove top, the same broad principles apply. Do not ever poke boerewors while cooking – the aim is to keep all the juice in so as to retain the flavour. Braai over medium heat and do not clamp the sausage tightly into a grid as this will prevent the fat from mingling inside the casing.
When pan-frying, start the sausage in liquid to soften the casing and to prevent bursting. This method also has the advantage that it allows excess fat to be drained away. A two-centimetre diameter sausage should be simmered with about half a cup of cold water, beer, wine or stock for approximately five minutes. Drain off any remaining liquid and cook over a medium heat until brown.
Wine pairing
We recommend a lighter-bodied red like Cinsaut or Grenache, served slightly chilled. The gentle spice of the boerewors should highlight the pretty fruit that both varieties typically offer.
Like our content?
Show your support.
Subscribe