Recipe: Creamy chicken with ravioli and spinach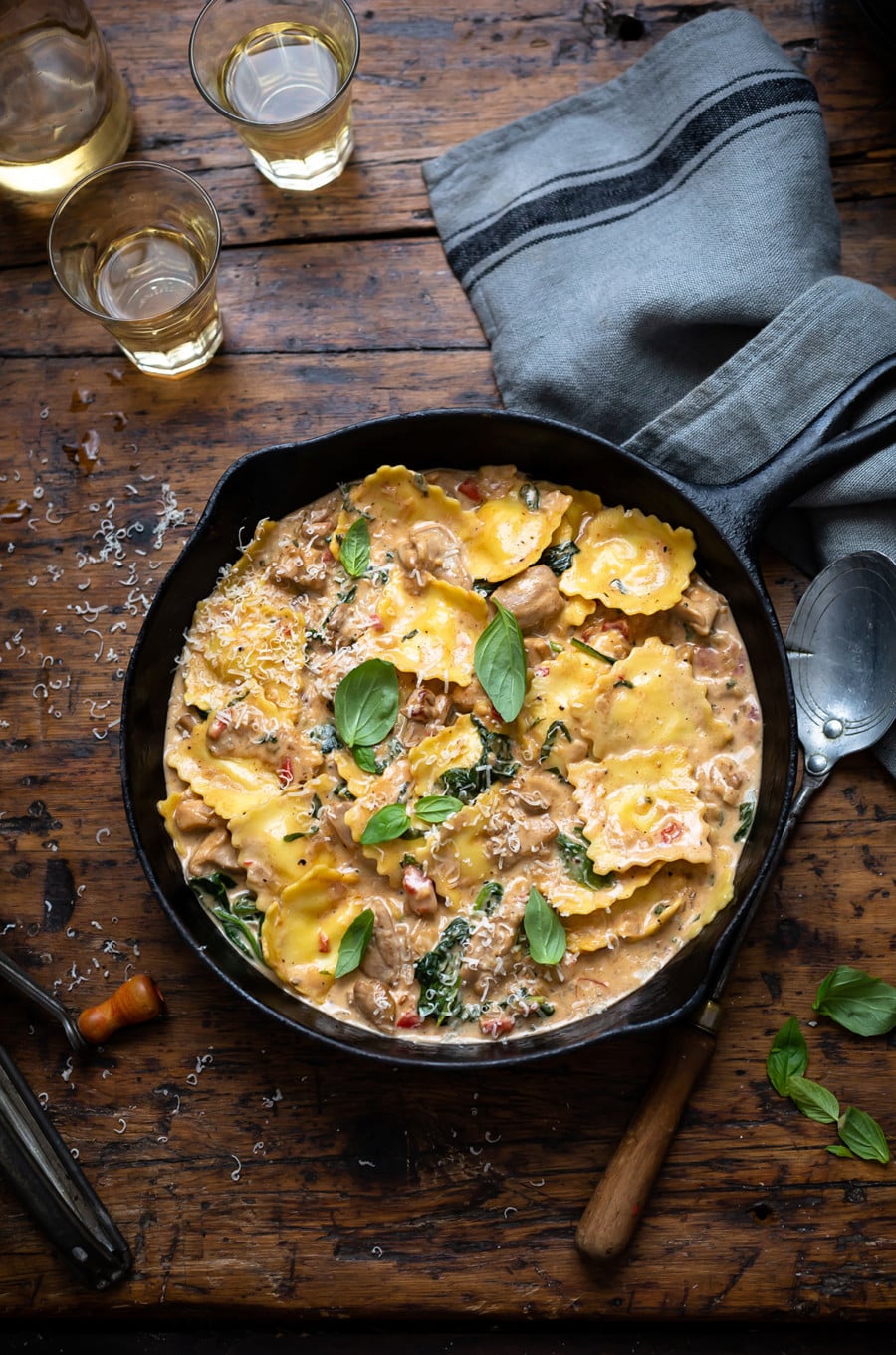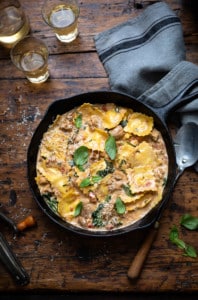 This recipe for creamy chicken with ravioli and spinach makes for an easy weeknight supper meal. Use store-bought ravioli to make it even easier (either four cheese ravioli or spinach & ricotta).
Yield
2 – 3 generous portions (to serve 4, double up on the pasta)
Ingredients
Olive oil
1 onion finely chopped
4 cloves garlic crushed
1 Tbsp butter
450gms – 500gms skinless boneless chicken (either thigh or breast) cut into bite size pieces (brought to room temperature)
1 Tbsp flour
½ cup dry white wine
1 cup chicken stock
½ cup cream
1 Tbsp Dijon mustard
1 medium tomato, deseeded and chopped
A small handful of basil leaves finely shredded (about ¼ cup)
100gms baby spinach
250gms ravioli, cooked according to the pack instructions
Method
Bring a large pot of salty water to the boil.
Heat a large skillet with a few tablespoons of olive oil and fry the onion until softened, about 5 minutes. Add the crushed garlic and cook for a further 30 seconds. Add a knob of butter and when its bubbling, add the chicken and fry until golden.
Add the flour and cook for about a minute or two then add the wine to deglaze the pan, scrapping any bits that got stuck on the pan. Add the stock in 2 parts and cook until the sauce has thickened (about 3 minutes).
Add the cream, Dijon mustard and chopped tomato and season with salt and a generous few grinds of black pepper. Allow the sauce to cook for a minute or two then add the chopped basil. Once that's in, add the spinach and stir through to wilt.
Start cooking your ravioli by dropping each piece individually in the boiling water to ensure the pasta stays separated. It will take about 3 minutes to cook if it is fresh. I highly recommend timing the cooking of the pasta once the sauce has been made so that it can be added directly to the pan once it has been drained. Its ok if a little of the pasta water carries into the pan.
Wine pairing
When it comes to creamy sauces, go for a medium- to full-bodied white wine. You need a wine with some flavour but also bright acidity and a lightly wooded Chenin Blanc fits the bill with this particular dish.
Sam Linsell is a recipe developer and food stylist and photographer based in Cape Town. She has written two cookbooks and regularly shares recipes on her website Drizzleanddip.com
Like our content?
Show your support.
Subscribe