Recipe: Roast pork loin with an apple, date and pistachio stuffing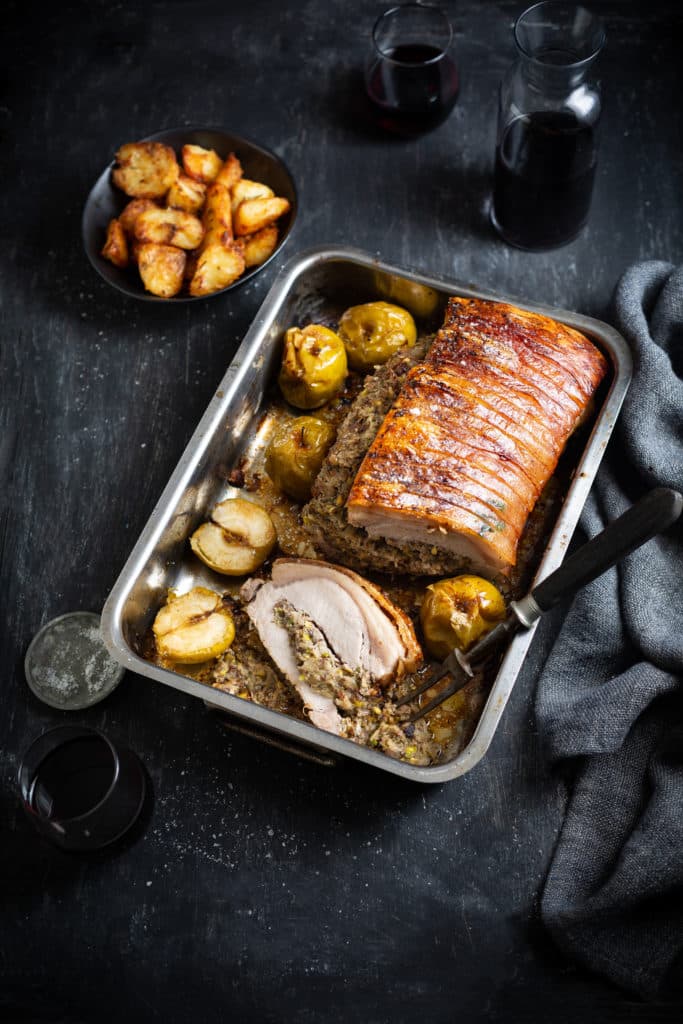 Comfort food of the highest order demands comfort wine.
Yield
Serves 8 – 10 people
Ingredients
2kg loin of pork, bone removed
5 – 6 baby apples
Stuffing:
120gms dates, pitted
40gms butter
1 brown onion finely chopped
2 cloves garlic, minced
2 Granny Smith apples, grated
Approx. ¼ cup chopped sage, parsley & thyme
80gms pistachios, roughly chopped
Salt and freshly ground white pepper (otherwise black)
Method
Ask your butcher to score the skin of the pork 1 cm apart and just until the fat layer. If you have time, once you have stuffed the pork leave it in the fridge uncovered to dry out for a few hours.
Preheat the oven to 230C.
Pour boiling water over the dates and allow to soften for about 5 – 10 minutes, then pulse in a small food processor until they form a rough paste.
Melt the butter in a non-stick frying pan over a medium low heat and sauté the onions until soft. About 5 minutes. Add the garlic and cook for minute then add the grated apple and cook until any juice has evapourated and they start to soften. About a minute or two. Set aside to cool. Then add the date paste, chopped herbs and pistachios and mix until well to combine. Season with salt and white pepper to taste.
Pat the skin of the pork loin dry with paper towel and lay it skin side down on a large board. Slicing through the middle of the loin, butterfly the meat open so that you have one flat piece (you can also ask your butcher to do this). Season the flesh with salt and pepper then spread the filling evenly across the middle part of the loin. Roll it up and tie about 5 – 6 pieces of string around the roll to secure. If some of the stuffing is exposed don't worry but tuck it in as much as possible. Place the pork roll fat side up in a large roasting pan and dry the skin again with a paper towel. Rub a generous amount of salt into the skin making sure you get into the grooves.
Roast for 30 minutes and then turn the oven down to 180C. Roast for a further 1 hour and until the juices run clear. You can test whether the meat is done if an internal thermometer registers at least 73C in the thickest part of the meat. About 45 minutes before the meat is cooked (so halfway), add the apples to the roasting tray. Allow 45 minutes cooking time per 1 kg of meat so 2 kg equals 90 minutes total. The filling is vegetarian so you only need to monitor the thickest part of the loin for doneness.
Watch the last 15 – 20 minutes and if the crackling is not quite golden enough, give it a blast with the grill (keeping a close eye).
Remove the meat and allow to rest. The crackling layer is difficult to cut, so if necessary, remove that half and cut separately Arrange the sliced meat on a platter and drizzle over any pan juices and serve with the roast apples which serve as a thick apple sauce.
Wine pairing
Quite a few wines will work with this dish but we suggest a Cinsault served lightly chilled. This variety typically makes for medium bodied, sweet-fruited wines which will work well with the stuffing.
Sam Linsell is a recipe developer and food stylist and photographer based in Cape Town. She has written two cookbooks and regularly shares recipes on her website Drizzleanddip.com
Attention: Reviews like this take time and effort to create. We need your support to make our work possible. To make a financial contribution, click here. Invoice available upon request – contact info@winemag.co.za
Like our content?
Show your support.
Subscribe