Recipe: Pinotage and goji berry chutney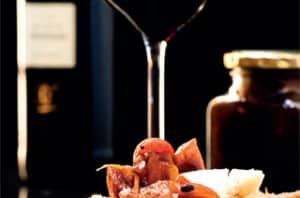 A light-bodied Pinotage makes an ideal match for a languorous afternoon of gossip garnished with crusty bread, cheese and chutney. Whether you are wishing to bring out the inherent sweetness in a tart mature cheddar, the creamy consistency of a blue cheese or the gentle nuttiness of an Emmenthal, a well-chosen Pinotage is the way to go.
The apple and grape chutney below is a modification on a standard relish recipe. I have swapped half the vinegar in the conventional mixture for Pinotage and then, in the name of adding a truly South African twist, I have chucked in a fistful of goji berries for good measure.
RECIPE
700g apples, peeled, cored and cubed
200g Pinotage grapes, pitted – if you can't find Pinotage any other variety will do
1 onion, finely chopped
150g currants
a fistful of goji berries (they are readily available at health stores and taste like small, sour cranberries)
350g brown sugar
150ml Pinotage
200ml balsamic vinegar
juice and zest of one lemon
juice and zest of one orange
pinch of salt
10ml mustard seeds
10ml all spice
METHOD
Combine all the ingredients in a large heavy-based saucepan. Bring the mixture to the boil and then simmer uncovered until the mixture is thick and pulp for approximately 45 minutes. 2. Remove from the heat, leave the mixture to cool and transfer into a sterilised, clean, dry jar. 3. The chutney will be at its best if the flavours are left to blend for a few weeks.
This recipe was originally developed by chef and food writer Anna Trapido.
Like our content?
Show your support.
Subscribe